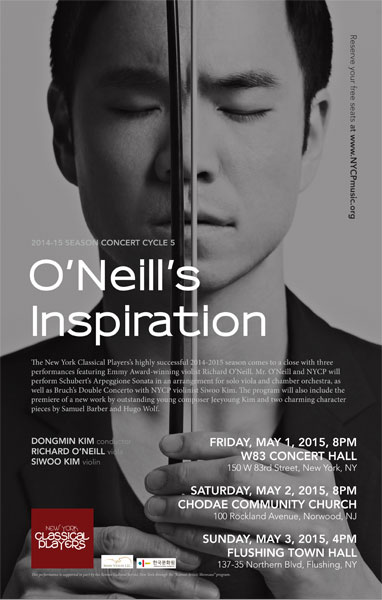 Korean Cultural Service NY presents renowned violist, Richard Yongjae O'Neill, as part of 'Korean Artists Showcase' program with New York Classical Players.

Friday, May 1, 2015, 8PM
W83 Concert Hall(150W 83rd Street, New York, NY)


Saturday, May 2, 2015, 8PM
Chodae Community Church(100 Rockland Avenue, Norwood, NJ)


Sunday, May 3, 2015, 4PM
Flushing Town Hall(137-35 Northern Blvd, Flushing, NY)
The Korean Cultural Service New York (KCSNY) in partnership with the New York Classical Players (NYCP) presents Emmy Award-winning violist Richard Yongjae O'Neill through the 'Korean Artists Showcase' program in three special performances in New York on May 1st – May 3rd.

Renowned violist Richard Yongjae O'Neill and NYCP will perform Schubert's Arpeggione Sonata in an arrangement for solo viola and chamber orchestra, as well as Bruch's Double Concerto with NYCP violinist Siwoo Kim. The program will also include the premiere of a new work by outstanding young composer Jeeyoung Kim and two charming character pieces by Samuel Barber and Hugo Wolf.

"Richard Yongjae O'Neill was ravishing" - The Times, London
"First-rate" - New York Times

Program

S. BARBER / Adagio
JEEYOUNG KIM / Lullaby of the Waves
M. BRUCH / Double Concerto for Violin and Viola
F. SCHUBERT / Arpeggione Sonata
HUGO WOLF / Italian Serenade

To RSVP to the event, please visit: http://www.nycpmusic.org/reserve-your-seats.
For more information, please contact: youngchoi@koreanculture.org or (212)759- 9550 ext. 205.

About the Artist

Praised by the London Times as "ravishing," the Los Angeles Times as "technically immaculate," the San Francisco Chronicle for his "fierce virtuosity," and the New York Times as "high class" with an "elegant, velvety tone," violist RICHARD O'NEILL is one of the very few violists ever to receive an Avery Fisher Career Grant as well as a Grammy Award Nomination for Best Soloist with Orchestra.


His concerto appearances include the London Philharmonic with Vladimir Jurowski, the Los Angeles Philharmonic with Miguel Harth Bedoya, the Seoul Philharmonic with François Xavier Roth, and Unsuk Chin, the KBS and Korean Symphony Orchestras, and the Moscow Chamber Orchestra.


Highlights of his career include performances with the London Philharmonic with conductors Vassily Sinaisky and Yannick Nézet-Séguin, a tour to Seoul Arts Center and the National Concert Hall of Madrid, a sold-out Kennedy Center debut with pianist Warren Jones, his work as the Artistic Director of DITTO, his South Korean chamber music initiative featuring four sold out concerts at Seoul Arts Center and a 10 concert nationwide tour, as well as his 5th solo recording for Deutsche Grammophon. He has made solo debuts at Carnegie Hall's Weill and Zankel Halls, Avery Fisher Hall, The Kennedy Center, Wigmore Hall, Salle Cortot, and the Seoul Arts Center.

<Korean Cultural Service New York>
The Korean Cultural Service New York (KCSNY) is a government institution inaugurated in December 1979 to establish and promote Korean culture and aesthetics in New York. KCSNY provides diverse cultural and artistic activities including gallery exhibitions, performing arts concerts, film festivals, and educational programs. KCSNY is located at 460 Par Avenue (at 57th Street), 6th Floor, New York City. www.koreanculture.org.

<New York Classical Players>
Founded on the belief that access to excellence in music is an essential human right, the New York Classical Players (NYCP) is devoted to bringing free, high-level classical music concerts to communities throughout the greater New York City metropolitan area. A nonprofit organization composed of young professional musicians under the leadership of founding music director Dongmin Kim, NYCP seeks to reach a wide spectrum of audiences with performances that engage the communities in which they occur. www.nycpmusic.org