With their talent recognized worldwide, Jeong Ga Ak Hoe presents the AkDanGwangChil program, showcasing a contemporary interpretation of the spirit of Korean traditional music on March 31st, 2016 at 7 pm at Flushing Town Hall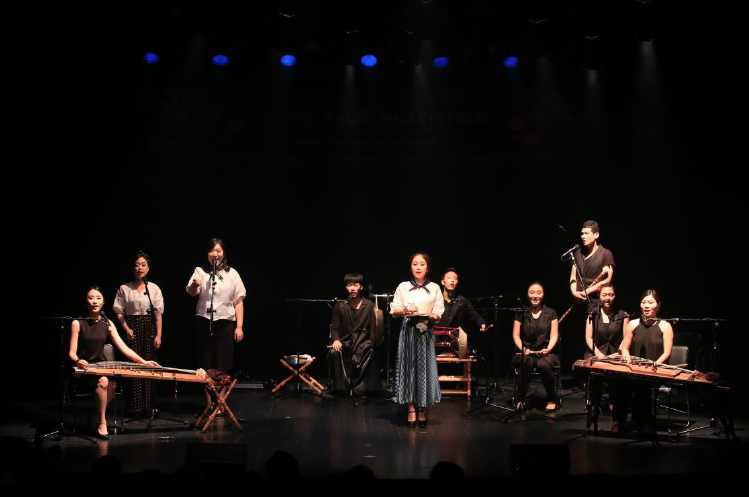 "An expression of North Korean folk music into today's sentiments."

"A contemporary interpretation of the spirit of Hwanghae-do (one of the western provinces of Korea)"

In celebration of 70 years of Korea's liberation, Jeong Ga Ak Hoe (JGAH) one of Korea's most renowned traditional performing arts groups, has produced a novel, creative music concert that embodies the true meaning of liberation and South Korea's desire to be one. Jeong Ga Ak Hoe will present their concert AkDanGwangChil (a combination of two words that mean "musical ensemble" and "70 years of liberation") as a part of Korean Cultural Center New York's OPEN STAGE performing arts showcase on Thursday, March 31st at 7 pm at Flushing Town Hall (137-35 Northern Blvd., Flushing, NY 11354).


By creatively modifying long-established minyo (folk songs) and gut (spirit ritual music) originated from the Northern and Western provinces of Korea, JGAH has transformed old forms to new works that blurs the boundaries of the time and geography. AkDanGwangChil releases the sadness of the past and blends a hopeful vision of the future. With the old Korean voices and melodies tuned into modern pieces, JGAH invites the audiences to participate in a space omitting the time and culture boundaries, and embracing the organic unification that has been sought for years.

JGAH has created an interactive and communicate with the audience the intense energy originating from traditional Korean sounds, and rather than simply being classified under the label of North Korean or South Korean music, this project seeks to be an artistic reflection on the meaning of liberation and unification, emphasizing that which was once a singular culture and music.

About Jeong Ga Ak Hoe:


Now in its 16th year of operation, JGAH is a talented traditional Korean music performance group based in Seoul, Korea. Founded by top Korean traditional performing artists, JGAH was the recipient of the KBS Traditional Korean music award in 2009, and consistently leaves a memorable impression at their performances. Starting in 2005, JGAH's talent began to be sought out outside of Korea, all over the Americas and Europe, to countries such as the U.S., England, Spain, Italy,Denmark, Brazil, Mexico, and more. Early this year, JGAH was invited to the reputed Hong Kong Arts Festival, Asia's largest international arts festival.

JGAH has released a total of 5 albums from the past 8 years together with Akdan, a recording studio which consistently produces high standard traditional Korean music albums. The first album, Julpoongnyu, was praised as an excellent interpretation of the order and harmony of fluidity inherent in Korean classical court music. Additionally, in 2015 JGAH formed a project called AkdanGwangchil for which concerts are continuously being organized.

Praised for its excellence in interpretation of the depth and aesthetics of traditional Korean music, JGAH situates traditional music not merely in the past, but in the here and now, as music which breathes together with the present. In JGAH's concert "AkDanGwangChil", audiences will be treated to a impressive and exciting musical experience, as the group utilizes the music principles of the northern and western provinces of Korea to create a unique and distinguishable sound.

This performance is presented as a part of Korean Cultural Center New York's OPEN STAGE showcase, featuring a rich program of various performing arts programs including Korean traditional music to jazz and world music, as well as contemporary dance and theater. Jeong Ga Ak Hoe's "AkDanGwangChil" is the fourth performance of the season, presented in partnership with Flushing Town Hall, and will be followed by Suk Soon Jung Project S's performance on April 29th, 2016 at La MaMa First Floor Theatre.

All Open Stage performances are free admission, but online RSVPs through the Korean Cultural Center website at www.koreanculture.org is required. All performances are followed by a reception.

"AkDanGwangChil Concert" is presented by Korean Cultural Center NY in partnership with Flushing Town Hall.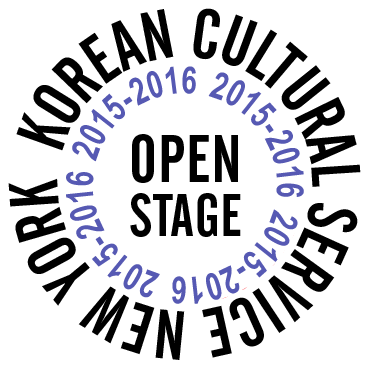 Artist Profile:

Jiae Lee: Gayageum player
Hyunsoo Kim: Daegeum player
Hyanghee Lee: Piri & Saenghwang player
Hyerim Park: Ajaeng player
Heerim Wang: Folk Song singer
Chorong Bang: Singer
Minyoung An: Pansori singer
Jinhyuk Kim: Percussion player
Hyunjun Chon: Percussion player

Program Highlights:

Waiting Upon – This is song about eagerly waiting upon a guest. It is a new arrangement of a song which was sung in Pyongsan country by a shaman during a spirit ritual.

Anxious – The epitome of Hwanghae province folk music, Soosimga is a piece performed with the gayageum. Heightened by the sorrowful gayageum melody, this piece expresses the intense human emotions that transcend time.

Nanbong – This piece is about a womanizing playboy's love story. Nanbongga, is an exemplary folk song from the western provinces, meets the minimalistic aesthetics of gayageum, ajaeng, daegeum, piri, and percussion. As the second half progresses, the performance reaches its climax as the song and instruments converge to leave a lasting impression.

Eolssa – A Pyeongsan shaman rite of the Hwanghae province, Sonoreumgut, is taken as the inspiration of this new arrangement. A daegeum plays the main melody which produces a tragic, sorrowful mood. In the second half, the melody is centered around piri from the unnyulgut shaman rite.

Partnered Lecture Programs:

1) Experience Poongnyu – The Natural Aesthetics of Korean Traditional Music
(Presented with the Queens Museum and the New New Yorkers Program)
Wednesday, March 30th at 1 pm at the Queens Museum

Lecture Description (From the Queens Museum): Through this special one-time event, the instructors from Jeong Ga Ak Hoe, a Korea-based traditional music performance group, will introduce the history and aesthetics of Korean traditional music through a multi-disciplinary lecture that incorporates historical paintings and traditional music. The participants will also have opportunities to hear and play Korean instruments through the hands-on workshop. This event is presented in partnership with the Korean Cultural Center New York. Participants of all ages are welcome.

2) Experience Poongnyu – The Natural Aesthetics of Korean Traditional Music
(With the Queens Library)
Wednesday, March 30th at 6 pm at the Queens Library Flushing Branch

Lecture Description (From the Queens Library): The Jeong Ga Ak Hoe Ensemble offers a truly special opportunity for participants to experience the unique history and aesthetics of Korean traditional music through a multidisciplinary presentation that incorporates historical paintings, traditional music, and a chance to hear and play Korean instruments. This event is presented in partnership with the Korean Cultural Center New York.

Both partnered lecture programs will be presented in English and is a free event, open to the public. No registration is required.

For press inquiries, please contact Mickey Hyun at mickeyhyun@koreanculture.org or pr@koreanculture.org (212-759-9550 ext. 212).
Please direct inquiries to Performing Arts Manager Hyo Han at performingarts@koreanculture.org or (212) 759-9550 (ext. 210).

Korean Cultural Center NY
Inaugurated in 1979, the Korean Cultural Center New York (previous the Korean Cultural Service New York) is a branch of the Ministry of Culture, Sports and Tourism (MCST) of the Republic of Korea. Under the authority of the Consulate General of the Republic of Korea in New York, the Korean Cultural Center works to promote cultural arts exchange and stimulate interest in Korean culture through various opportunities. The Korean Cultural Center provides diverse activities including exhibitions, concerts, film festivals, and educational programs. KCSNY is located at 460 Park Avenue (at 57th Street), 6th Floor, New York City. www.koreanculture.org.