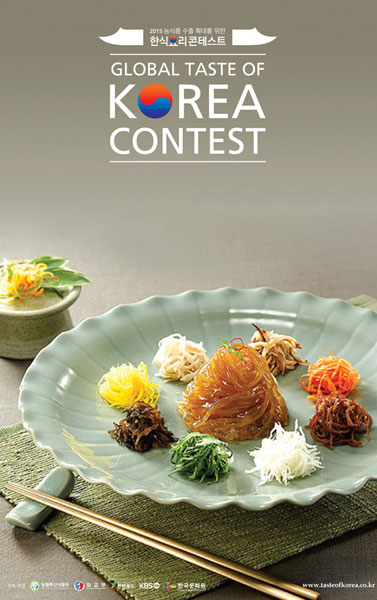 Saturday, July 18th, 2015 @1 pm

The International Culinary Center of New York
462 Broadway New York, NY 10013


The Korean Cultural Service New York of the Consulate General of the Republic of Korea in New York, sponsored by the Ministry of Foreign Affairs of Korea (MOFA), Ministry of Agriculture Food and Rural Affairs (MAFRA), Korea Agro-Fisheries and Food Trade Corp, and Korea Broadcasting System (KBS) presents the Global 'Taste of Korea' Contest: New York Preliminaries. This competition is an opportunity for US citizens of non-Korean ethnic backgrounds with a strong appreciation for Korean cuisine and a passion for cooking to present their culinary skills. The Preliminaries in New York will take place at the International Culinary Center of New York on Saturday, July 18th at 1:00 pm.


To enter, contestants will first submit an application that includes an introductory video describing their background and passion for Korean food along with a cooking demonstration of a Korean dish. 12 applicants will be chosen to cook in the live preliminaries on July 18th. In this live competition, chefs must choose to cook one Korean dish utilizing at least one of the following Korean condiments: gochujang (red chili paste), doenjang (soybean paste), and ganjang (soy sauce). A panel of chefs and industry professionals will judge the dishes to select the first, second, and third place winners for the New York Preliminaries competition.

The first place winner of the New York Preliminaries will join the 17 other representative winners from participating countries to Korea for a ten-day culinary trip to compete in the semi-final round and the final competition. 5 contestants will advance to compete in the final competition for a chance to win a grand prize of $10,000 and the runner-up will receive a prize of $3,000.

For more information and full guidelines, please visit our website, www.koreanculture.org . For all direct inquiries, please email kcsny@koreanculture.org

Further information will be available via the Korean Cultural Service Facebook page www.facebook.com/KoreanCulturalServiceNY and the contest Facebook page www.facebook.com/KFoodWorldFestival

For additional information about the Global contest, please visit www.tasteofkorea.co.kr

Korean Cultural Service NY
Inaugurated in 1979, the Korean Cultural Service New York (KCSNY) is a branch of the Ministry of Culture, Sports and Tourism (MCST) of the Republic of Korea. Under the authority of the Consulate General of the Republic of Korea in New York, KCSNY works to promote cultural arts exchange and stimulate interest in Korean culture through various opportunities. KCSNY provides diverse activities including exhibitions, concerts, film festivals, and educational programs. KCSNY is located at 460 Park Avenue (at 57th Street), 6th Floor, New York City. www.koreanculture.org