Presented by Korean Cultural Service NY
TUESDAY, December 16th, 2014 @ 7 PM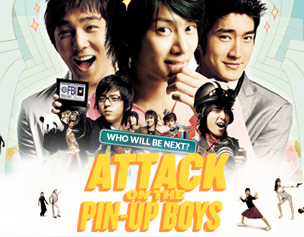 ATTACK ON THE PIN-UP BOYS
(2007, 81 min, North American Premiere)
Tribeca Cinemas
54 Varick Street

FREE ADMISSION
All seating is first come, first served.
Doors open at 6:30 pm. Film begins at 7:00 pm.

Series VI: " Idols on Film: K-pop Superstars Take on Cinema!"

The Korean Cultural Service NY certainly loves its entertainment – and Korea certainly has a lot of it! Perhaps the only thing the country does bigger than its movies is its music, which has become a phenomenon in recent years, thanks to the globalization of Korea's pop music, now known worldwide as "K-pop!"

Many of K-pop's biggest stars have made the leap from music to movies, and we're celebrating their successes as actors and singers in a big way! That's right – this winter, we're bringing you four hot films, headlined by the biggest K-pop stars in the world!

For additional information, trailers, and more, please visit our web-site at www.koreanculture.org or like us on Facebook at Facebook.com/KoreanMovieNY and follow us on Twitter at Twitter.com/KoreanMovieNY.

ATTACK ON THE PIN-UP BOYS (2007, 81 min, North American Premiere)

On Valentine's Day, class heartthrob Sungmin is attacked by an unseen foe, and hit with a bag of feces! A month later, a similar attack occurs on another school's most beloved male student – and again, a month later at another school! A rumor begins spreading about which school the attack will happen next, and the studious Kibum decides he's going to crack the smelly case wide open! The attack could be headed toward any number of dreamy students– and time is running out! Packed with hilarious, unpredictable humor, Attack on the Pin-Up Boys stars eleven members of the K-pop super group, Super Junior!

The film will be shown in Korean with English subtitles.