Presented by Korean Cultural Service NY
TUESDAY, December 2nd, 2014 @ 7 PM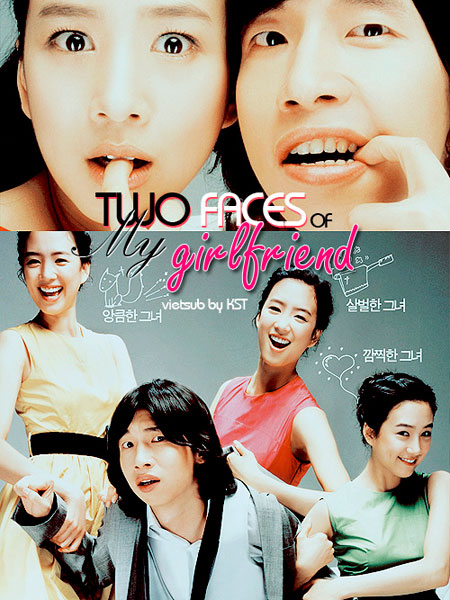 TWO FACES OF MY GIRLFRIEND
(2007, 117 min, North American Premiere)

Tribeca Cinemas
54 Varick Street

FREE ADMISSION
All seating is first come, first served.
Doors open at 6:30 pm. Film begins at 7:00 pm.

Series VI: " Idols on Film: K-pop Superstars Take on Cinema!"

The Korean Cultural Service NY certainly loves its entertainment – and Korea certainly has a lot of it! Perhaps the only thing the country does bigger than its movies is its music, which has become a phenomenon in recent years, thanks to the globalization of Korea's pop music, now known worldwide as "K-pop!"

Many of K-pop's biggest stars have made the leap from music to movies, and we're celebrating their successes as actors and singers in a big way! That's right – this winter, we're bringing you four hot films, headlined by the biggest K-pop stars in the world!

For additional information, trailers, and more, please visit our web-site at www.koreanculture.org or like us on Facebook at Facebook.com/KoreanMovieNY and follow us on Twitter at Twitter.com/KoreanMovieNY.

TWO FACES OF MY GIRLFRIEND (2007, 117 min, North American Premiere)

Gu-chang, who has spent the past seven years of his life in college, can't find a job and doesn't have the money to get a date. One day, he spies a wallet on the street with three dollars in it. When he realizes that the owner of wallet is A-Ni, a beautiful young woman, he hands it back to her. Gu-chang instantly falls in love, and begins a relationship that he thinks will last forever… but just as everything seems perfect, he discovers another side to A-Ni – a dark side that he cannot comprehend. Could the woman Gu-chang fell in love with just be one of the girl's multiple personalities… and how will he save her? This charming, dramatic romance stars the blockbuster debut of JUNG Ryeo-won, known for her career as a singer in the girl group Chakra, whose performance received the Blue Dragon Award for "New Leading Actress!"

The film will be shown in Korean with English subtitles.

The next free Korean Movie Night screening will be of "ATTACK ON THE PIN-UP BOYS (2007, 81 min, North American Premiere)" on Tuesday, December 16th, 2014.