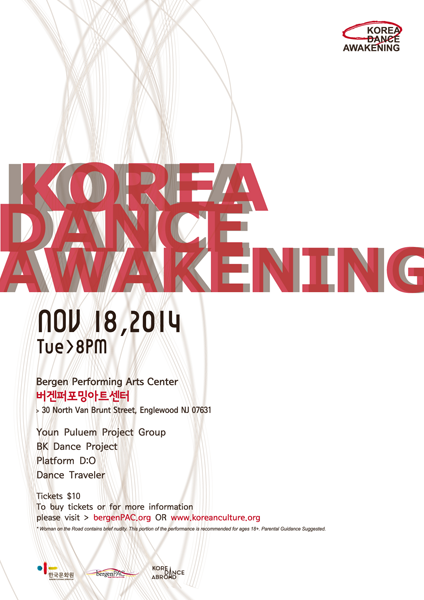 Tuesday, November 18, 2014, 8PM
Tickets: $10

Tickets available at: www.ticketmaster.com or www.bergenpac.org or bergenPAC Box Office 201-227-1030
Program details: www.koreanculture.org or write to performingarts@koreanculture.org

<Korea Dance Awakening> is co-presented by Korean Cultural Service NY and Bergen Performing Arts Center in cooperation with Korea Dance Abroad.

Korean Cultural Service NY presents <Korea Dance Awakening>, Tuesday, November 18, 2014 at 8PM. Reserve tickets to see the inaugural Korean Cultural Service NY (KCSNY)/bergenPAC production under the new joint Memorandum of Understanding at www.ticketmaster.com or Box Office at 201.227.1030.

KCSNY and bergenPAC co-present <Korea Dance Awakening>, a contemporary dance series comprised of talented up-and-coming Korean choreographers living and working in the New York and New Jersey areas with cooperation with Korea Dance Abroad.
For this special performance, four rising modern dance groups will showcase their outstanding, cutting-edge works that demonstrate their sheer innovation. Audiences will be treated to a revelry of the senses as they watch the dancers express a spectrum of human emotions.

In October of 2014, the Korean Cultural Service NY established the Memorandum of Agreement with the Bergen Performing Arts Center to support promising Korean artists to gain momentum and international recognition, as well as to introduce the general public to a broader world of Korean art and culture. <Korea Dance Awakening> marks the commencement of commitment to uncompromising artistic excellence, engagement with community, innovative vision, and collaboration and teamwork through the partnership of the KCSNY and bergenPAC.

To purchase tickets, please visit the BergenPAC website at www.bergenpac.org or www.ticketmaster.com and for program details, please contact 212-759-9559 ext 210, write to performingarts@koreanculture.org or refer to the Korean Cultural Service NY website at www.koreanculture.org.

Lineup

Four distinguished modern dance groups, led and choreographed by rising Korean choreographers, will connect with the audience with a universal appeal that will enrich the human spirit and enhance cultural vitality of life.

Youn Puluem Project Group, Woman on the Road
Choreographed by Puluem Youn

Puluem Youn, founder of Youn Puluem Project Group, has received numerous awards including the prestigious Grand Prix (Group) at Seoul International Choreography Festival 2011 and the top prize in Modern Dance Promotion of Korea 2012. Puleum Youn's works pursue the aesthetic consciousness of beauty, while embracing space and human relationship through artistically honest movements.

Woman on the Road contains brief nudity. This portion of the performance is recommended for ages 18+. Parental Guidance Suggested.

BK Dance Project, Pretense II
Choreographed by Bo Kyoung Lee

BK Dance Project aims to transform people's varied interests, experiences, and happenstance into an art form through the performers' movements and emotion. The company draws on diverse influences and genre of art to better engage and enliven the audience.

Platform D:O, Dear One,
Choreographed by Jee Yun Hong

Platform D:O is an interactive and collaborative project that brings awareness and consciousness of the moment in dance. The project seeks to enhance communication between people, explore the unknown, and merge multicultural arts through a wide range of styles and expression.

Dance Traveler, Slave of the Air
Choreographed by Young Hoon Oh

Dance traveler is a newly established touring dance company from Korea. Young Hoon Oh is the choreographer who creates his own set of movement vocabulary by harmonizing unique expression with strong technique. He has performed, choreographed, and received critical acclaim for various works in Korea and abroad. In addition, he has collaborated with numerous renowned dance companies in Korea, including the Yook Wansoon Dance Company, Didim Dance Company, Dance Theater Ccadoo, among many others. His stature was confirmed when he received the Best Actor Award from the 29th Seoul Dance Festival, which is one of the highest honors for a professional dancer to receive in Korea.

Korean Cultural Service New York
Inaugurated in 1979, the Korean Cultural Service New York (KCSNY) is a branch of the Ministry of Culture, Sports and Tourism (MCST) of the Republic of Korea. Under the authority of the Consulate General of the Republic of Korea in New York, we work to promote cultural arts exchange and stimulate interest in Korean culture through our various programs. KCSNY provides diverse activities including exhibitions, concerts, film festivals, and educational programs.
460 Park Avenue, 6th Floor, New York NY 10022
www.KoreanCulture.org | www.Facebook.com/KoreanCulturalServiceNY | Twitter @KoreanCultureNY