Presented by Korean Cultural Service NY
TUESDAY, October 28th, 2014 @ 7 PM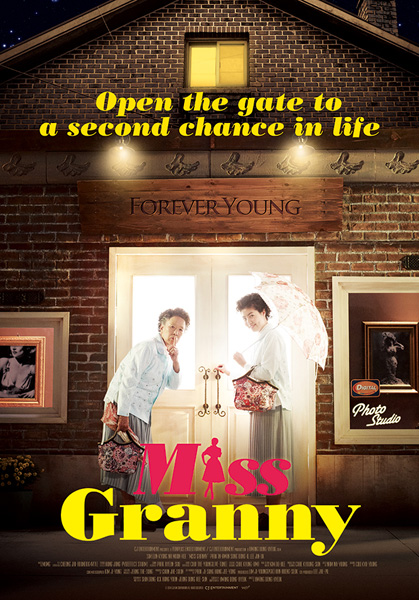 MISS GRANNY
(2014, 124 min)
Tribeca Cinemas
54 Varick Street

FREE ADMISSION
All seating is first come, first served.
Doors open at 6:30 pm. Film begins at 7:00 pm.

Series Five - "Blown Away by Korean Blockbusters"

There's nothing quite like seeking out those tiny, unknown films that fly under the radar and celebrating them for their unique originality and charm. But we can't help but admit that we also love blockbusters – those gigantic, expansive spectacles, packed with special effects, the biggest stars, and the most epic of stories! And why shouldn't we embrace these mega-hits? We've got four new movies to prove what it means to dominate the box office.

This autumn, we're celebrating four of Korea's hugest recent blockbusters – ripped from Asian multiplexes and brought with great joy to Tribeca Cinemas! Get ready for the hits, because these are the biggest films of the year, coming to you for free – as always – from your friends at The Korean Cultural Service! For additional information, trailers, and more, please visit our web-site at www.koreanculture.org or like us on Facebook at Facebook.com/KoreanMovieNY and follow us on Twitter at Twitter.com/KoreanMovieNY.

MISS GRANNY (2014, 124 min)

Mal-soon is a grumpy old lady whose family and neighbors have grown very tired of. When her temper puts her daughter-in-law in the hospital, her family decides that enough is enough – and it's time to send her to a nursing home. Overhearing their plans, Mal-soon hides away from her family and magically awakens the next morning in the body of her twenty-year-old self! With no one recognizing her, Mal-soon decides to call herself Audrey for resembling Audrey Hepburn and embrace her newfound youth. She accepts her guitarist grandson's invitation to join his band and enter a TV singing competition. This reverse take on BIG, one of Korea's biggest box office hits, shows us that it's never too late to embrace our youth!

The film will be shown in Korean with English subtitles.
The next free Korean Movie Night screening will be of TAZZA: THE HIDDEN CARD (2014, 147 min) with a new series "Idols on Film: K-pop Superstars Take on Cinema!" on Tuesday, November 4th, 2014.