Presented by Korean Cultural Service NY
TUESDAY, September 23rd, 2014 @ 7 PM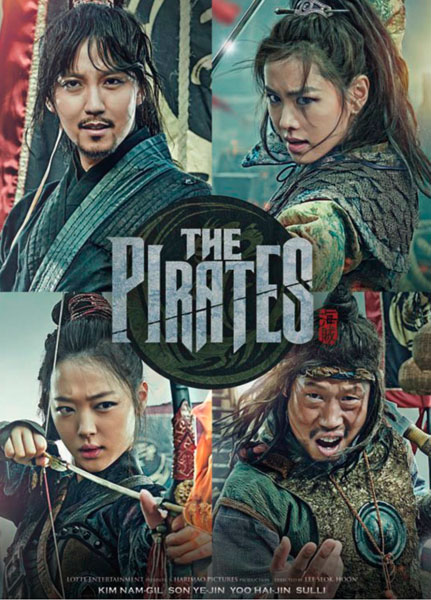 THE PIRATES
(2014, 130 min)

Tribeca Cinemas
54 Varick Street

FREE ADMISSION
All seating is first come, first served.
Doors open at 6:30 pm. Film begins at 7:00 pm.

Series Five-"Blown Away by Korean Blockbusters"

There's nothing quite like seeking out those tiny, unknown films that fly under the radar and celebrating them for their unique originality and charm. But we can't help but admit that we also love blockbusters – those gigantic, expansive spectacles, packed with special effects, the biggest stars, and the most epic of stories! And why shouldn't we embrace these mega-hits? We've got four new movies to prove what it means to dominate the box office.

This autumn, we're celebrating four of Korea's hugest recent blockbusters – ripped from Asian multiplexes and brought with great joy to Tribeca Cinemas! Get ready for the hits, because these are the biggest films of the year, coming to you for free – as always – from your friends at The Korean Cultural Service! For additional information, trailers, and more, please visit our web-site at www.koreanculture.org or like us on Facebook at Facebook.com/KoreanMovieNY and follow us on Twitter at Twitter.com/KoreanMovieNY.

THE PIRATES (2014, 130 min)

A legend has been whispered of for ten years – one of a ghost whale that attacked a ship and swallowed the great seal of the Joseon Dynasty. This epic comedy adventure, based on the loss of the great seal (which wasn't found until 1403), has a group of bandits, pirates, and heads of state, driven by honor, ambition, thrill, and greed to find the seal at all costs. Facing off against evil buccaneers, corrupt government officials, and their own ranks, there is no telling who will track down the ghost whale, recover the great seal, and save the day! Filled with incredible action, sexy romance, and hilarious characters – THE PIRATES is one of Korea's biggest box office hits of 2014!

The film will be shown in Korean with English subtitles.
The next free Korean Movie Night screening will be of THE DIVINE MOVE (2014, 118 min) on Tuesday, October 14th, 2014.