Presented by Korean Cultural Service NY
TUESDAY, August 12th, 2014 @ 7 PM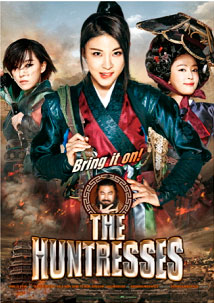 THE HUNTRESSES
(2013, 107 min, US Premiere)

Tribeca Cinemas
54 Varick Street
(on the corner of Canal Street, one block from the A, C, E and 1 train Canal Street stops)

FREE ADMISSION
All seating is first come, first served.
Doors open at 6:30 pm. Film begins at 7:00 pm.

Series Four-"EPIC ACTION"

Summer is finally here and thanks to your friends at The Korean Cultural Service, things are about to get action-packed! Reviving one of our most popular film series of all time, we're bringing you a fresh trio of brand new epic action films, each guaranteed to transport you through time – and beat you senseless along the way!

Korea has always known how to do period-set action and these three new films prove they're only getting better with time! So come on down to Tribeca Cinemas and beat the heat with brand new blockbusters that are equal parts history, action, and heart –brought to you for free (as always!) by The Korean Cultural Service. It's going to be epic!

For additional information, trailers, and more, please visit our web-site at www.koreanculture.org or like us on Facebook at Facebook.com/KoreanMovieNY and follow us on Twitter at Twitter.com/KoreanMovieNY.

THE HUNTRESSES (2013, 107 min, US Premiere)
As a child, Jin-ok witnesses the murder of her father and narrowly escapes death. Ferried away by a legendary fighter, she and two other girls begin training in martial arts and become THE HUNTRESSES! Ten years later, the trio of young women have become the Joseon dynasty's top bounty hunters. Commissioned by the king, they set out on a secret mission to search for the legendary stauroscope – an object that, if it were to land in the hands of evil, would grant absolute power to the holder and overturn the royal family! If you're craving excitement, you can't miss this hilarious, heartwarming action-fest that's epically fun!

The film will be shown in Korean with English subtitles.

The next free Korean Movie Night screening will be of THE ROARING CURRENTS (2014, 128min) on Tuesday, August 26th, 2014.