Presented by Korean Cultural Service NY
TUESDAY, May 13th, 2014 @ 7 PM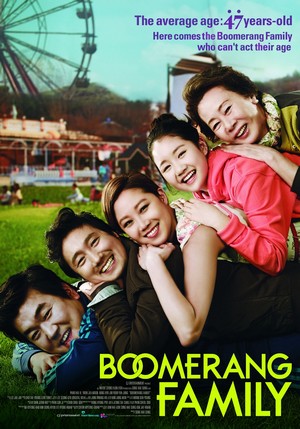 BOOMERANG FAMILY

Tribeca Cinemas
54 Varick Street (on the corner of Canal Street, one block from the A, C, E and 1 train Canal Street stops)

FREE ADMISSION
All seating is first come, first served.
Doors open at 6:30 pm. Film begins at 7:00 pm.

Series Three-"Redefinition of Family"

As we grow older, we learn just how important our families are – and through this trio of wonderful new films, The Korean Cultural Service proves that this sentiment is the same all over the world. From happiness to tears, anger to redemption, family is the most incredible gift we are given – and we're celebrating life's strongest bonds. Celebrate the warmth and life returning to New York City's streets by bringing your friends, co-workers, and families to this thrilling trio of beautiful and very different cinematic treasures, guaranteed to make you ponder about what it means to be a family, and ultimately cherish your loved ones even more than you already do. And don't forget… as always, every film screening in our latest and greatest series is completely free!

BOOMERANG FAMILY (2013, 113 min, American Premiere)

Filmmaker In-Mo is going through a crisis. His wife has left him for another man, his first movie is a total flop, and now he can't pay his rent. While visiting his mother for dinner, he makes the decision to stay at her house indefinitely – a choice that does not sit well with his ex-con brother. Soon, In-Mo discovers that his sister is also planning on moving back home, and the usually calm family spirals into heated arguments. Who deserves to live there the most? Will the issues of her troubled children drive their secretive mother to madness? And most importantly, can they ever all live together as a happy family?

The film will be shown in Korean with English subtitles.
The next free Korean Movie Night screening will be of MY NO-MERCY HOME (2013, 77 min, North American Premiere) on Tuesday, May 27th, 2014.