Presented by Korean Cultural Service NY
TUESDAY, April 15th, 2014 @ 7 PM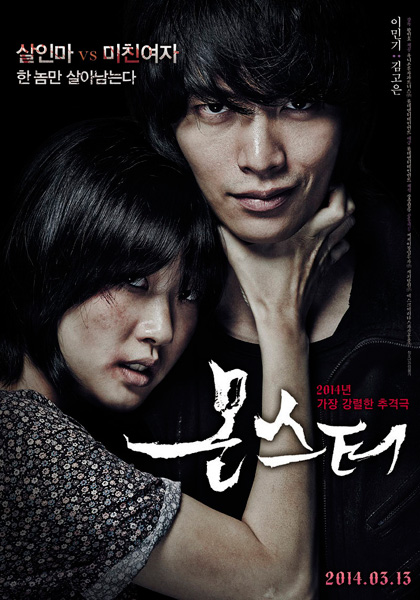 MONSTER

Tribeca Cinemas
54 Varick Street (on the corner of Canal Street, one block from the A, C, E and 1 train Canal Street stops)

FREE ADMISSION
All seating is first come, first served.
Doors open at 6:30 pm. Film begins at 7:00 pm.


Series Two - "Korean Girl Power: Embracing What Matters"

Why should guys have all the fun? In the Korean Cultural Service's latest film series at Tribeca Cinemas, we're embracing the energy, excitement, and explosiveness of womanhood with a trio of brand new films that are sure to move you – and guaranteed to entertain!

Starting March 11th, the Korean Cultural Service is offering up a heaping helping of Korean Girl Power – starting with the 2014 comedy VENUS TALK, following it up with the new murder mystery MONSTER, and wrapping things up with the incredible 2013 documentary NORA NOH! With the weather warming and the skies clearing, welcome in spring with a trio of heartwarming, exciting, and inspiring films that are perfect for everyone!

So grab a date, come alone, or find your perfect match at Tribeca Cinemas, because we've got three of Korea's best new films – brought to you for free, as always, by The Korean Cultural Service!


MONSTER (2014, 113 min)

Things get dark and electrifying in Hwang In-ho's new thriller, Monster – the intense tale of the mentally handicapped Bok-soon (KIM Go-Eun), who lives and works with her younger sibling. When angered, she tends to go off, and everyone around her considers her the neighborhood's crazy woman. All that changes when Bok-soon discovers a serial killer who murders her sibling to hide his own secret. Now it's time for the one woman who no one trusts to track down a killer that no one believes is real. A thrilling mystery from director Hwang In-ho, this new film reminds us that there is no fury like that of a woman scorned!

The film will be shown in Korean with English subtitles.

The next free Korean Movie Night screening will be of NORA NOH (2013, 93 min) on Tuesday, April 29th, 2014.