Friday, April 25, 2014, 7PM
Korean Cultural Service NY

For the 5th installation of the 2013-2014 Open Stage Performance series, the Korean Cultural Service New York (KCSNY) is proud to present the puppet theater performance Climb a Willow to the Sea God's Palace.

The show is a puppet theatre with live Korean traditional painting and traditional music. Handmade shadow puppets emerge from the painted scenes accompanied by Korean musical rhythm, which allows the audience to be immersed into the old fairy tale. Particularly, young audience members will be captivated with its creative performance and moral lesson.

The story is about brotherly love and filial duty towards parents. The main characters are two friendly brothers who once lived in Kangwon Province in Korea. Their father's last words lead to a disagreement between the brothers, and they go their separate ways. The younger brother follows their father's words and reunites with their father in the Palace of the Sea King but of some disturbing news about his elder brother.

Since April of 1996, Kkumdongi Puppet Theatre has performed their puppet performance, juvenile drama, and cultural education programs. The organization focuses on creating and developing their original plays such as the Kangwon Province Folk Tale Series.

AWARDS & Touring History

2012 Grand Prize Award, GOYANG LAKE - PARK ARTS FESTIVAL
2102 Outstanding Production at "GoO! Avignon Off" Busan International Performing Arts Festival
2012 Silver Award and Production Design Award at the 10th Gimcheon National Theatre Festival for Family
2013 The 17th Suwon Hwaseong Fortress Theatre Festival, Official Selection Works.
2013 GOYANG LAKE - PARK ARTS FESTIVAL, Official Selection Works.
2006~2013 Korea Culture Week in Shenyang, China
2013 Edinburgh Fringe Festival, Entries

The director of KCSNY, Woo Sung Lee, proclaimed that "This Open Stage will be a chance to bring Korean beauty and moral lessons to young audiences. Climb a Willow to the Sea God's Palace is a good attempt for gathering all generations together with an inspiring moment. We hope that this performance will allow for various age groups to learn more about Korean tradition and culture."

Climb a Willow to the Sea God's Palace is a free performance, but reservations are required. The performance is in Korean, and English subtitle will be provided. Please reserve your seat through the Korean Cultural Service NY's website at: www.koreanculture.org.

An additional free performance will take place at the New Jersey Bergen Performing Arts Center (30 North Van Brunt Street, Englewood, NJ 07631) on Saturday, May 3, at 4PM. For inquires related to the New Jersey performance, please call: (201)-816-8160 (ext. 18).
Climb a Willow to the Sea God's Palace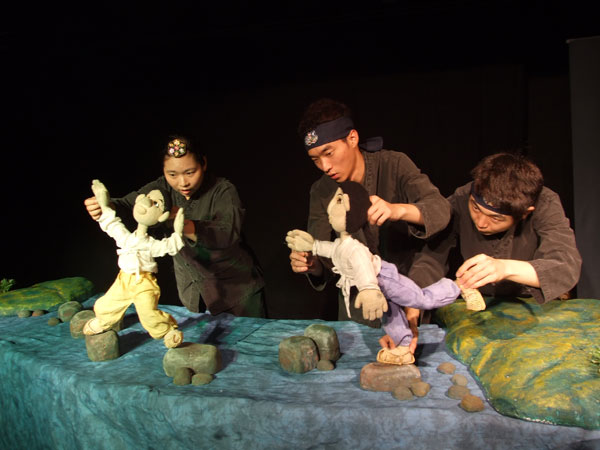 Title: Climb a Willow to the Sea God's Palace
Time: Friday, April 25, 2014, 7 PM
Location: Korean Cultural Service NY (460 Park Ave. 6th Floor, NYC)
Performance Time: 60 minutes
Original Work & Adaptation: Seoung-Ho Park
Director: Young-Woo Shin
Performers: Young-Woo Shin(Drawing, Grandmother, Woman), Jung-A Shin(Bital-e), Jeong-Hyeon Yun(Sangol-e), Tae-Eun Lee(Father)
Art Director: Young-Chul Lee
Lighting Operator: Jung-Sun Yoo
Sound Operator & Translator: Jee-Sun Mok
Sound Operator: Jung-Hee Shin