Presented by Korean Cultural Service NY
TUESDAY, March 11th, 2014 @ 7 PM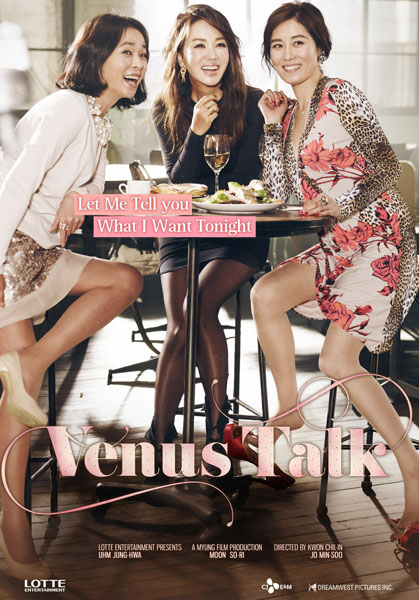 VENUS TALK

Tribeca Cinemas
54 Varick Street
(on the corner of Canal Street, one block from the A, C, E and 1 train Canal Street stops)

FREE ADMISSION
All seating is first come, first served.
Doors open at 6:30 pm. Film begins at 7:00 pm.

Series Two-"Korean Girl Power: Embracing What Matters"

Why should guys have all the fun? In the Korean Cultural Service's latest film series at Tribeca Cinemas, we're embracing the energy, excitement, and explosiveness of womanhood with a trio of brand new films that are sure to move you – and guaranteed to entertain!

Starting March 11th, the Korean Cultural Service is offering up a heaping helping of Korean Girl Power – starting with the 2014 comedy VENUS TALK, following it up with the new murder mystery MONSTER, and wrapping things up with the incredible 2013 documentary NORA NOH! With the weather warming and the skies clearing, welcome in spring with a trio of heartwarming, exciting, and inspiring films that are perfect for everyone!

So grab a date, come alone, or find your perfect match at Tribeca Cinemas, because we've got three of Korea's best new films – brought to you for free, as always, by The Korean Cultural Service!

VENUS TALK (2014, 108 min)

Korea's take on Sex in the City is a charming, eye-opening joyride that takes us through the day-to-day experiences of three women from very different walks of life, through the ups and downs of their wild relationships, sex lives, and friendships. Television producer Shin-hye (UHM Jeong-hwa), housewife Mi-yeon (MOON So-ri), and single mother Hae-young (JO Min-soo) are an inseparable trio, bound together by their passions – but when life gets the best of them, they must band together and prove that their love for each other can overcome all obstacles. A brand new comedy from Myung Films and director Kwon Chil-in (Singles), Venus Talk has been burning up Korean box offices over the past few weeks, and guaranteed to light a passionate fire at Tribeca Cinemas!

The film will be shown in Korean with English subtitles.

The next free Korean Movie Night screening will be of MONSTER (2014, 113 min) on Tuesday, April 15th, 2014.