Presented by Korean Cultural Service NY
TUESDAY, February 25th, 2014 @ 7 PM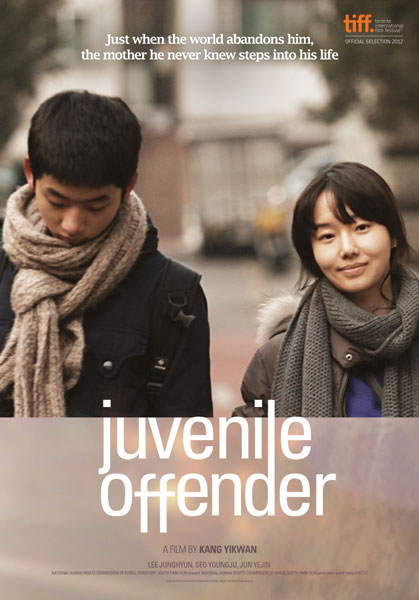 JUVENILE OFFENDER

Tribeca Cinemas
54 Varick Street
(on the corner of Canal Street, one block from the A, C, E and 1 train Canal Street stops)

FREE ADMISSION
All seating is first come, first served.
Doors open at 6:30 pm. Film begins at 7:00 pm.

Series One- Wild Days: Coming of Age in 2014

It's a new year, which means it's time for a whole new round of incredible free movies at Tribeca Cinemas – presented by The Korean Cultural Service. And to start off 2014… we're going wild!

Starting January 14th, join us for our new series, Wild Days – which showcases four brand new coming-of-age films (including Korea's official submission to the Academy Awards), a cinematic foursome that varies between explosive, suspenseful, and downright sweet. While, on the surface, super-spies and troubled teens don't seem to have that much in common, our new series is all about finding yourself and making the most of life – a concept that we think is the perfect way to kick off a new year! So bundle up this winter, gather your friends, and get ready for some of Korea's finest new action, thrills, and drama – brought to you for free, as always, by The Korean Cultural Service NY!

JUVENILE OFFENDER (2012, 117 min)

Teenage Jang Ji-gu (SEO Young-Joo) takes care of his ill grandfather while hanging out with other troubled kids. Abandoned by his parents at an early age, he suffers multiple run-ins with the law and is eventually sent to a detention center for juvenile offenders. One day, Ji-gu is surprised to learn that his long-forgotten mother (LEE Jung-Hyun) has unexpectedly come back for him. Discovering that his mother had him at a very young age and gave him up soon after his birth, Ji-gu struggles with repairing their relationship… but as this charming new blockbuster proves – with love, anything is possible.

The film will be shown in Korean with English subtitles.

The next free Korean Movie Night screening will be of Venus Talk (20143, 10839 min) with a new series 'Korean Girl Power: Embracing What Matters' on Tuesday, March 11th, 2014.