Presented by Korean Cultural Service NY
TUESDAY, January 28th, 2014 @ 7 PM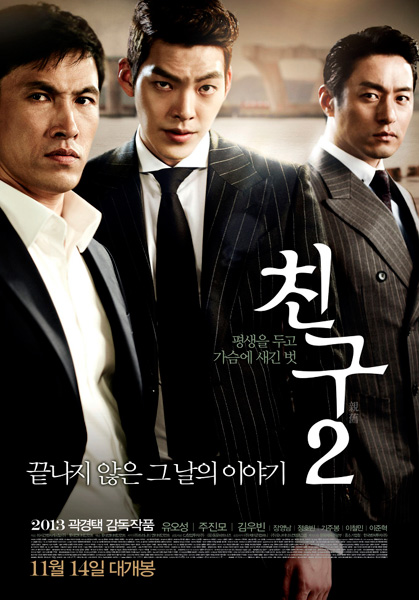 FRIEND: THE GREAT LEGACY

Tribeca Cinemas
54 Varick Street
(on the corner of Canal Street, one block from the A, C, E and 1 train Canal Street stops)

FREE ADMISSION
All seating is first come, first served.
Doors open at 6:30 pm. Film begins at 7:00 pm.

Series One- Wild Days: Coming of Age in 2014

It's a new year, which means it's time for a whole new round of incredible free movies at Tribeca Cinemas – presented by The Korean Cultural Service. And to start off 2014… we're going wild!

Starting January 14th, join us for our new series, Wild Days – which showcases four brand new coming-of-age films (including Korea's official submission to the Academy Awards), a cinematic foursome that varies between explosive, suspenseful, and downright sweet. While, on the surface, super-spies and troubled teens don't seem to have that much in common, our new series is all about finding yourself and making the most of life – a concept that we think is the perfect way to kick off a new year! So bundle up this winter, gather your friends, and get ready for some of Korea's finest new action, thrills, and drama – brought to you for free, as always, by The Korean Cultural Service NY!

FRIEND: THE GREAT LEGACY (2013, 124 min)

With no memory of his father, Sung-Hoon (KIM Woo-Bin) was raised and surrounded by gangsters. As he grew up, he fell into a life of crime. Now imprisoned, his only hope for survival is Joon-Seok (YU Oh-Seong), an unexpected role model. Feeling both admiration and jealousy towards charismatic Joon-Seok, a seventeen-year veteran of the penitentiary, Sung-Hoon's friendship with him blossoms. Later, they find themselves freed from prison and joining Joon-Seok's gang, where Sung-hoon discovers that his mentor is somehow connected to his father's death.

The film will be shown in Korean with English subtitles.

The next free Korean Movie Night screening will be of THE SUSPECT (2013, 137 min) on Tuesday, February 11th, 2014.