Korean Movie Night 2014 SPECIAL SCREENING
Presented by Korean Cultural Service NY
TUESDAY, July 1st, 2014 @ 7 PM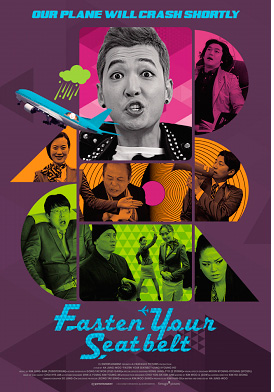 FASTEN YOUR SEATBELT
(2013, 93min, New York Premiere)

Tribeca Cinemas
54 Varick Street, NYC

FREE ADMISSION
All seating is first come, first served.
Doors open at 6:30 pm. Film begins at 7:00 pm.

Korean Cultural Service NY is proud to present a special free screening of the hilarious 2013 film FASTEN YOUR SEATBELT. As HA Jung-woo's acclaimed directorial debut, a pop star, businessman, monk, and paparazzi photographer are among the passengers aboard an airplane when a typhoon strikes. Whereas one might assume the film then becomes tragic, it's quite the opposite – the film embraces the brilliant comedic misadventures of the passengers and crew! The plot was inspired by the real-life experience of Korean actor RYOO Seung-beom.

The film will be shown in Korean with English subtitles.

The next free Korean Movie Night screening will be of THE FATAL ENCOUNTER (2014, 135 min) with 'Series IV: EPIC ACTION' on Tuesday, July 29th, 2014.

* If you want to experience more great cinema from actors-turned-directors, the 2014 New York Asian Film Festival, co-presented with Korean Cultural Service NY, will be screening PARK Joong Hoon's directorial debut, TOP STAR, at The Film Society of Lincoln Center on June 28th! Tickets are available http://www.filmlinc.com/films/on-sale/top-star.