< Leodo: Paradise Lost > by Norian Maro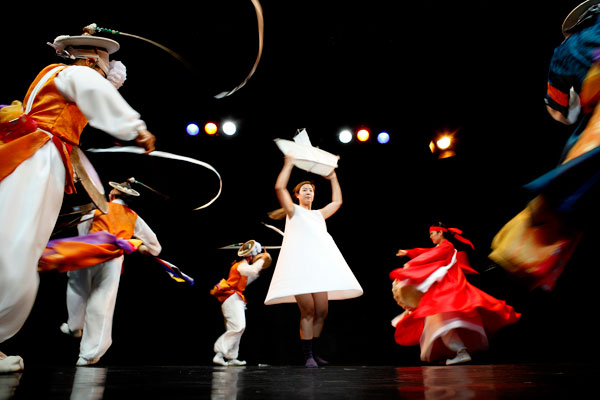 Second Performance of the OPEN STAGE 2014-2015 Season


Friday, January 16, 2015, 8 pm
Flushing Town Hall, 137-35 Northern Blvd, Flushing, NY

This event is presented by the Korean Cultural Service New York in partnership with Flushing Town Hall.

Come open the New Year through the energy of pungmul!

Award-winning director and choreographer Haein Song and the internationally acclaimed Korean physical theater group Norian Maro will present their newest production, <Leodo: Paradise Lost>, on Friday, January 16th, 2015 at 8 pm at the Flushing Town Hall.

This mesmerizing Korean performance will feature pungmul, a traditional percussive music and dance genre originally performed by farmers. This folk music tradition was recently recognized by UNESCO as an Intangible Cultural Heritage of Humanity.

Under Haein Song's artistic direction, the performance will embody not just the technical methods of this genre, but also the spirit of pungmul, which encourages, entertains, and unifies the performers and the audience through the power of tradition. The energetic and multi-talented group creates an enthralling atmosphere as they conjure "Leodo," a fantasy island, through a harmony of splendid costumes, passionate movements, dynamic drumming, and enchanting songs; the audience is transported into an imaginary world, delivering the wisdom and joys of Jeju Island and its people.

<Synopsis>
According to the folk tales of Jeju Island, Leodo is a mythical island of nirvana where lost souls at sea dwell in paradise.

The story begins with a female diver who goes to work and departs this life as she gets swept away by the waves. She alone must go to the world beyond, but the soul of the woman cannot easily depart this life because she cannot break free from her deep sorrow and regret in this world. However, through the help of the Sea God and the Gods of Leodo, she manages to open the road that leads to the island of paradise.

<About the Artists>
Norian Maro is an innovative traditional Korean performance group based in Jeju Island that is dedicated to fostering national artistic traditions and local folk culture through dance and movement, song and percussion, interwoven with elements of mythology. Their unique name means 'a gathering of those enjoying the best of Korean traditional arts.'

Originally founded in 2005 as a samulnori (traditional percussion music) group, Norian Maro has since fused traditional and contemporary performance styles into their production, earning them the reputation as one of Korea's premier traditional music and dance troupes. Designated as Jeju's Specialized Performance Arts Groups in 2010 and Jeju Social Enterprise in 2011, Norian Maro performs at more than 800 shows annually, both domestic and abroad. Most notably in 2013, Norian Maro received an international invitation to perform at the Sydney Chinese New Year Festival, CIOFF Festival in Guadeloupe, and at the Edinburgh Festival Fringe.

Composer: Ho Sung Yang, Haein Song
Director: Haein Song
Choreographer: Haein Song
Producer: Norian Maro
Cast: Nam Sook Jun, Jong Suk Ki, Yoo Jeong Oh, Minkyong Ha, Jeonghyeon Yun, Haein Song, Ho Sung Yang

To RSVP to the event, please visit: http://www.koreanculture.org/?document_srl=548594
For more information, please contact: performingarts@koreanculture.org or (212) 759-9550 ext 210.