Korean Movie Night 2013 Series Four: The K-Pop Explosion!
Presented by the Korean Cultural Service NY
TUESDAY, July 30th, 2013 @ 7 PM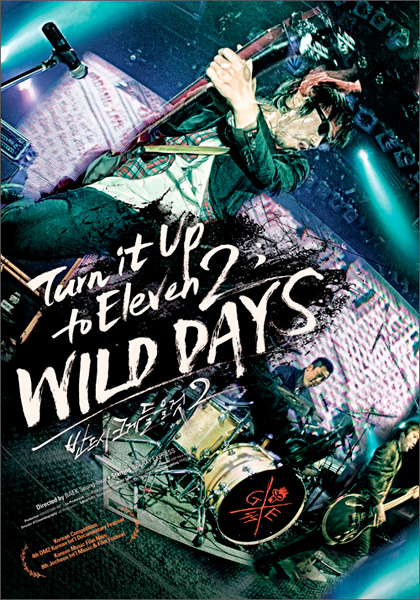 TURN IT UP TO ELEVEN 2: WILD DAYS

Tribeca Cinemas
54 Varick Street
(on the corner of Canal Street, one block from the A, C, E and 1 train Canal Street stops)

FREE ADMISSION
All seating is first come, first served.
Doors open at 6:30 pm. Film begins at 7:00 pm.

Series Four: The K-Pop Explosion!

The Korean Cultural Service NY has been rocking out to Korea's pop music for decades, but only within the past few years has the enjoyable, bubblegum rock known as K-pop seeped into American culture. With groups like 2NE1 and cultural sensation PSY turning heads – and burning up the charts – throughout the world, it was only a matter of time before we tipped our hat to this lovable obsession that Time Magazine calls "South Korea's Greatest Export!"

So grab your iPod and line up with your friends, because this summer's toe-tapping concert's about to begin!

We're bringing New York City a quartet of incredible K-pop-infused films guaranteed to lift your spirits and have you singing along with Korea's unstoppable musical sensation! Let's rock!

TURN IT UP TO ELEVEN 2: WILD DAYS (2012, 91 min)
New York Premiere!

Galaxy Express, one of Korea's biggest pop sensations, is known all over Asia. Their fame knows no bounds, but when the group decides to go to America, they quickly discover how difficult it can be to approach new people, cultures, and ideas. A stunning documentary that follows the legendary rock band on their most recent solo tour across America, Turn it Up to Eleven 2 is an intimate look into nineteen huge Galaxy Express concerts – and the unbelievable passion that goes into each and every one of them.

The film will be shown in Korean with English subtitles.

The next free Korean Movie Night screening will be of I AM. (2012, 116 min, New York Premiere), on August 13th, 2013.