Korean Movie Night 2013 Series Four: The K-Pop Explosion!
Presented by the Korean Cultural Service NY
TUESDAY, July 16th, 2013 @ 7 PM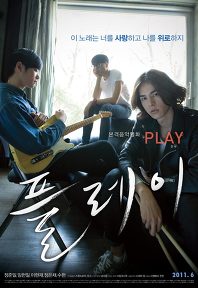 PLAY

Tribeca Cinemas
54 Varick Street
(on the corner of Canal Street, one block from the A, C, E and 1 train Canal Street stops)

FREE ADMISSION
All seating is first come, first served.
Doors open at 6:30 pm. Film begins at 7:00 pm.

Series Four: The K-Pop Explosion!

The Korean Cultural Service NY has been rocking out to Korea's pop music for decades, but only within the past few years has the enjoyable, bubblegum rock known as K-pop seeped into American culture. With groups like 2NE1 and cultural sensation PSY turning heads – and burning up the charts – throughout the world, it was only a matter of time before we tipped our hat to this lovable obsession that Time Magazine calls "South Korea's Greatest Export!"

So grab your iPod and line up with your friends, because this summer's toe-tapping concert's about to begin!

We're bringing New York City a quartet of incredible K-pop-infused films guaranteed to lift your spirits and have you singing along with Korea's unstoppable musical sensation! Let's rock!

PLAY (2011, 99 min)
International Premiere!

Mate was an indie band from Korea who happened upon fame in 2009, when Irish musician Glenn Hansard (of Swell Season and the hit musical "Once") spotted them busking in the lobby of one of his concerts. This was the beginning of a dramatic debut, which would see bandmembers Jung Joon-Il, Yim Hun-Il, and Lee Hyun-jae rocketed to fame. Play chronicles these events, with the band appearing as themselves – and staying very truthful to their inspiring story.

The film will be shown in Korean with English subtitles.

The next free Korean Movie Night screening will be of TURN IT UP TO ELEVEN 2: WILD DAYS (2012, 91 min, New York Premiere), on July 30th, 2013.