Korean Movie Night 2013 Series Six: A Journey to the Wild Side: Epic Korean Cinema!
Presented by Korean Cultural Service NY
TUESDAY, November 26th, 2013 @ 7 PM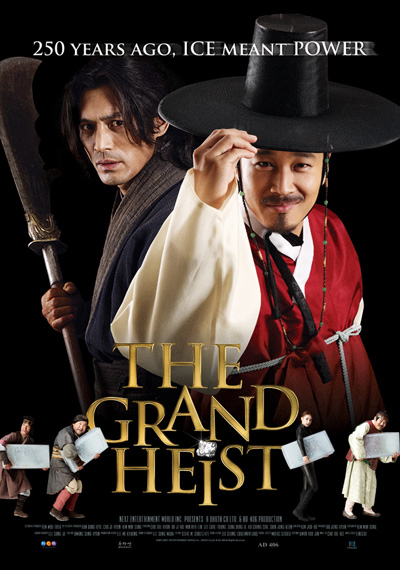 THE GRAND HEIST

Tribeca Cinemas
54 Varick Street
(on the corner of Canal Street, one block from the A, C, E and 1 train Canal Street stops)

FREE ADMISSION
All seating is first come, first served.
Doors open at 6:30 pm. Film begins at 7:00 pm.

Series Five- A Journey to the Wild Side: Epic Korean Cinema!

In 2012, The Korean Cultural Service debuted its first series on epic Korean cinema, and the response was unheard of! Well, we've heard your cries and are brining back our most popular series, so get ready to take a journey to the wild side with three all-new Korean epics!

Starting November 12th, join your friends from The Korean Cultural Service at Tribeca Cinemas for three modern masterpieces, and get swept up in the majesty and grandeur. A cold winter is coming, and you're about to be transported into a world of action, crime, and non-stop thrills with three blockbusters epics that span centuries and unite a nation. With big budgets, big stars, and big stories… there's only one word to describe this trio of stunning movies: EPIC!!!

THE GRAND HEIST (2012, 121 min, New York Premiere)

250 years ago, the people of Korea struggled under the tyranny of a power-hungry vice-premier who held a commercial supremacy over ice, the era's most valuable commodity. Unable to stand his tyranny, Lee, an ingenious young man, gathers a group of experts in various fields: tactics, weapons, explosives, underwater diving, and camouflage… and, in an epic take on Oceans Eleven, executes a plan to rob the entire storage of ice that will be used for the crown prince's birthday gala and ultimately bring about the downfall of their power-mad leader.

The film will be shown in Korean with English subtitles.

The next free Korean Movie Night screening will be of THE CONCUBINE (2012, 122 min) on Tuesday, December 10th, 2013.