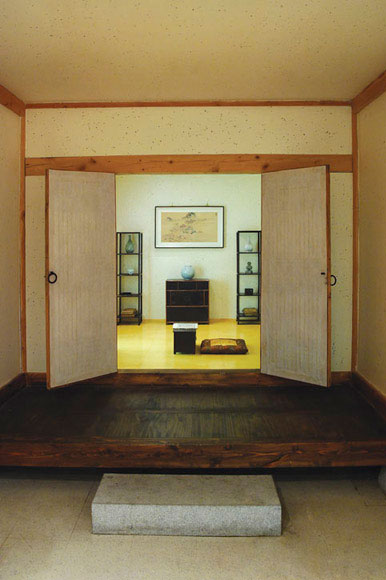 The Korean Cultural Center New York (KCCNY) is a government institution inaugurated in December 1979 to establish and promote Korean culture and aesthetics in New York. KCCNY provides diverse cultural and artistic activities including gallery exhibitions, performing arts concerts, film festivals, and educational programs.
Gallery exhibitions are organized by Gallery Korea, a division of KCCNY, utilizing 2,490 sq. ft of exhibition space for various Korean, Korean-American, and international artists. Each year, more than ten exhibitions are held with 100 or more participants to showcase new and renowned artists.

KCCNY also engages in other performing arts events that introduce traditional Korean music, dance, cuisine, and fashion. In particular, KCSNY sponsors Korea Music Foundation and hosts concerts and recitals attracting annual audience of over 1,500 people.

Not only that, KCCNY's Film division is a dynamic part of KCCNY with increasing attention and support from the public. Korean Movie Nights were successfully held every month by introducing new Korean films at Tribeca Cinemas. The Film division also sponsored various international and local film festivals including NYAFF, New York Film Festival, and Tribeca Film Festival.

Furthermore, KCCNY manages its own library providing accessible information on Korean films and in depth information on Korean culture. The Library contains more than 18,000 books, magazines, and AV materials, and also publishes brochures and articles to advertise Korean culture. The foundation's effort to educate and promote Korean culture is also enhanced through educational programs and activities such as art workshops and culture camps open to the public.

By utilizing these ample resources and capabilities, the ultimate role of KCCNY is to reinforce Korea- U.S. relation by promoting Korean culture and values through diverse mediums.

Brief History
The Korean Cultural Center New York (KCCY) is a government institution supported by the Korean Consulate General. The main objective is to support Korea and U.S. relationship and to promote information on Korean culture and aesthetics in New York.
KCCNY opened in 1979, recently celebrating its 30th anniversary. Despite the social stigmas created around the long history of Korea, KCCNY has successfully reached its goal in creating a positive and warm impression of Korea and its culture over the years.

For the past 35 years, KCCNY has focused its efforts on broadening the understanding of Koreans and the relationship between Korea and the United States through cultural and academic activities. In the earlier years, it was critical to utilize KCCNY's capabilities to support Korean artists who faced many limitations in New York. Despite its limited space in the past, KCCNY eagerly hosted as many shows as possible to showcase talented individuals. These opportunities eventually opened more doors to Korean artists. Nowadays, KCCNY is equipped with improved facilities and strong relationships with global institutions and local organizations here in New York. Therefore, more opportunities are provided to these artists at different venues and occasions, and we are successfully able to raise awareness of Korea and its culture through these opportunities.

▪ Previous Directors and Inauguration Dates
| | | |
| --- | --- | --- |
| Order | Name | Date of Inauguration |
| 1 | Jae Hong Lee | August 18, 1979 |
| 2 | Tae Wan Yoo | April 1, 1981 |
| 3 | Young Mo Ahn | October 16, 1984 |
| 4 | Shin Il Park | July 1, 1985 |
| 5 | Chan Yong Yi | September 1, 1987 |
| 6 | Djun Kil Kim | June 1, 1990 |
| 7 | Young Gil Park | September 10, 1993 |
| 8 | Hong Sok Lee | April 28, 1998 |
| 9 | Byong Suh Lee | March 1, 1999 |
| 10 | Yang Woo Park | August 19, 2002 |
| 11 | Jin Yung Woo | August 8, 2005 |
| 12 | Soo Keun Song | October 11, 2007 |
| 13 | Woo Sung Lee | October 1, 2010 |
| 14 | Seung Je Oh | August 26, 2015 |