K-Food World Festival: NYC Preliminaries at the International Culinary Center of New York
Written by Wonji Yi

On Sunday, July 21st, 2013, the Korean Cultural Service of New York hosted the K-Food World Festival Preliminaries at the International Culinary Center of New York City. Eleven contestants from China, Japan, France, South America, Italy, and America participated in the world's biggest Korean food cooking competition. The first prizewinner received a round-trip flight to Korea, the chance to participate in a Korean food tasting trips for 6 days, and the eligibility to compete for the grand prize of $10,000 in the final round of the K-food World Festival. The competition was sponsored by the Ministry Foreign Affairs of Korea, MBC (Munhwa Broadcasting Corporation), and Jeollabuk-do.
All of the contestants had to send a video introduction of themselves in order to participate in the preliminaries. The contestants had four choices of Korean food to make— bibimbap, tteokbokki, bulgogi, and kimchi. On the day of the competition, there were about 40 special guests ranging from family members to friends of the contestants, and others who wished to watch the contestants cook. There were three renowned judges: Youngja Kim, an author of cookbooks <Korean Cuisine> and <Food of West>; Jeffery Moon, the former Executive Chef and partner of <Hanabi>; and Hooni Kim, the Executive Chef and Owner of <Danji> and <Hanjan>, who was awarded the first Michelin Star ever for a Korean restaurant.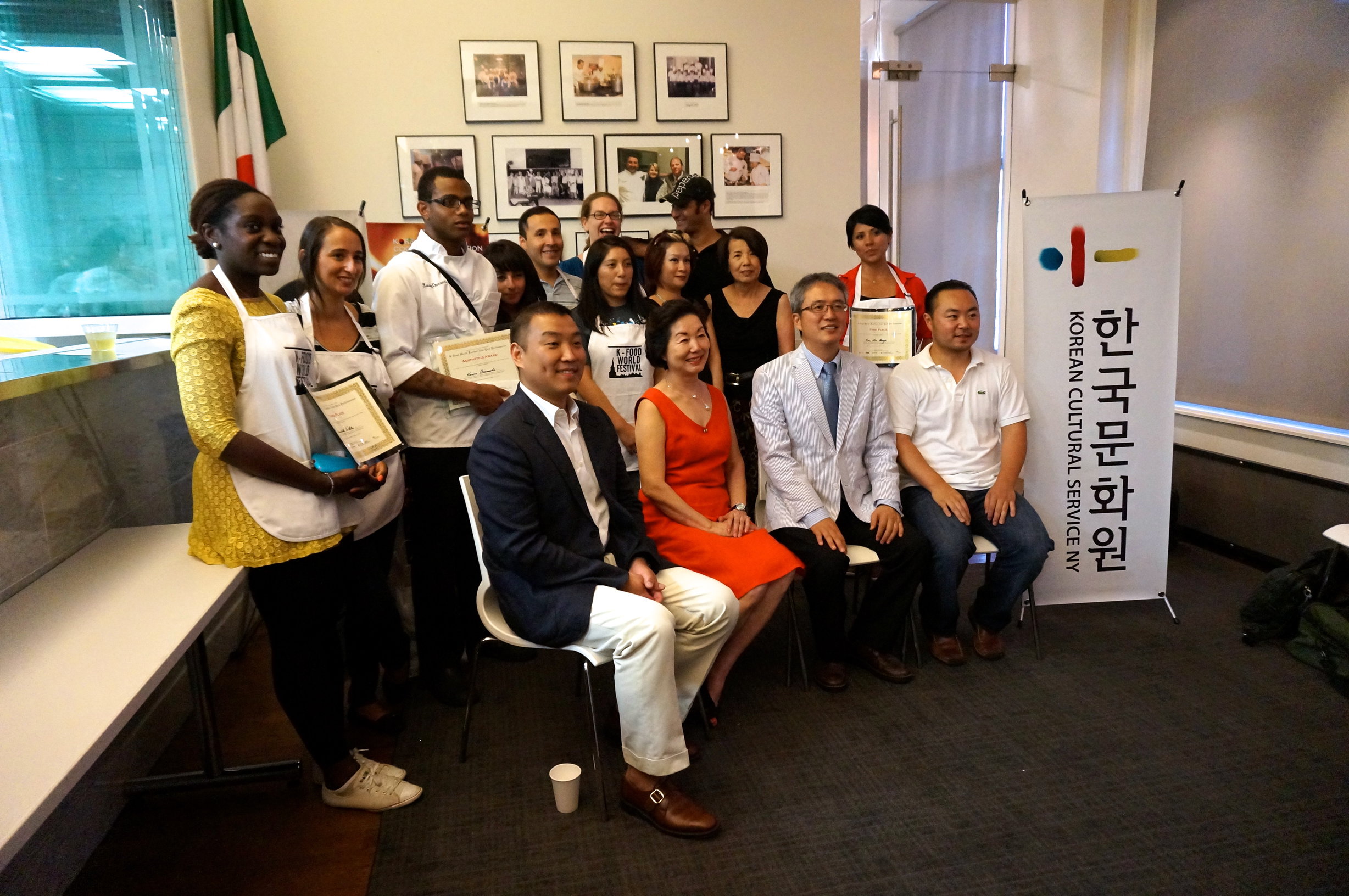 ▲ The contestants and the judges of the NY K-Food World Festival
The contestants were given an hour to prepare and cook their Korean food. Once time was up, they presented their dishes to the judges. The judges deliberated for about 20 minutes before announcing the first place winner. Awards were given for first, second, third place winners, and additional special awards for creativity and aesthetics.
Before the competition began, I had a chance to interview some of the participants to learn more about their background and their introduction to Korean food:
[Interview with Tiffany Kim]
Q: Could you tell me where you are from and what you are making today?
-I am from Boston, Massachusetts, and I am making the "New England Farmer's Market Bibimbap." I am going to use fresh ingredients from the farmer's market: callaloo as spinach, three different bean sprouts, yellow stripe squash, mini cucumber, rainbow carrots, and thin mushrooms for my Bibimbap. I came to New York with my sister-in-law, who is Korean, and my best friend for this competition.
Q: When did you first try Korean food?
-About three or four years ago when I met my husband. My husband is Korean, so he first introduced Korean food to me. I did try kimchi when I was in college, but I did not like it back then because of the smell. So I did not try Korean food until I met my husband and had bulgogi and bibimbap in Flushing. They were just so palatable in my mouth! After I married my husband, I began to cook a lot of Korean food. I try to cook Korean food at least once or twice a week. I like making bibimbap, japchae, soondubu, seolleongtang, and I'm really good at making kimchi fried rice. I love kimchi now! (laugh).

Q: Where do you get the recipes?
There is a blog called <beyondkimchee.com>, and this woman writes recipes and measurements for people with non-Korean backgrounds. For example, my mother-in-law and sister-in-law do not use measuring cups or any measurements during cooking because they naturally know how much salt or spices they should add just by using their hands; they know how little differences can make a variety of different tastes. However, people without Korean heritage do not know what taste to expect or how much ingredients should be used. This blog is perfect for me because the blogger posts specific measurements for each recipe, and puts up videos of herself at H-Mart explaining which ingredients to buy. I also found about this competition through her blog as well.

Q: As you know, Korean food takes a lot of time and attention to details. Do you enjoy these steps?
I enjoy every step of making Korean food. It's so healthy and each dish has vegetables and the fermented kimchi is so good for your health. I do make kimchi (김장) at home with my mother-in-law. Feeding my family healthy food makes me happy and cooking Korean food connects me with my husband's culture and background.

[Kwame Onwuachi]
Q: Could you tell me where you are from and what you are making today?
I'm from Bronx, New York and I'm making bulgogi today. I am currently a student at the Culinary Institute of America (CIA).

Q: Are you making traditional bulgogi?
No, I'm going to cook in a modern style using scallion powder, white kimchi purée, ragu beef instead of traditional beef, 15-grain crackers, and also make a green plum drink.

Q: When did you first try Korean food?
I first tried it about 2 years ago and had bulgogi at a Korean restaurant. The Korean waiters and waitresses there greeted me so warmly as they kindly explained different items on the menu. I also loved the free banchan that came along with the main menu.

Q: What do you think about Korean food?
I think Korean food is the soul of Asia. The flavor is absolutely unconventional. While Japanese food is so clean and mild, Korean food is robust and of full flavor; it really stands out from all other Asian food. I think Korean food definitely represents Korea and its culture.

[Maribeth White]
Q: How did you hear about this food festival?
I live in Brooklyn, New York, and work at Democracy Prep Charter School. My coworker, who is Korean, recommended that I join this festival. She suggested that I should participate because I enjoy cooking a lot. I had bulgogi as my first Korean food. It was so tasty! Today, I'm making "Bulgogi Sliders with BBQ Sauce." I usually make pulled beef sliders with BBQ sauce for guests at home. I'm making a western style of Korean fusion food today.

_____

While the participants prepared their signature dishes, I had a chance to have a short interview with the one of the judges, Hooni Kim, Executive Chef and Owner of <Danji> and <Hanjan>, and Woo Sung Lee, the Director of the Korean Cultural Service New York.
[Chef Hooni Kim]:
Q: What do you think about the K-World Food Festival event?
I think it is great to see so many participants who come from different backgrounds putting their own culture and history into Korean food with their own interpretations.

Q: As a professional chef, what do you think about rising trend of Korean food in New York?
Korean food is not like Korean pop music. What I mean is that Korean food does not follow trends. If it is not tasty, people will not come back for Korean food. So at my restaurant, I try to provide palatable traditional food rather than following a specific trend.

Q: Which dish do you expect the most today?
I really look forward trying this spicy bibimbap because she is using a special sauce I have never seen before. Also I look forward to taste the Italian style tteokbokki with penne and fresh mozzarella cheese.
[Woo Sung Lee, Director of the Korean Cultural Service New York]:
Q: How do you feel about hosting the K-Food World Festival preliminaries in NYC?
Seeing participants putting their love and ambition into making Korean food makes me happy. I can definitely see that Korean culture is going global and especially [gaining popularity] in New York. I see the potential for Korean culture to be more than able to really become a part of New York's culture. From this competition, I hope there's a greater connection with people in New York.
Q: Are you planning to have another competition next year?
We shall see after the results as well as the participant and audience reaction today. But I'm hoping we will have many events that are open for more people to participate in the future.
After all the contestants finished cooking, the three judges evaluated the dishes based on cooking technique, taste, creativity, aesthetics, and most importantly, incorporating their own style, but making sure to keep the traditional color and taste of Korean food. The eleven dishes featured both traditional and fusion styles of Korean food. Each contestant used his/her own techniques and unique tastes into their dish to make it extraordinary. Some dishes created at the competition were 'Kimchi Ratatouille,' 'Maven-bab Bibimbap' (Chinese-style bibimbap), 'Kicked Bulgogi Sliders' (bulgogi sliders with BBQ sauce), 'Salmon Bibimbap,' 'Kim Tteokbokki' (an Italian fusion tteokbokki), 'Bulgogi with Butternut Squash,' and traditional styles of bibimbap and bulgogi as well. The honorable first prize was given to Rosa Lee Araujo, who made "Bulgogi with Butternut Squash," the second place award to Tiffany Kim, who made "New England Farmer's Market Bibimbap," and the third place winner was Maribeth White, who made "Kicked Bulgogi Sliders." The Creativity award was given to Samantha Barbagiovanni, who created "Kim Tteokbokki" with penne and fresh mozzarella cheese, and the Aesthetics award was given to Kwame Onawuachi, who made the "Bulgogi Steamed Buns," a Western fusion style of bulgogi.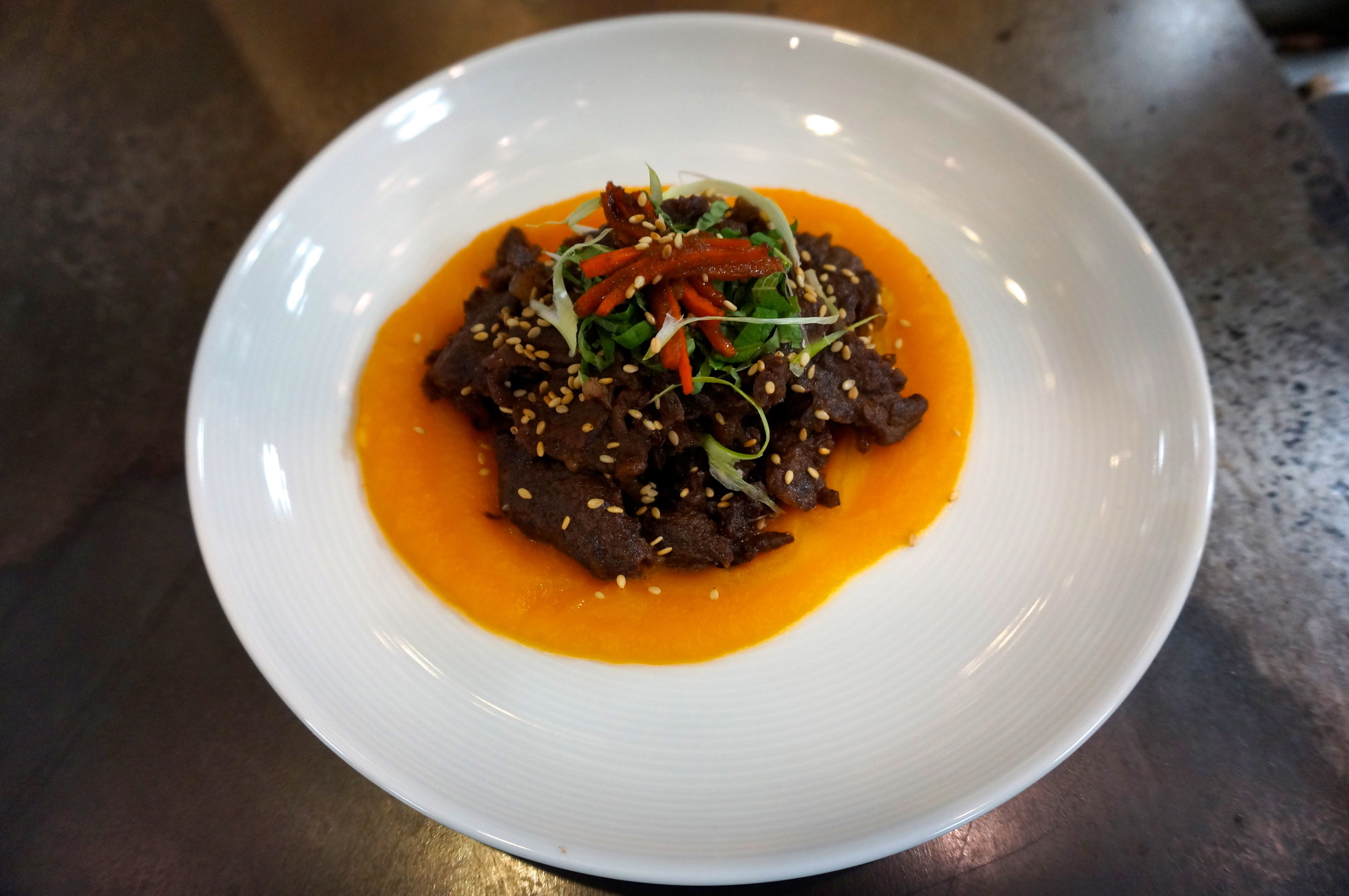 ▲ The First Prize Winner Rose Lee Araujo's "Butternut Squash"
Jeffery Moon, one of the judges of the evening, praised Rosa Lee Araujo, the first prize winner, saying, "When I watched you cook, you were so organized, calm, and reflective, which reminded of my mother cooking. That 'Bulgogi with Butternut Squash' dish was perfect. The sweetness of the butternut squash matched really well with the savory bulgogi meat."
Rosa Lee Araujo was overwhelmed with emotion from her win and said, "I cannot believe I won the first place. I am so overwhelmed and happy, and this was really unexpected! Korean food is everything to me. Through Korean food, I met my love of my life, my husband. I cook Korean food at home, but I was never confident, but now I feel so confident with my cooking. I never have been to Korea and I am really excited to visit soon. I want to try every Korean food when I am in Korea. My husband, who is Korean, tells me that here in America, the Korean food tastes different because the ingredients have a different taste from the authentic Korean food in Korea. I cannot wait to try the Korean food tasting in Korea. I am so happy that I was given this wonderful, amazing opportunity."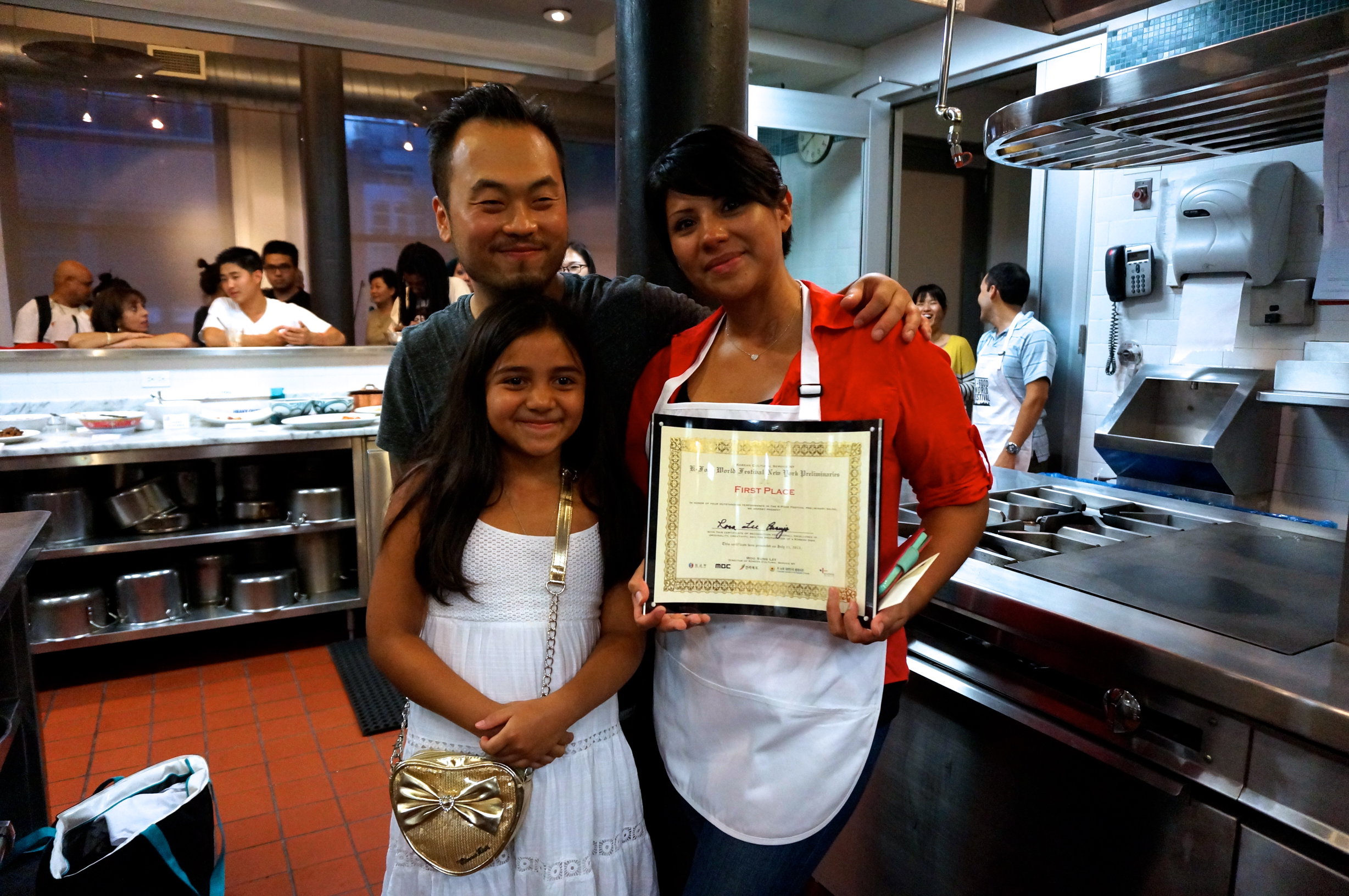 ▲ The First Prize Winner Rosa Lee Aruajo and her family
Rosa Lee Araujo will go to Korea in August and go on a Korean food tasting culinary journey for 6 days. She will compete in the final round of the K-Food World Festival with other first preliminary winners from England, France, Egypt, Mexico, Australia, Belgium, Uzbekistan, Japan, and China.
All three of the judges were very pleased with the K-Food World Festival event and optimistic about the future of Korean food. They all expressed their joy in seeing many participants interested in Korean food and how they put their ethnic backgrounds and cultures into their dishes, creating unity among different countries. The K-Food World Festival truly showed that Korean cuisine is going global and emerging as an influential food trend.