Global 'Taste of Korea' Contest: New York Preliminaries
Saturday, July 18, 2015 at 1PM
The International Culinary Center of New York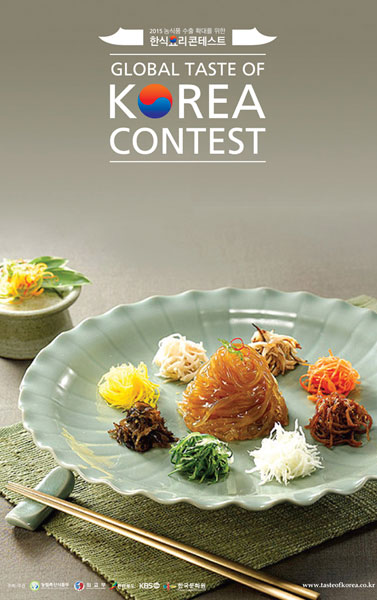 The Korean Cultural Service New York is pleased to announce the Global 'Taste of Korea' Contest: New York Preliminaries. The world's biggest Korean food cooking competition is happening in NYC to promote the ingredients of Korean cuisine.

The New York Preliminaries Competition:

Date: July 18th 2015, Saturday
Time: 1:00pm – 2:00pm (You are given 1 hour to complete the dish)
Venue: International Culinary Center, Manhattan (462 Broadway, New York NY 10013)
1. Eligibility
US citizens of non Korean ethnic background
Must be 18 or older
Legally able to travel overseas (specifically between 19th ~ 29th of August for the semi-final and grand final rounds in Korea)
Must agreed to be filmed by KBS (Korea Broadcasting System)
Korean Food Lover
a. Applications
Applicants are required to fill out an application along with a video submission of them cooking Korean food. You may also send additional photos of your cooking process as well. The applications can be submitted to kcsny@koreanculture.org or in person at our office (460 Park Avenue, 6th Floor, New York NY 10022) from June 8th to July 7th. The application form can be downloaded here.
* Please upload your video to YouTube and put the link of your video on your application

b. Selected applicants
12 selected candidates will be confirmed and contacted by July 12th to participate in the live preliminary contest. Candidates will be provided detailed instructions regarding the contest.

c. New York Preliminaries (live) on July 18th
We are pleased to welcome the 12 selected candidates to the Global 'Taste of Korea' Contest: New York Preliminaries. The selected candidates will cook a Korean dish utilizing at least one of the three main condiments: gochujang (red chili paste), doenjang (soybean paste), ganjang (soy sauce). The panel of judges will judge the contestants' signature dishes and announce the winner on the day of the contest.
* Detailed information regarding the further stages in Korea will be announced

2. List of condiments needed to be utilized in the New York Preliminaries

Gochujang (Korean chili paste): A savory and spicy fermented paste used in many Korean cuisines. This paste is made from red chili, glutinous rice, fermented soybeans, and salt. Gochujang is used in many different Korean dishes such as ddukbboki (spicy rice cake), the sauce for bibimbap (mixed rice), and even for meat.

Doenjang (Korean soybean paste): Doenjang means "thick paste" in Korean. Soybean paste is made of fermented solid ingredients of soy sauce. This paste is rich in taste and texture. Many Korean people use doenjang to make stew, sauces, and many more.

Ganjang (soy sauce): Ganjang is a key condiment used in many Asian cuisines. Ganjang means "salty" in Korean. Ganjang is made of fermented beans and used to season food. In Korean cuisine, we utilize this condiment for marinades to give dishes a great savory flavor.

* Contestants must use at least one of the condiments above. Multiple ways can be used as well.

3. Important Dates
June 8-July 7: Application Submissions
July 12: Announcement of selected applicants for the New York Preliminaries
July 18: Global 'Taste of Korea' Contest: New York Preliminaries

4. Semi-Finals and Grand Final Competition in Korea

(For the first place winner of the New York Preliminaries only)
* The winner of the preliminary round will automatically be eligible and must enter the semi-final and grand final competition round of the Korean World Festival in Korea during late August.

Schedule for the Global 'Taste of Korea' Contest in Korea

Aug. 19: Participants (winners of the preliminaries) arrive in Korea
Aug. 20-26: Training at the Creative Culinary Institute of Korea (CCIK), including Korean cuisine education and a semi-finalist round is held. 5 people will be selected to advance to the final round of the competition.
Aug. 27: One day tour around Seoul and preparation for the Final Competition
Aug. 28: The Final Competition
Aug. 29: Depart from Korea
* KBS (Korea Broadcasting System), KBS Korea World, one of the major television broadcasting companies in Korea will sponsor the contest. The contest will be broadcasted between September 26th-29th 2015 on KBS Korea and KBS Korea World.