KOREAN CULTURAL CENTER NY
announces a new film series
"Korean Movie Night New York: Premiere Showcase"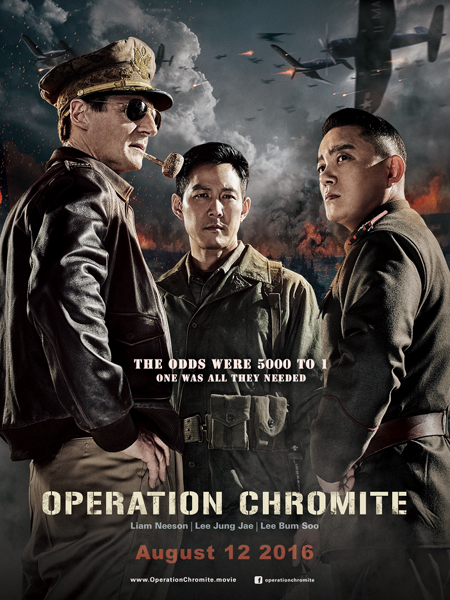 Tuesday, August 9th 2016, 7:00 PM
AMC Empire 25 Theatre (234 W 42nd St, New York, NY)

Korean Cultural Center New York is proud to announce a Korean Movie Night New York: Premiere Showcase, specially screening selections of the hottest Korean blockbuster films.

Schedule for Premiere Showcase series follows.
New York Premiere
OPERATION CHROMITE (인천상륙작전 in-cheon-sang-ryook-jak-jeon)

Directed by LEE John H.
Starring: LEE Jung-jae, LEE Bum-soo, Liam Leeson
2016 | South Korea | 111 min | DCP | In Korean with English subtitles

"Liam Neeson is back in another action-packed film, this time based on the real-life events of the heroes who sacrificed their lives during the Korean War."
- Indiewire

June 25, 1950, North Korea invades the South with the support of China and Russia. South Korean capital Seoul falls in 3 days and rest of the country above Nakdong River in a month. UN Command's Supreme Commander General MacArthur plans a landing operation at harbor city Incheon, codenamed 'Operation Chromite', which has a success chance of 5,000:1.

Teaser Trailer


All events are free admission, first come, first served. For additional information, please visit and like Facebook: Facebook.com/KoreanMovieNY.

** OPERATION CHROMITE will be released in the U.S. on August 12th 2016. It was releases in South Korea on July 27.
Theatres

AMC Empire 25 (234 W 42nd Street, New York, NY 10036)
Edgewater Multiplex Cinemas (339 River Road, Edgewater, NJ 07020)
iPic Theaters (2023 Hudson Street, Fort Lee, NJ 07024)