KOREAN CULTURAL SERVICE NY and ASIA SOCIETY
announce
Korean Movie Night New York's
Korean Blockbusters Strike Back!
Screenings at
Asia Society
725 Park Avenue at 70th Street
New York City
Free Admission

The Korean Cultural Service New York and Asia Society are proud to co-present the fifth series of Korean Movie Night New York (KMN), which will run from Tuesday, November 3rd to December 1st, 2015 at Asia Society's Lila Acheson Wallace Auditorium.

KMN presents the best blockbuster films as the last series of the year. As Korean cinema continues to deliver world-class blockbusters, you can count on Korean Movie Night New York to select the best among the bunch for your viewing pleasure. This last series will present RYOO Seung-wan's latest action thriller Veteran, period sword-fighting drama Memories of the Sword, starring LEE Byung-hun (G.I. Joe movies, Terminator Genisys), and historic epic Assassination, directed by CHOI Dong-hoon (The Thieves).

Despite the strong showing of the big Hollywood films in Korea this summer, led by The Avengers: The Age of Ultron, which claimed over 10 million admissions, domestic action and historic epic blockbusters continue to hold their own, with Veteran and Assassination currently holding the two top spots with 13 and 12.7 million admissions, respectively, proving once again the continuing strength of the Korean film industry.

Korean Movie Night New York is an ongoing, approximately twice-a-month film program that introduces the full spectrum of contemporary and classic Korean cinema to New York audiences, from popular blockbusters, independent films, and documentaries to animation and family movies. The series is co-presented by Korean Cultural Service New York and Asia Society.

For information on the series, please visit www.koreanculture.org or www.asiasociety.org/korean-movie-night or www.facebook.com/KoreanMovieNY.

All screenings take place at Asia Society, 725 Park Avenue at 70th Street, New York City. All events are free admission, and first come, first served. For information, call 212-517-2742.

For stills, please contact Elaine Merguerian at 212-327-9313 / elainem@asiasociety.org or Jean Jo (212) 759-9550 (ext. 207) / jjo@koreanculture.org.

Korean Blockbusters Strike Back! series (November-December, 2015):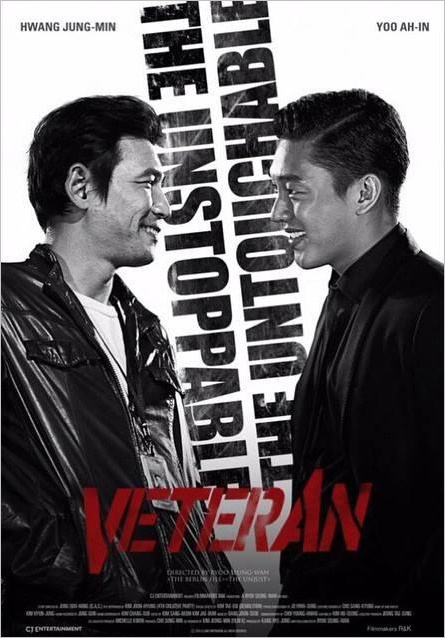 Tuesday, November 3, 6:30 PM
Veteran (베테랑 bae-tae-rang)
Dir. Ryoo Seung-wan. South Korea. 2015. 124 min.
Starring: Yoo Ah-in, Hwang Jung-min, Yoo Hae-jin, Oh Dal-su

"RYOO Seung-wan delivers honest-to-goodness entertainment that pulses with nonstop adrenaline"
– The Variety

Bringing the spirit of 1980s American cop comedies to contemporary Korea, action auteur RYOO Seung-wan (The Berlin File, The Unjust) is at the top of his game with Veteran, working again with charismatic actor HWANG Jung-min (The Unjust, New World) and his long-time action choreographer JUNG Doo-hong. HWANG Jung-min plays a veteran police detective who takes on the tyrannical and sadistic heir to a powerful conglomerate, portrayed with evil deliciousness by heartthrob YOO Ah-in (Punch). Korean audiences have responded to Veteran's perfect mixture of high-octane action, slapstick comedy, and timely social commentary on the nature of power and privilege in Korean society, by making it the third most watched domestic film of all time.
About Korean Movie Night New York
Korean Movie Night New York (KMN) is a continuing series of bi-weekly film screenings that introduces the full spectrum of both contemporary and classic Korean cinema to New York audiences, from popular blockbusters, independent films, and documentaries, to animation and family movies. Every year, the KMN program consists of 6 thematic series. KMN was launched in 2010 as a successor to Korean Cine Forum, an earlier film screening series that was organized by the Korean Cultural Service in 1996. Keep up with the latest news at: www.Facebook.com/KoreanMovieNY.

Korean Cultural Service NY
Inaugurated in 1979, the Korean Cultural Service New York (KCSNY) is a branch of the Ministry of Culture, Sports and Tourism (MCST) of the Republic of Korea. Under the authority of the Consulate General of the Republic of Korea in New York, KCSNY works to promote cultural arts exchange and stimulate interest in Korean culture through various opportunities. KCSNY provides diverse activities including exhibitions, concerts, film festivals, and educational programs. KCSNY is located at 460 Park Avenue (at 57th Street), New York City. www.koreanculture.org.

Asia Society
Founded in 1956 by John D. Rockefeller 3rd, Asia Society is a nonprofit, nonpartisan educational institution. Through exhibitions and public programs, Asia Society provides a forum for the issues and viewpoints reflected in both traditional and contemporary Asian art, and in Asia today. Asia Society is located at 725 Park Avenue (at 70th Street), New York City. www.AsiaSociety.org