KOREAN CULTURAL SERVICE NY and ASIA SOCIETY
announce
Korean Movie Night New York's
Summer Edition
Screenings at
Asia Society
725 Park Avenue at 70th Street
New York City
Free Admission
The Korean Cultural Service and Asia Society are proud to co-present the third series of
Korean Movie Night New York (KMN)
, which will run from Tuesday, June 16 to August 25, 2015 at Asia Society's Lila Acheson Wallace Auditorium. Free admission for all screenings.
Summer is the time for popcorn fueled blockbuster entertainment, so our
Summer Edition
presents an assortment of Korea's recent box office champs, including rom-coms
My Love My Bride
(remake of LEE Myung-se's 1990 classic film of the same name) and
Marriage Blue
, nostalgic music drama
C'est Si Bon
, stylish romantic thriller
Scarlet Innocence
from director YIM Pil-sung (
Hansel and Gretel
), comedy-drama
Chronicle of a Blood Merchant
, directed by and starring Korea's top star HA jung-woo, and
Detective K: Secret of the Lost Island
, a sequel to the popular 2011 period-action-comedy
Detective K: Secret of the Virtuous Widow
, featuring new adventures of a bumbling detective in the 18th century Korea.
Korean Movie Night New York is an ongoing, approximately twice-a-month film program that introduces the full spectrum of contemporary and classic Korean cinema to New York audiences, from popular blockbusters, independent films, and documentaries to animation and family movies. The series is co-presented by Korean Cultural Service NY and Asia Society.
For information on the series, visit
www.koreanculture.org
or
www.asiasociety.org/korean-movie-night
or
Facebook.com/KoreanMovieNY
. All screenings take place at Asia Society, 725 Park Avenue at 70th Street, New York City. All events are free admission, first come, first served. For information, call 212-517-2742.
For stills, please contact Elaine Merguerian at 212-327-9313 / elainem@asiasociety.org or Jean Jo (212) 759-9550 (ext. 207) / jjo@Koreanculture.org.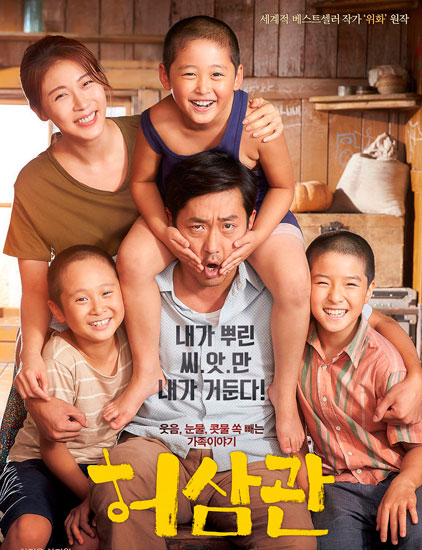 New York Premiere
Chronicle of a Blood Merchant
(허삼관매혈기 Heo-sam-kwan-mae-hyeol-gi)
Directed by HA Jung-woo
Starring: HA Jung-woo, HA Ji-won
2015 | South Korea | 124 min | DCP | In Korean with English subtitles
Tuesday, Aug 25, 2015, 6:30 PM

HA Jung-woo, one of Korea's biggest stars, directs and acts in this understated period comedy-drama, based on the best-selling novel of the same title by the Chinese writer Yu Hua. Just after the Korean War, a factory worker (HA Jung-woo) falls for the most beautiful girl in his village (HA Ji-won). Penniless, he sells his blood to fund the courtship and before long they are married. Eleven years later, the couple have three sons and live a comfortable life. One day, their lives are upended when a blood test reveals that their eldest boy is not the worker's son.


About Korean Movie Night New York
Korean Movie Night New York (KMN) is a continuing series of bi-weekly film screenings that introduces the full spectrum of both contemporary and classic Korean cinema to New York audiences, from popular blockbusters, independent films, and documentaries, to animation and family movies. Every year, the KMN program consists of 6 thematic series. KMN was launched in 2010 as a successor to Korean Cine Forum, an earlier film screening series that was organized by the Korean Cultural Service in 1996. Keep up with the latest news at: www.Facebook.com/KoreanMovieNY.

Korean Cultural Service NY
Inaugurated in 1979, the Korean Cultural Service New York (KCSNY) is a branch of the Ministry of Culture, Sports and Tourism (MCST) of the Republic of Korea. Under the authority of the Consulate General of the Republic of Korea in New York, KCSNY works to promote cultural arts exchange and stimulate interest in Korean culture through various opportunities. KCSNY provides diverse activities including exhibitions, concerts, film festivals, and educational programs. KCSNY is located at 460 Park Avenue (at 57th Street), New York City. www.koreanculture.org.

Asia Society
Founded in 1956 by John D. Rockefeller 3rd, Asia Society is a nonprofit, nonpartisan educational institution. Through exhibitions and public programs, Asia Society provides a forum for the issues and viewpoints reflected in both traditional and contemporary Asian art, and in Asia today. Asia Society is located at 725 Park Avenue (at 70th Street), New York City. www.AsiaSociety.org