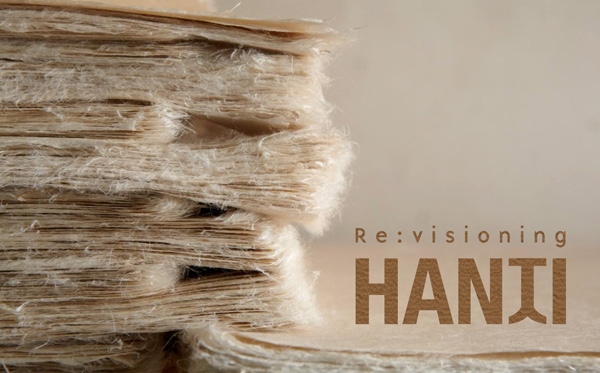 Celebrating 1000 years of the rich history of hanji, Korean traditional handmade paper, the Korean Cultural Center New York presents a feature exhibition of hanji artworks by contemporary artists Ran Hwang and Aimee Lee in Re:visioning HANJI.

Hanji literally means 'the paper of Hanguk (the Korean term to refer to the country),' and is an exquisite traditional paper made with the fibrous skin of mulberry trees. The process of making hanji is lengthy and complicated. People say the completion of a single sheet of hanji requires "ninety-nine touches by the maker and one touch by the user." Hanji has been closely intertwined with the livelihood of Koreans; it has been used in a multitude of ways not only as paper for drawing and writing, but also as efficient materials to create products such as suits of armor, lamps, and windows. The exhibition explores the past, present, and future of hanji – from its long history since the 4th and 5th centuries to contemporary artworks by two renowned hanji artists as well as the infinite potential of hanji in the global market.

The participating artist, Ran Hwang, is an internationally renowned poetic installation artist who uses thousands of handmade hanji buttons to create large-scale installation works. Hwang's 9 feet tall installation depicting the Triumphal Arch and Eiffel Tower will be shown at the exhibition. The installation, the Beginning of the Bright, is made of Hangul (Korean alphabet) shaped hanji buttons to celebrate Hangul's designation as a UNESCO Record Cultural Heritage. Aimee Lee is a hanji educator, artist, and a founder of the first and only Korean papermaking studio in North America at the Morgan Conservatory in Cleveland. The exhibition will display diverse range of Lee's artworks from woven hanji ducks to hanji dresses and more.

The Re:visioning HANJI exhibition is presented in part with the 2016 Asia Week New York and in its mission "to promote Asian art in New York City [in collation with] top-tier Asian art specialists, major auction houses, and world renowned museums" including the Metropolitan Museum of Art, the Museum of Modern Art, Sotheby's, and Christie's auction house among many others.

Partnered Event:
A weekend hanji workshop will be held on Saturday, March 12th and Sunday, March 13th at the Korean Cultural Center New York. This is a great opportunity to learn more about the process of making hanji, and to make your own hanji craftwork with Artist Aimee Lee, one of the leading hanji experts in the United States.

The program is free, but reservations are required and space is limited. For more information please email gallerykorea@gmail.com.



Generous supports are provided by Korea Craft & Design Foundation (KCDF) and Hanji Industry Support Center(HISC)


Participating Artists

Ran Hwang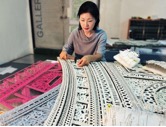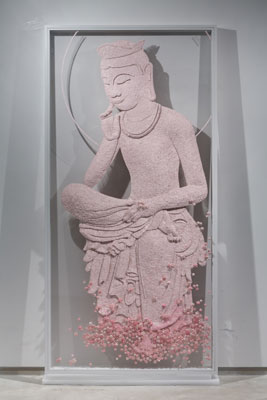 Ran Hwang creates monumental iconic imagery by using materials from the fashion industry: buttons (made of hanji), thread, and beads. Born in Busan, South Korea, Hwang moved to the United States in 1997 to further her artistic studies. She studied Fine Arts at the School of Visual Arts in New York City and attended the Graduate School of Fine Arts at Chung-Ang University in Seoul.

Ran Hwang's the Beginning of the Bright is a triptych installation which displays over 100,000 handmade hanji buttons on 86.6 inches wide Plexiglas panels. To construct her work, Hwang handmade hanji buttons and hammered each on pins approximately twenty-five times until secured. Hwang says her work is a form of meditative ritual, similar to the the meditative practices by Zen masters as her work requires labor-intensive process and utmost concentration.

Ran Hwang currently works and lives in New York City and Seoul. She has exhibited at several international institutions including the Queens Museum of Art, the UNESCO Paris Headquarters, the MASS MoCA, International Museum of Art and Science, the Third Floor-Hermès, and the Seoul Arts Center Museum. Hwang's works are held in esteemed public and private collections including the Pullman Kaifeng Hotel, Four Seasons Hotel, Royal Caribbean International Anthem of the Seas AFT Wall Art, Third Floor-Hermès, King County Library in Issaquah, Des Moines Art Center, the Brooklyn Museum, New York Plaza Hotel, National Museum of Contemporary Art, and Hammond Museum.

Aimee Lee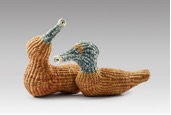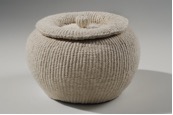 Aimee Lee is papermaking artist and the leading hanji researcher and practitioner in the United States. She holds a BA from Oberlin College and an MFA from Columbia College Chicago. She researched Korean paper arts as a Fulbright fellow and built the first and only Korean papermaking studio in North America in 2010 at the Morgan Conservatory in Cleveland. In 2012, The Legacy Press published her first book, Hanji Unfurled: One Journey into Korean Papermaking, recognized by the Eric Hoffer Book Award in 2013.

Based on Korean gifting and hanji traditions, Aimee Lee's Hanji Ducks and Pot series are 100% hanji, woven and naturally dyed in varied dimensions, gestures, and environments. Lee says, "my pieces examine traditional objects used in various moments of life and history: paper shoes, once in vogue during the last dynasty in Korea; wedding ducks given to bride and groom to encourage fidelity and fertility; and water or wine gourds to store and improve the taste of beverages while traveling. I alter these forms by changing their proportions, shapes, and pairings to see how older technologies and stories inform contemporary versions of objects we use to this day."

Lee exhibits internationally, and her artists' books reside in collections that include the Joan Flasch Artists' Books Collection, Museum of Modern Art Library, and Yale University Haas Library. She teaches and lectures at sites that include the American Museum of Natural History, Asian Art Museum, Cleveland Museum of Art, Denver Art Museum, Cleveland Institute of Art, Institute of East Asian Studies at UC Berkeley, Metropolitan Museum of Art Paper Conservation Department, Oberlin College, Massachusetts College of Art and Design, Mills College, Notre Dame College, UC Davis, UW Seattle, University of the Arts, University of Iowa Center for the Book, Center for Book Arts, Peters Valley School of Craft, Penland School of Crafts, and North Bennett Street School. She has been a resident artist at Art Farm, Jentel, Guapamacátaro Center for Art and Ecology, Haystack, Ox-Bow, Ragdale, Saltonstall Arts Colony, Santa Fe Art Institute, Vermont Studio Center, and Weir Farm Arts Center. Funders include the US Fulbright Program, Korea Fulbright Foundation, New York Foundation for the Arts Special Opportunity Stipend Program, John Anson Kittredge Fund, American Folklore Society, Manhattan Graphics Center, and the Puffin Foundation.

History of Hanji


Hanji Documentary (Eng ver.) – "Dreaming of Hanji's New Millennium"

Though it still remains obscure when the production technique of paper was first introduced to the Korean peninsula. we can safely assume from the surviving artifacts and records that paper of a distinctly superior quality was being made and used already in the Three Kingdoms period.

The Three Kingdoms Period
---

The first hanji was made in the Three Kingdoms period. Before the Three Kingdoms period, paper production technology is assumed to have been imported. Direct records and materials prove when the production of unique Korean paper began, and from some indirect references and artifacts it is assumed that the creation through imitation happened soon after the introduction of paper from China.


The Unified Silla
---
During the Unified Silla era, the fiber of dak, paper mulberry, established itself as the main material for Korean paper. Buddhism was introduced to Silla during the Three Kingdoms period, and with the prevalence of Buddhism, the demand for paper for the publication of Buddhist scriptures soared. The increase in demand for paper stimulated the development of paper-making techniques founded on the basis of the methods invented in the Three Kingdoms period.

Mugujeonggwangdaedaranigyeong, the Immaculate Pure Light Dharani Sutra, printed purportedly in 751, is the oldest xylograph in the world. For over one thousand years it remains practically unharmed, mainly thanks to its dense fibrous structure. A document dating back to 755 (14th year of King Gyeongdeok's Reign) attests that the Korean traditional paper-making techniques were used for another Buddhist scripture, the Avatamsaka Sutra (Flower Garland Sutra) written with ink on white paper, proving that in the mid-8th century the production of dak-paper using the unique Korean techniques were already in use.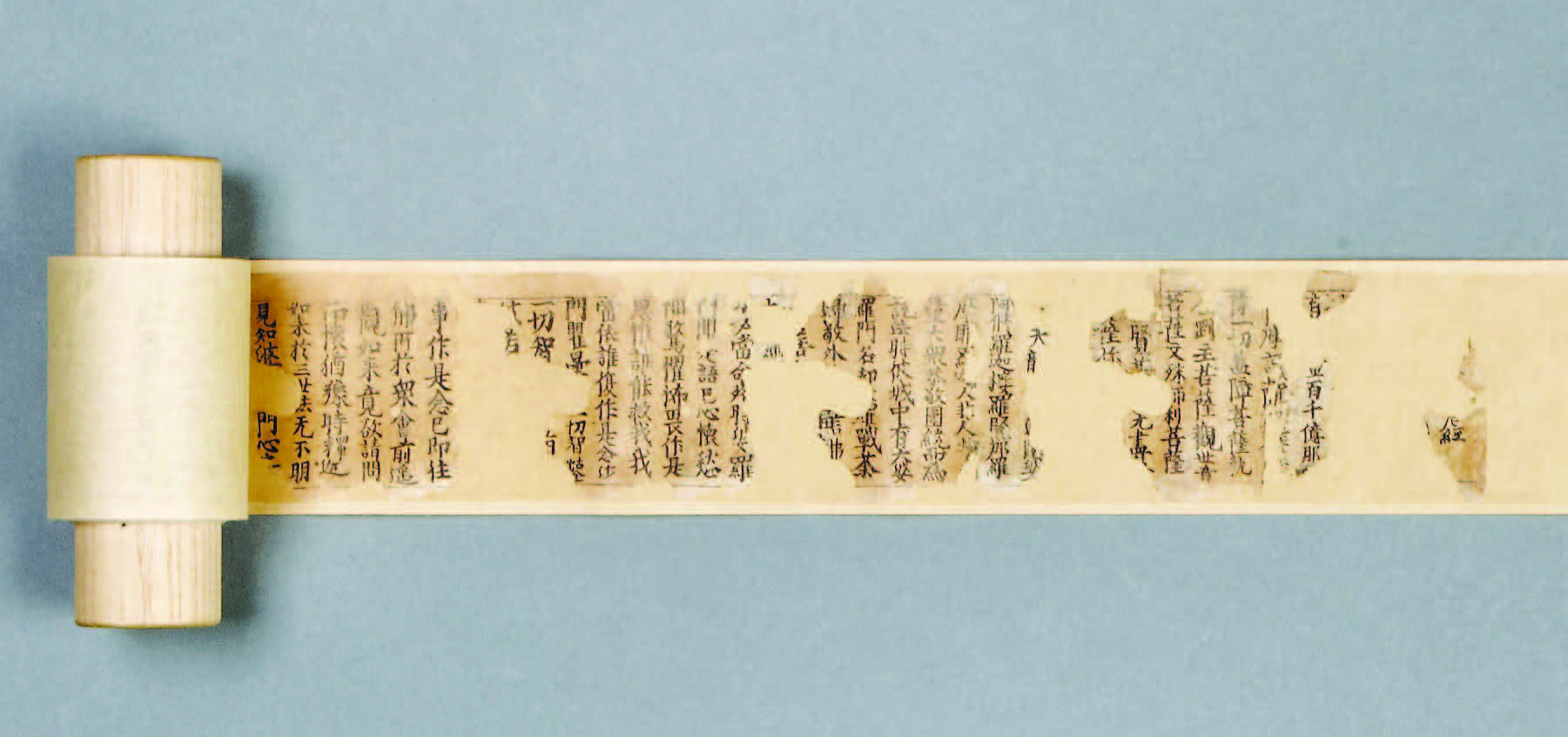 Mugujeonggwangdaedaranigyeong 無垢淨光大陀羅尼經 (National Treasure No. 126), Unified Silla,Central Buddhist Museum


Goryeo Dynasty
---
During the Goryeo period, the production techniques of
hanji
made great progress. Many books were published and various Buddhist scriptures including Tripitaka Koreana and Supplementary Sutra Compilation were printed with wood blocks. Paper was also used for painting, calligraphy, and money, and soon became one of the most indispensible export items to China.
Those circumstances encouraged the state to further promote the production of hanji. The court institutionalized the cultivation of paper mulberry, brought paper masters under the control of Department of Manufacturing and Maintenance, and established paper-making institutions such as
jiso
and
jojibugok
in the provinces.
Joseon Period
---
From the early Joseon period onward, the government encouraged paper production, and ran a state owned Paper Producing Workshop, established by King Taejong, and later changed to the Paper Producing Department by King Sejo. The provinces recruited paper masters, who were called
jijang
(紙匠), to inherit and pass on the production techniques, procured necessary materials, standardized the size of paper used, and improved upon its quality.
During the Joseon period paper continued to be one of the items paid as tribute and books were published increasingly actively, and thus the demand for paper expanded. Paper was the material used to make all different kinds of daily necessities including doors and windows, hats, folding screens, umbrellas, fans, flooring, money, and armor. In addition, the artworks created with paper as well as the various types of paper became more and more diverse.
Paper mulberry was the main material for paper; however, due to the increasing demand paper mulberry, bamboo leaves, rice straw, willow, oat leaves, mulberry bark, and bulrush were mixed with paper mulberry to create a 'weed paper' to meet the demands.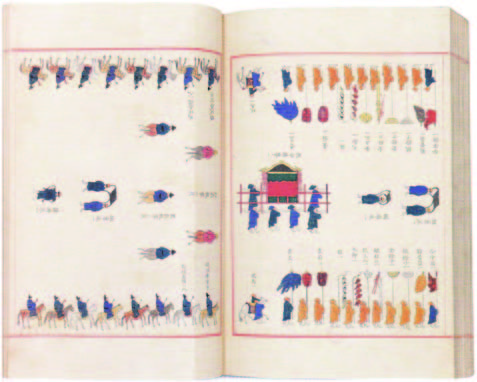 Illustrated Records of the installation of the Crown Prince Hyojang, 1725, 48.2×34.9cm, National Museum of Korea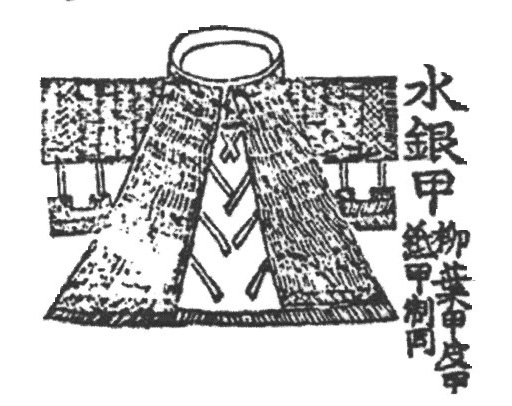 Illustration of a paper armor in Gukjooryeui 國朝五禮儀 Five Basic Rituals of the State


Modern Times
---
The
hanji
industry showed a rapid decline in the late Joseon period in sharp contrast to the overwhelming import of paper produced by Western machines. In 1884, during the 21st year of King Gojongs's reign, Kim Okgyun, one of the members of the Goodwill Delegation to Japan, imported a paper-making facility, and installed it in Seoul. It was from this period onward that Korean traditional paper was called 'hanji,' while the Western industry paper was called 'yangji.'
In the end of 19th century, King Gojong implemented a policy for the revival of
hanji
. He promoted the cultivation of paper mulberry and organization of cooperatives to improve the technology and production of traditional paper. In 1912, under the Japanese colonial rule, the National Research Center of the Japanese Government General of Korea was established, and took over the promoting policy of paper-making techniques and production. Laws and regulations were modified in accordance with the industrialization of paper production. Chemical agents were now involved in the boiling and bleaching process of paper materials, mechanical beaters substituted human hands, and hot plates eliminated traditional drying methods. Despite all the changes,
hanji
was in no way able to compete with the productivity and quality of yangji, and the colonialists' policies to eliminate aspects of Korean culture made it all the more difficult for
hanji
production to survive. The result is that today only paper for doors and windows, floor paper (jangji 壯紙), thick paper, and moss paper (taeji 苔紙), remain in existence.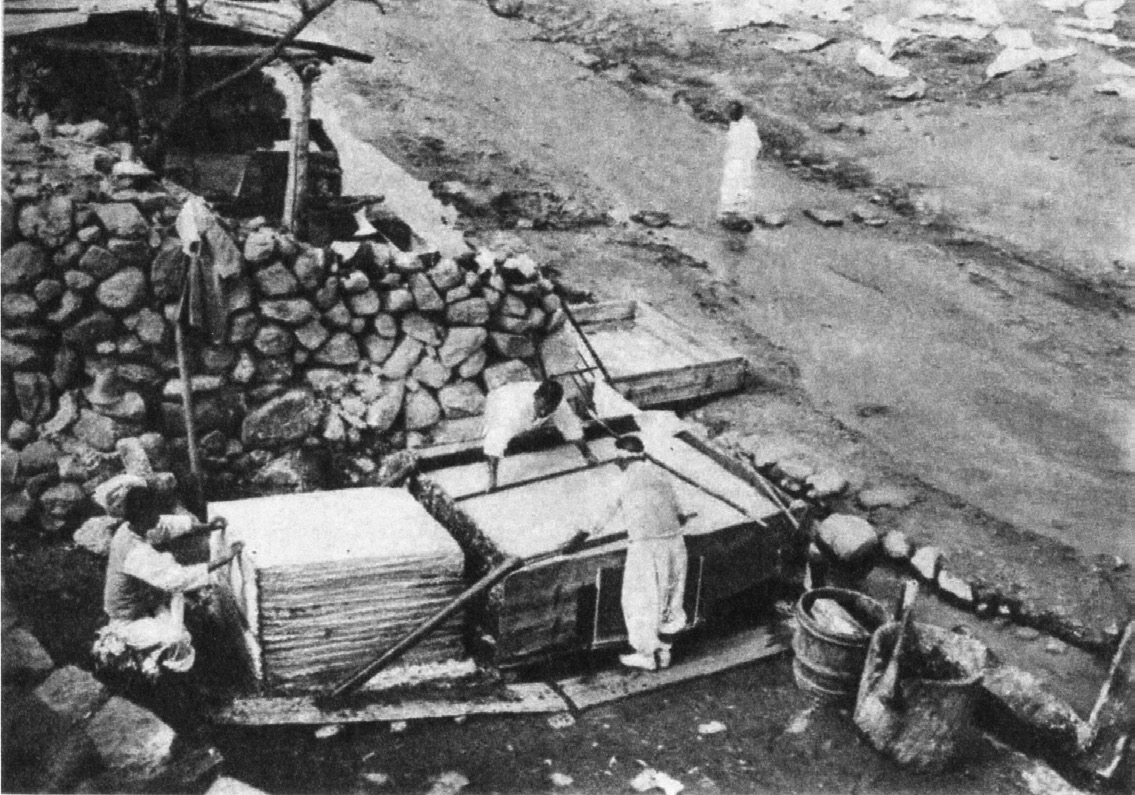 Producing paper in the modern times


Contemporary Times
---
In the fifty years after Korea's liberation in 1945, the tradition of
hanji
was nearly exterminated. The change of writing instruments, the decline of printed wallpaper use and glass windows sharply reduced the demand for
hanji
; in addition, the cultivation of paper mulberry dropped rapidly, mainly due to the outflow of the rural population into the cities caused by the industrialization of society. The efficiency of manual production was extremely low, and successors of the traditional techniques were few.
More recently, thanks to the rise in environmental consciousness and interest in traditional culture, the eco-friendliness and scientific superior quality of
hanji
are attracting attention of the public. Diverse
hanji
crafts are being developed, and the Korean government is trying to discover and foster talented craftsmen through the Institution of Important Intangible Cultural Properties.
Characteristics of Hanji

Durablility and Strength of a Thousand Years
---
Hanji
is usually made with one-year-old mulberry trees approximately 2 to 3 meters tall. From November to February the bark is peeled to be cooked in alkaline lye to remove the impurities, and a solution of hibiscus root is used as an adhesive. The natural toughness of mulberry bark is sustained by the lye and hibiscus solution during production process. Hanji is then bleached by water and snow, so its color remains unchanged for a long time. Traditional
oebalddeugi
(filtering the floating matter with a sieve hanging from a single string) and
gohae
(dissolving of the fibers by beating) methods is at the core of the secret formula for
hanji
's thickness and strength.
Unlike
hanji
, the main ingredient of Western industry paper is pulp, bleached in a strong acidic fluid. This results in an end product that has a pH of 4 to 5.5. This acidic paper turns yellow and crumbles over time. In approximately 100 years, paper made with this pulp begins to disintegrate, becoming unfit for use.
The tough and durable properties of
hanji
is described impressively in a Korean proverb: "Paper lasts a thousand years, while silk endures five hundred."


Eco-friendly Paper
---
To make
hanji
, only the bark of mulberry trees need to be peeled off, while Western paper requires the need to lumber entire trees to obtain pulp. Mulberry trees reproduce their bark again and again, and thus the collection of bark does not harm the tress. Furthermore,
hanji
burns itself out without leaving any impure emissions, and decomposes easily and rapidly.
Hanji
has holes across its surface, which is advantageous to humidity regulation and light transmittance. Western paper is non-porous, and so it is not air permeable and has a limited hygroscopic property; as a result, it tears easily if it is dry.
Hanji
is truly a breathable material, and that's why our ancestors preferred it for windows and doors.

Paper As Soft As Silk
---
Paper suitable for calligraphy and painting has a property that makes the colors of the paint on paper even richer, and absorbs the paint evenly to prevent it from bleeding. After scooping and drying process,
hanji
is beetled, which makes it denser, so that it absorbs the paint without letting it spread.
A book from Ming China, Kaopanyushi, Enjoyment of A Hermit, written by To Long, refers to the superior property of hanji: "Characters written on goryeoji sustains the beautiful color of ink. It is a precious article that is not produced in China."
Application of Hanji

Accompanying the Life of Koreans
---
Hanji
has accompanied the entire lives of Koreans, quite literally from birth to death.
Hanji
, charcoal and chili peppers were intertwined in the ropes hung on the gates of homes when a child was born. When the child had his/her first birthday, steamed rice cake was prepared, and the bottom of steamer was covered with a sheet of
hanji
. Children learned with books made of
hanji
, flied kites made of
hanji
, and whipped a top with a string made of mulberry bark. When they were grown up, bridegrooms-to-be sent marriage letters containing his 'four pillars of destiny' written on
hanji
to his bride's home. When a person would pass away, their bodies were shrouded with
hanji
, and the bereaved and mourning guests held funeral streamers with lamenting phrases, and threw fake money made of
hanji
.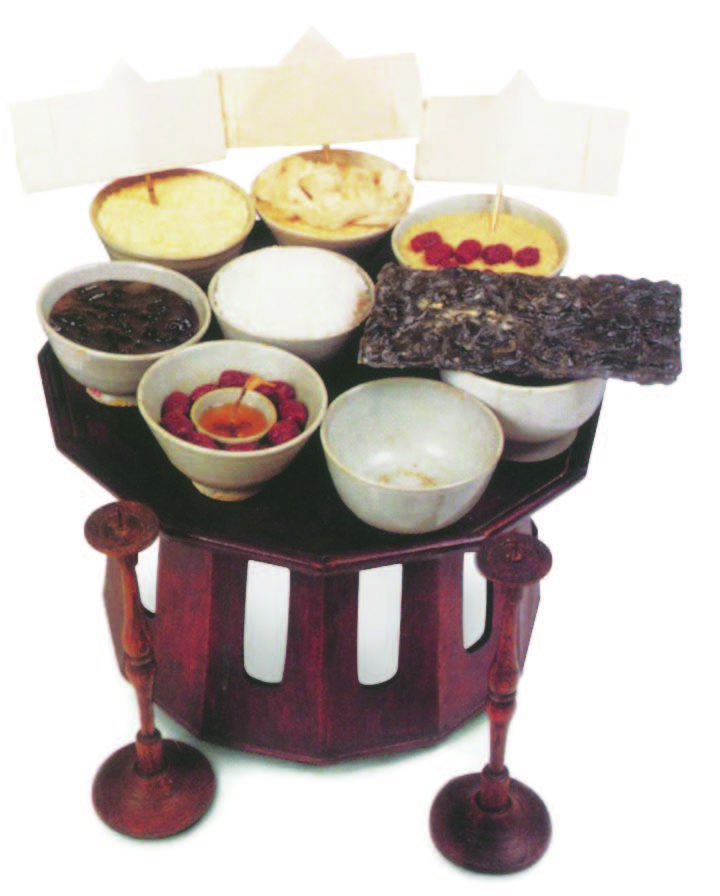 Samsinsang, A Duplicate of the Offering to the Three Gods Governing the Birth, National Folk Museum of Korea — Hanji was offered to the three gods governing the birth for their help and protection.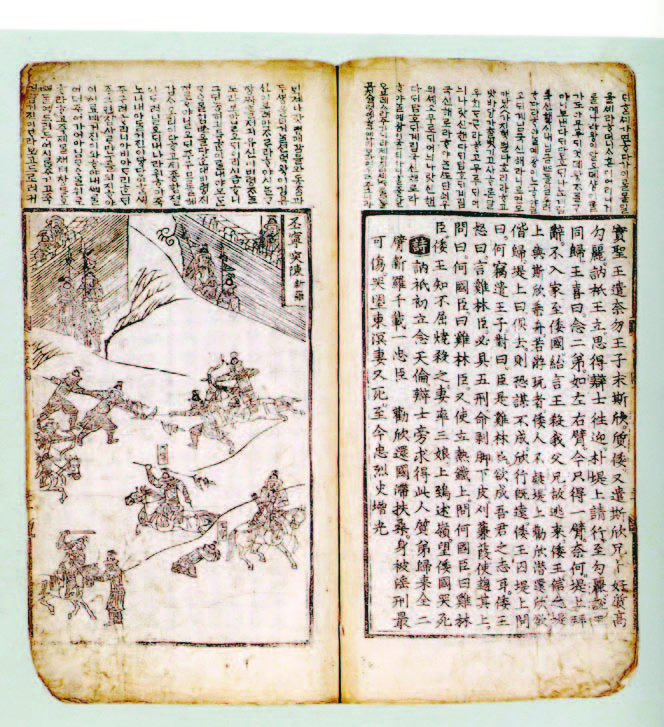 Samganghaengsildo 三綱行實圖, Illustrated Guide to the Three Bonds and Conducts, compiled by Seolsun et al, 1581, wood block printing, 37×22cm, Seoul National University Museum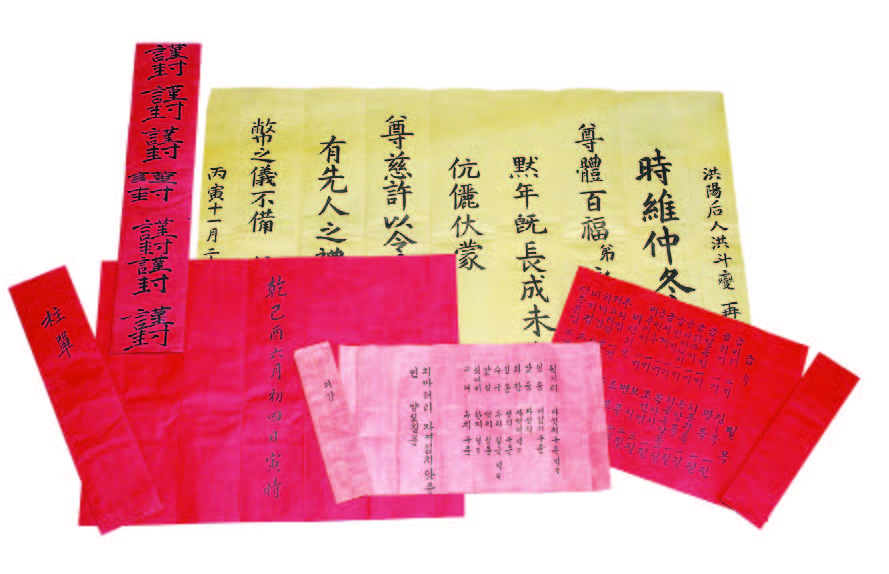 Sajudanja 四柱單子 ('Four Pillars of Destiny') and Honseoji 婚書紙 (Marriage Letter), Joseon, 71.3×52cm (marriage letter), 47×39cm (marriage letter), 35×22cm (uiyang 衣樣, measurements of clothes), 36×29.4cm (mulmok 物目, catalog of goods), Wonju Municipal Museum — Sajudanja is a paper sheet on which 'Four Pillars of Destiny' of the bridegroom-to-be are written. Bridegroom's marriage letter is sent with wedding gifts to the bride's house.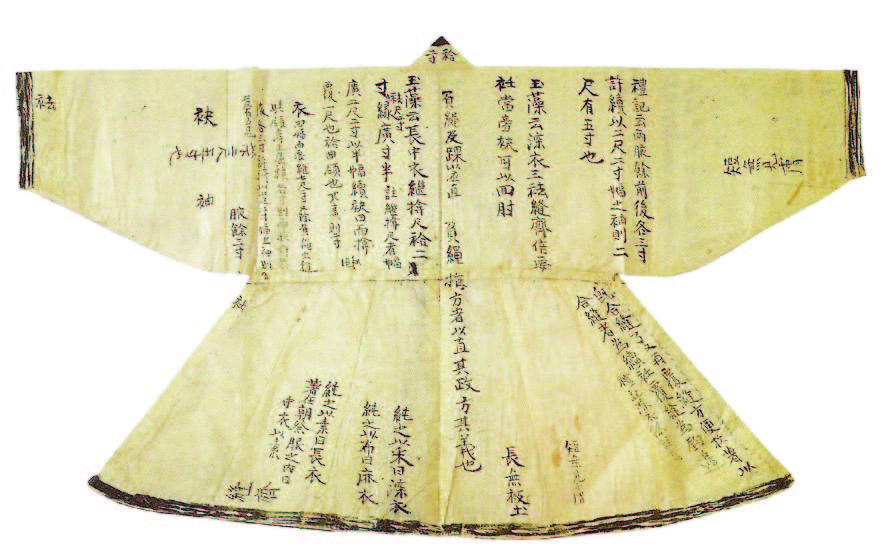 Otbon, Clothes Pattern, 26×41cm, Samseong Museum of Publishing — Newlywed brides brought clothes patterns with them.


Calligraphy, Painting, and Hanji
---
Hanji is included in the "Four Treasures of the Study" (Munbangsau: hanji, brush, ink, ink stone), which were indispensible objects for calligraphy and painting. The paintings of Jeongseon 鄭敾, who expressed the landscape with his unique techniques, are the best example for hanji's properties of absorption and following delicate reactions. However, from the late Joseon onwards, painters preferred a balmuk, splaying of ink, so hwaseonji 畵宣紙 became the primary paper for painting.


Sugyedogwon (part), Yu Suk, 1853, light coloring on paper, 30×80cm, private collection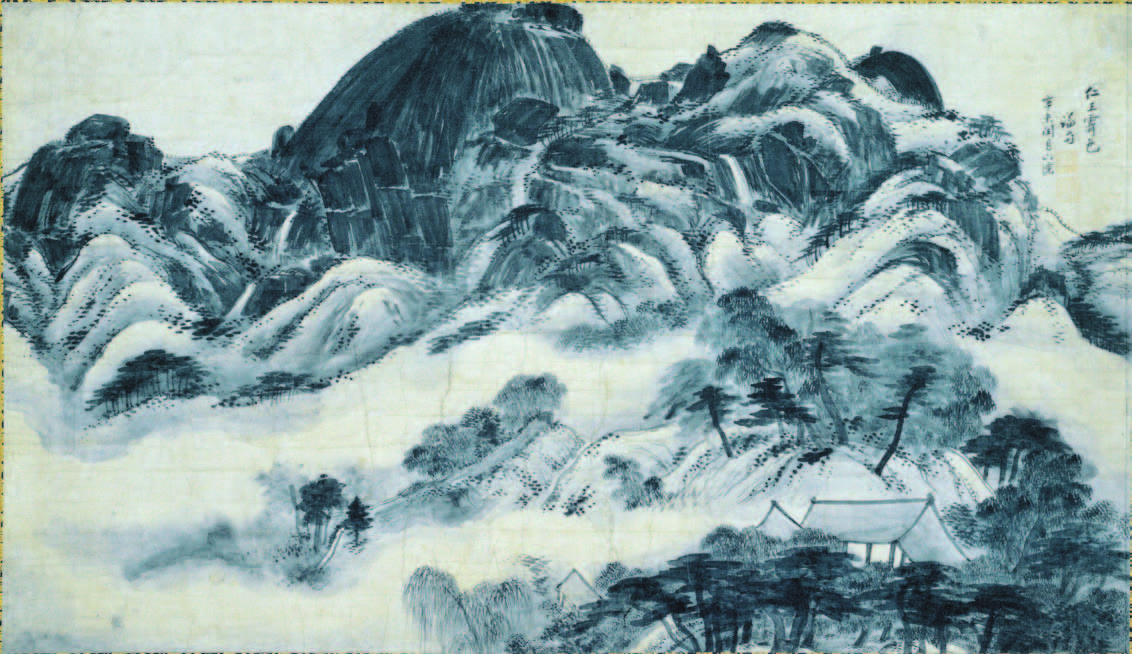 Inwangjesaekdo, Jeongseon, 1751, 79.2×138.3cm, Samsung Museum of Art Leeum


Contemporary Painting and Hanji
---
For contemporary artists, hanji is not merely just a material; it invites them to explore the nature of the paper itself, presenting a wide range of possibilities for exploration in the contemporary arts. Hanji, with its strong and durable properties provides better effects as a canvas, is also suitable for print art, and is a superb material not only for flat but also solid expressions such as relievo and vollplastik.

The attributes and definitions of hanji is as various as the diversity of hanji colors: 'warm', 'smooth', 'soft', 'tough', and many more. Hanji contracts and expands, and hardens and softens, like an organic object.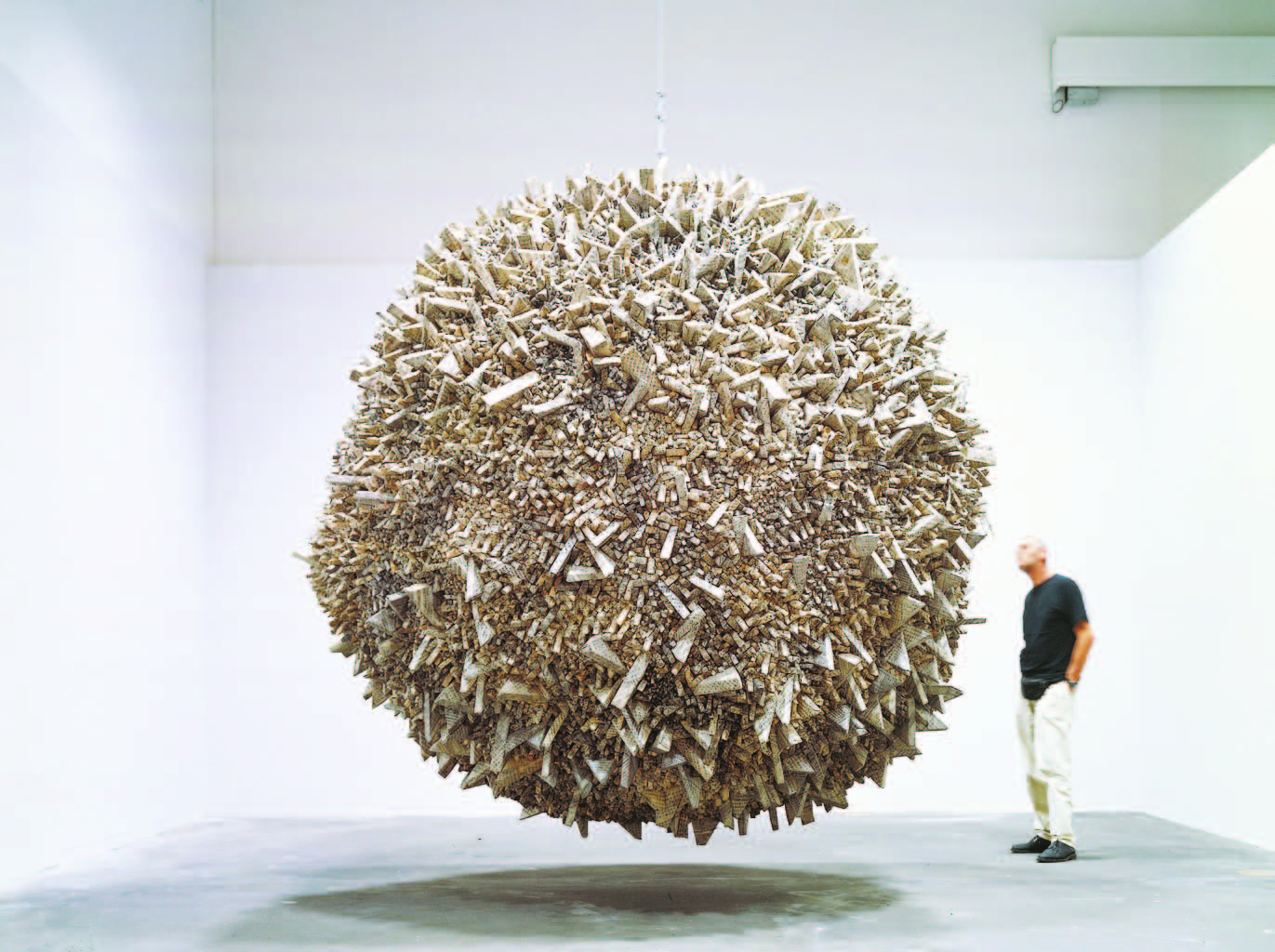 Jiphap(Aggregation 03-BJ 001), Jeon Gwangyeong, 2003, 450cm in diameter — For the artist the phrases written in the old books are the traces of the people who touched and used them. The 'aggregation' of geometrically folded hanji expresses the artist's contemplation on the origin of the universe, nature and human beings.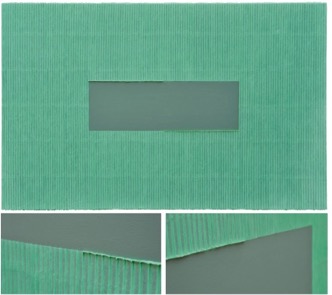 Ecriture (Myobyeop) No. 110118, Park Seobo, 2011, 165×260cm (photo by Yun Sangjin) — The artist attaches hanji on the canvas to make furrows by repeating brush strokes over and over. The convex rows of hanji give an effect of relievo.


Craft & Design, and Hanji
---
The durability and preservability of hanji comes from the long, tough fibers of the paper mulberry's bark. In addition, its glossy surface makes it suitable for craft works. Applied layer by layer, it becomes so rigid and tough that it can serve as the frames for decorative paper crafts.
Hanji
, soaked and dried, is hard enough to be beaten without being broken, so it fits paper paste craft, and braided
hanji
is soft yet tough, also making it suitable for various crafts. Different from
yangji
,
hanji
can also be used as a type of paper wool, which makes darning work possible to repair and restore.
The Joseon period saw the golden age of
hanji
crafts, from decorative paper crafts to paper goods for the daily use. At that time furniture items made of paper was an important hope chest. After a sharp decline in the contemporary times,
hanji
crafts bounced back with the rise of decorative paper crafts in the 70s. Its demand continues to increase constantly, and many fields, from fashion to fine arts, are now exploring the possibilities of
hanji
as one of the primary materials of craft and design.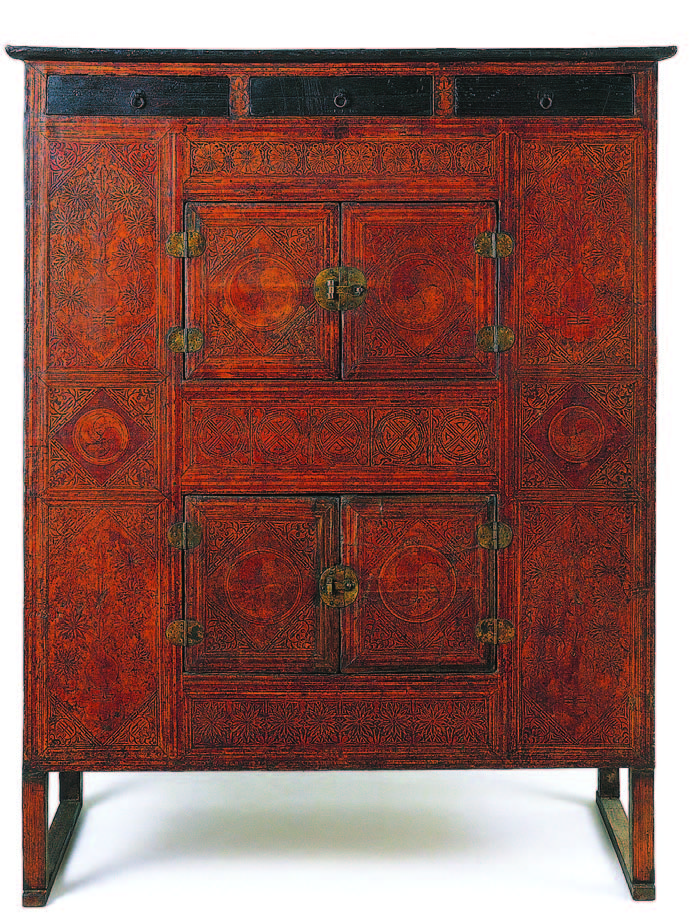 Paper Double-deck Cabinet, 97×40×123.5cm, Private collection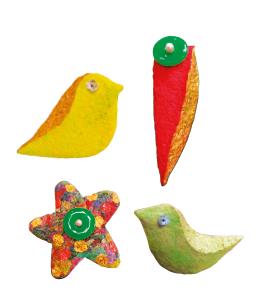 Hanji Brooch, Yang Sanghun, hanji and pearls — Hanji artist Yang Sanghun give these brooches a unique knotty texture and colors using jumchi technique.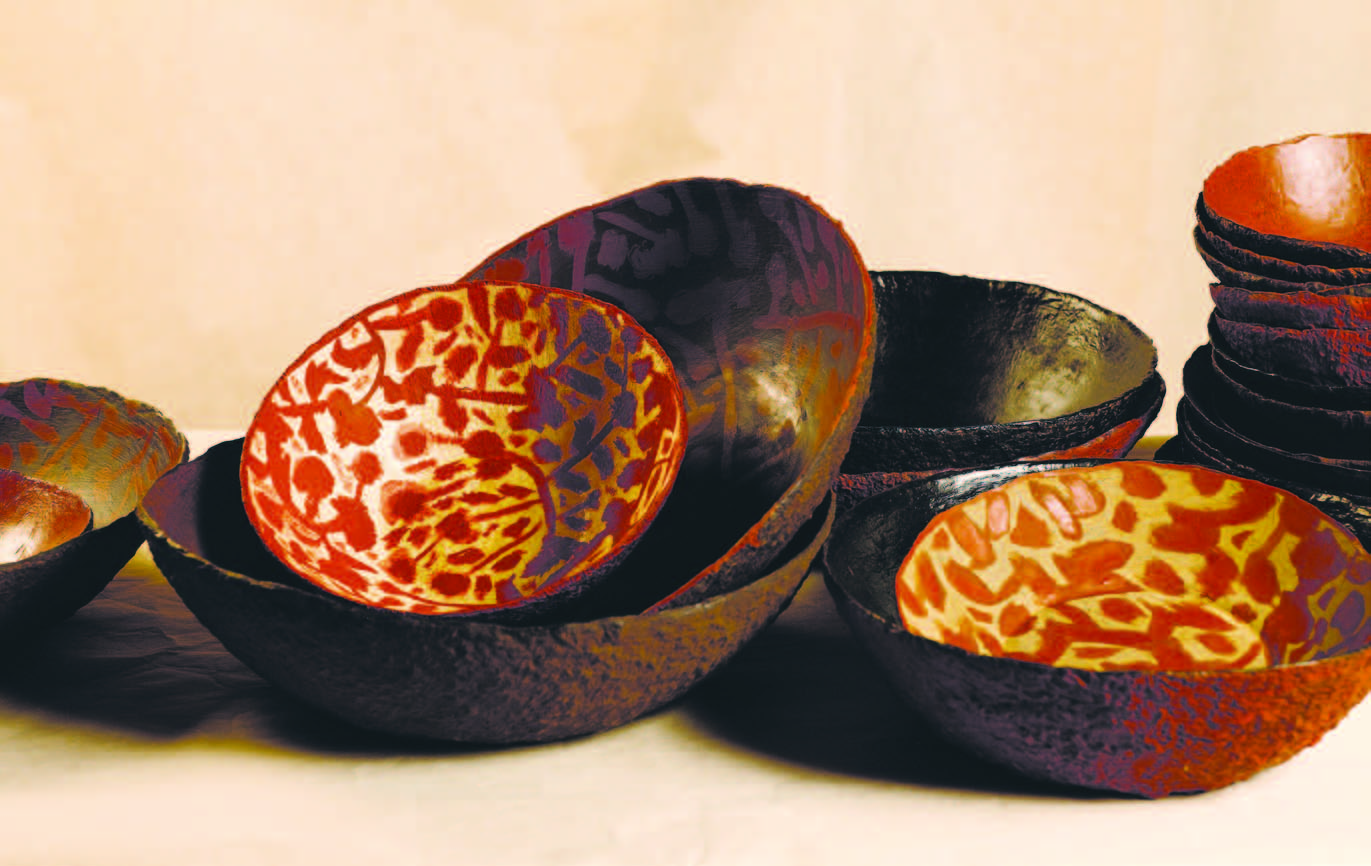 Lacquered Paper Bowls, Lee Jongguk — The practical and beautiful household items are made more durable by lacquering and mixing ground inner stalk of paper mulberry.


Architecture and Hanji
---
For hanok, the traditional Korean house, hanji was used significantly for interior materials.

Many parts of a hanok, such as the ceiling, wall, windows, and floor, were finished with hanji: the ceiling and walls were papered with dobaeji, all of open parts are blocked with changhoji, and floors were papered with jangpanji. Jangpanji, multi-plied and oiled with perilla oil, regulate the heat from the floor and the moisture from outside, changhoji on the windows and doors absorbs dust and odors, and also controls the humidity. Hanji is harmless to the human body, because no chemicals are involved throughout all of its production process. The change in the modern day residential environment led to a decrease in the huse of hanji for architectural purposes, but the fact that hanji as an eco-friendly construction material (as it doesn't emit any toxic gas) and therefore protecting its residents is attracting people's attention again.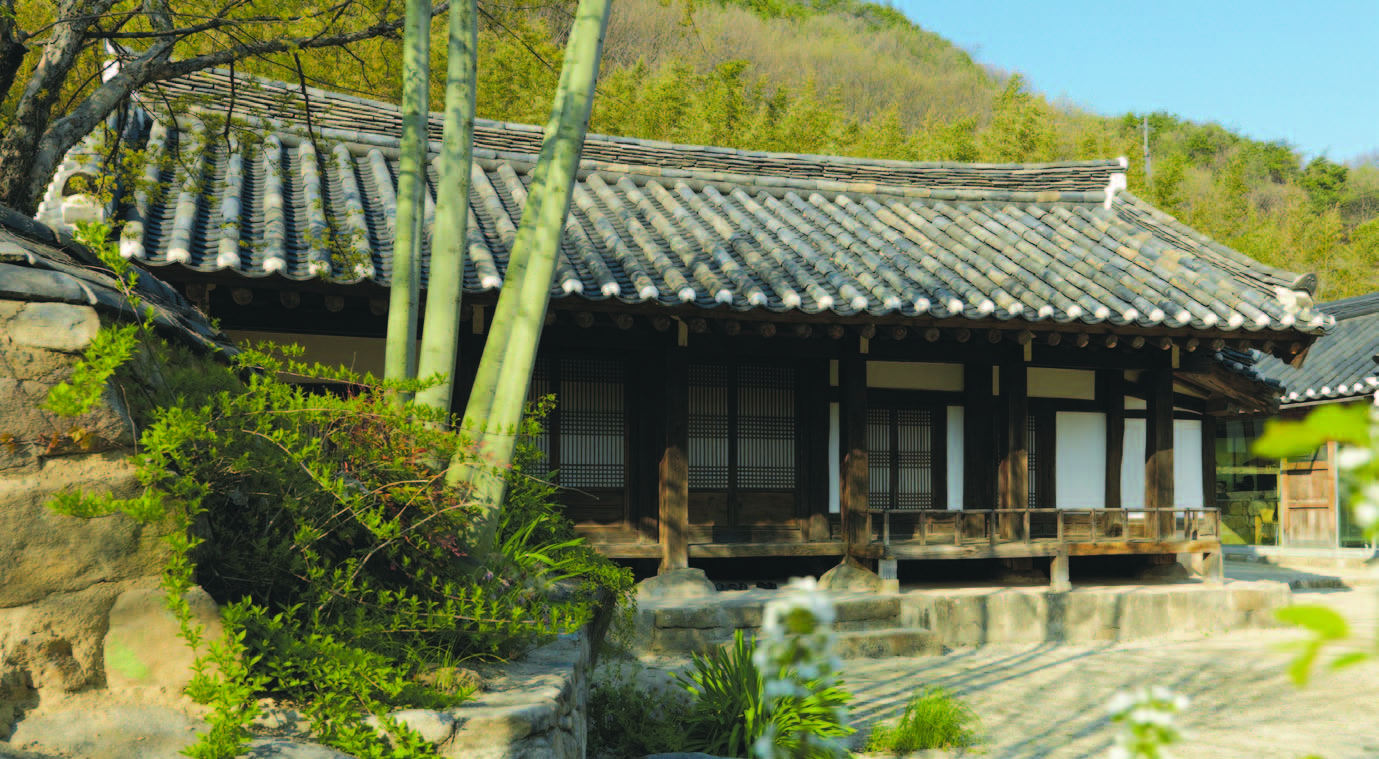 Hamyang Hanok © Arumjigi Foundation



Baekseon Design Pavilion, Kim Baekseon, 2011, Living Design Fair (photo by Choi Jeongbok)


Industrial Application of Hanji
---
The change in industrial and housing structures led
hanji
to be less popular, but thanks to rising ecological consciousness and increasing interest in retro style architecture in the 90s it began to strengthen its position in various fields.
Since the early 2000s the eco-friendly and green properties of
hanji
has been drawing more attention of the public, with the result of a widening of possibilities for application as a versatile interior material. Now, various forms of
hanji
are available in the fields of architecture and interior design, for example, wall paper, lacquered floor paper, paper carpet and more. Food industry presents special
hanji
application such as napkins, oil control film and food wrapper, and other industry sectors are trying to introduce more
hanji
products.
Hanji
fabric's drying properties are three to five times faster than cotton fabric and it is highly anti-bacterial, so it can be used to make a wide range of functional clothes or even mixed with other fabrics.
Using these functional properties, companies present various hanji products: Clothes of hanji yarn (Koper), jangpanji and lacquered jangpanji (Chunyang Paper), foam pattern hanji (Dongyang) and hanji package (Jangsu). A company in Wonju, Gangwondo, is working on the development of special paper suited for the printing of photos and fine art paintings.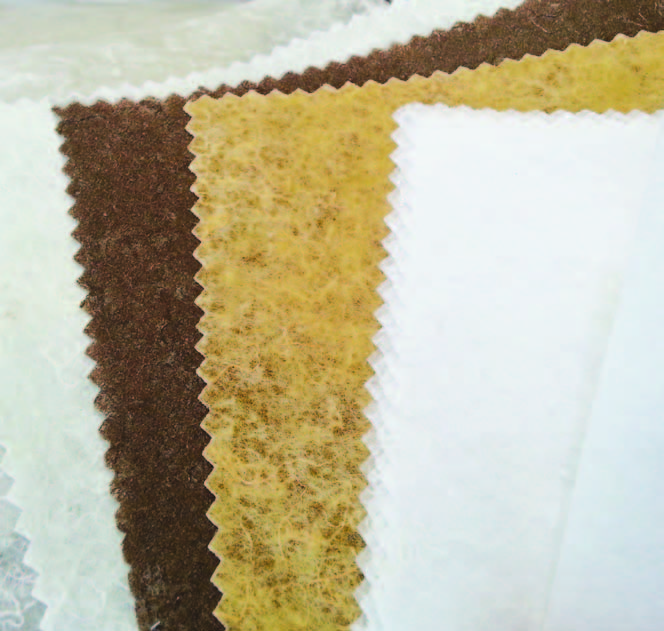 Felt Made of Hanji Yarn Sim Hwasuk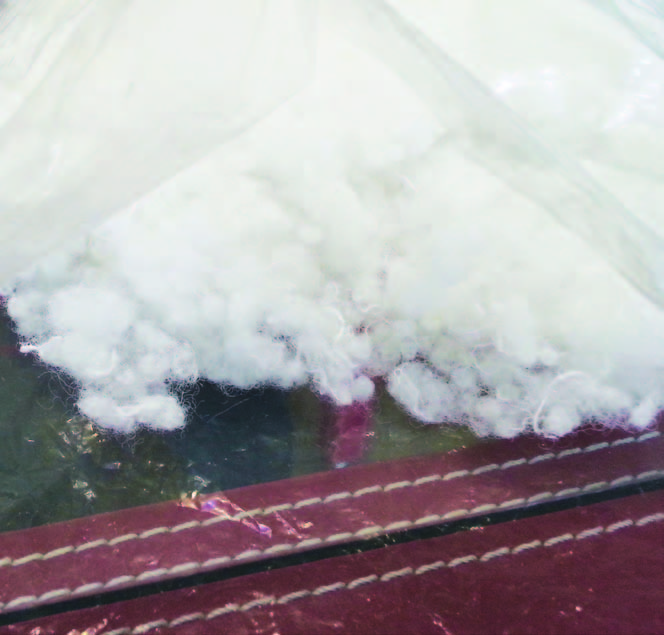 Cotton Made of Hanji Yarn Sim Hwasuk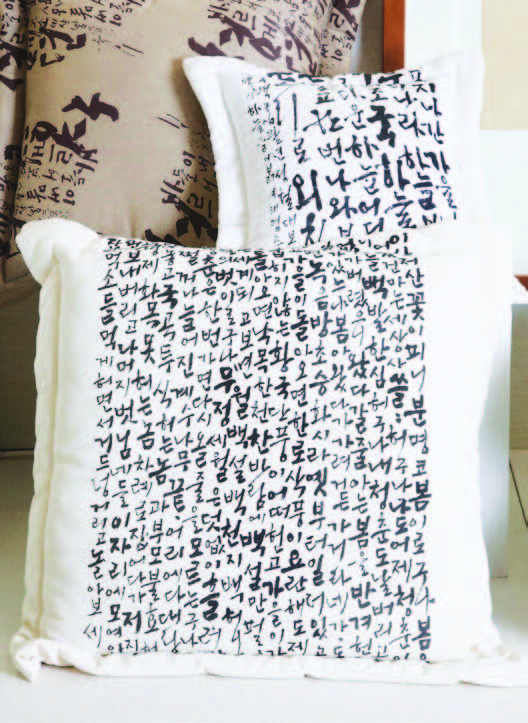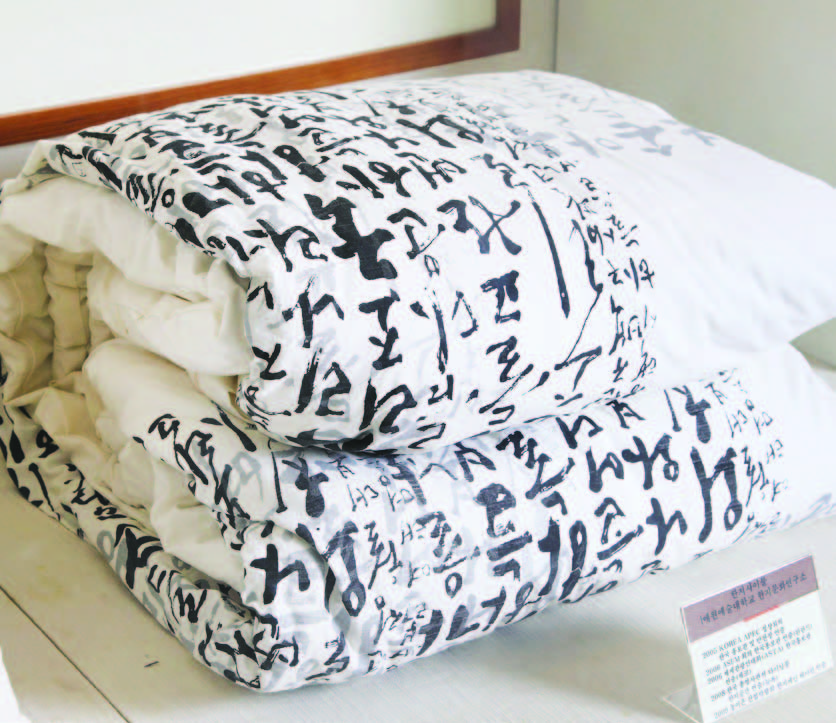 Cushion and Blanket Made of Hanji Fabric, Yewon Arts University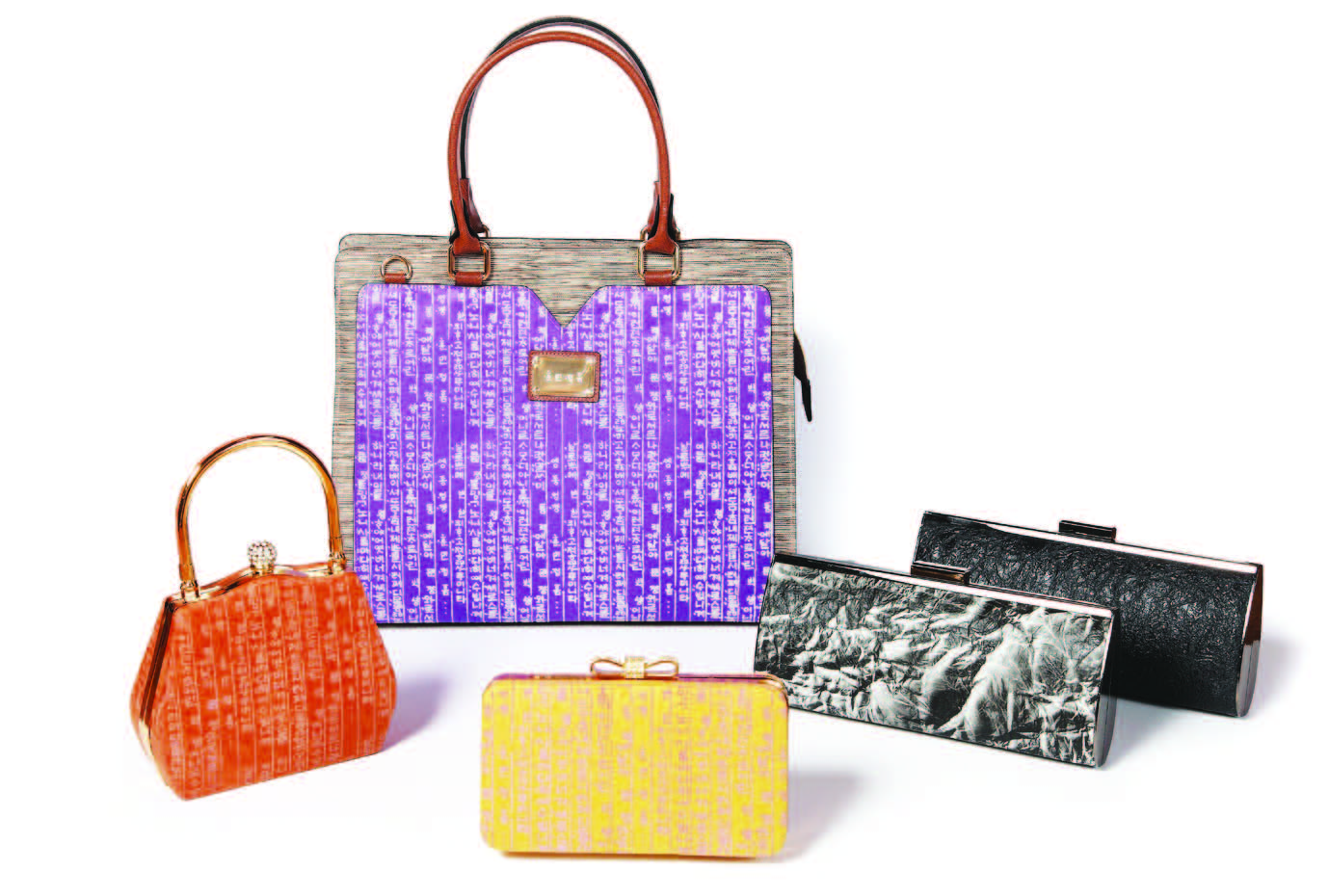 Hanji Bags — According to expressing technique and design, hanji accentuates traditional feelings or presents contemporary appearance.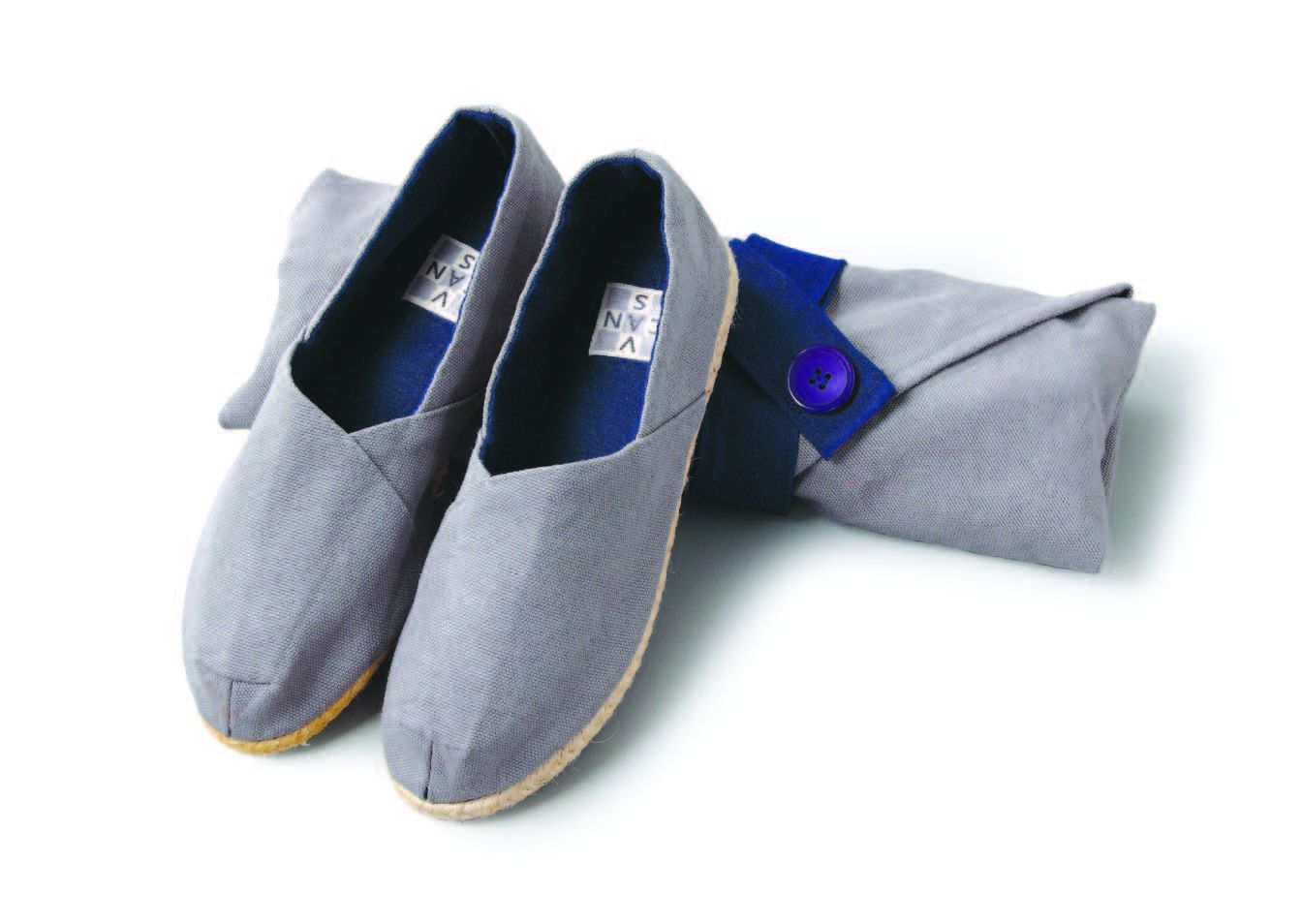 Slip-on Sneakers Made of Hanji Fabric © Los — A pair of fabric shoes with traditional rubber shoes motif. Hanji fabric gets rid of humidity and bad smell of the feet without socks.


Artist Aimee Lee - Hanji Making Process Video


Materials of Hanji

Nature's Paper, Paper Mulberry
---
Paper mulberry is a moraceous deciduous shrub, of which bast fiber is the principal ingredient of
hanji
. Among the three kinds of paper mulberry,
chamdak
, diplomorpha, and paper-bush, the '
dak
' in
dak
paper refers to
chamdak
mulberry.
Chamdak
can be found throughout Korea, and is easily found alongside rice fields.
Its fibers are very long and tough, which makes it possible to produce high quality paper. Korean paper mulberry is grown in fertile sandy soil. It produces thick bast to help the plant endure Korea's freezing winter and scorching summer, making it suitable as an ingredient of high quality
hanji
compared to the paper mulberry grown in the tropical climates of Thailand or China. In order to harvest healthy paper mulberry fiber, paper mulberry has to be harvested between November and February, when its sap dries. Paper made from pure paper mulberry fiber will last more than a millennium.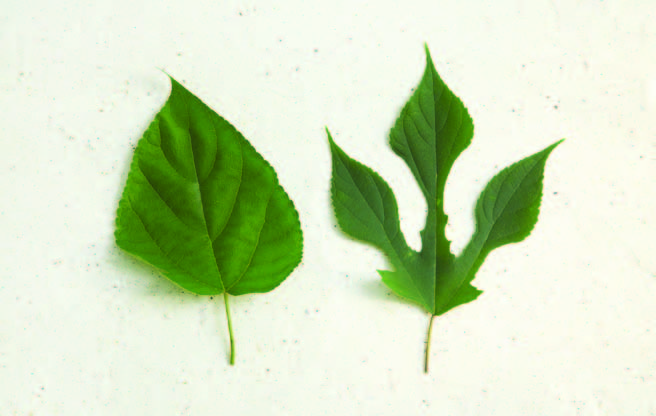 Paper mulberry, male and female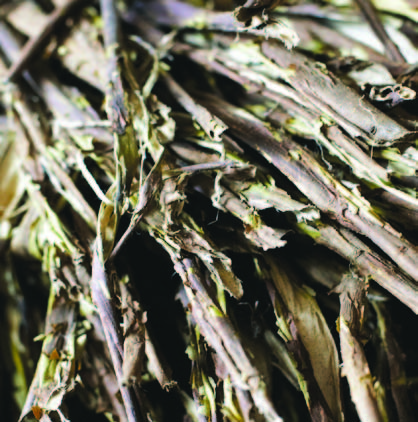 Black skin of paper mulberry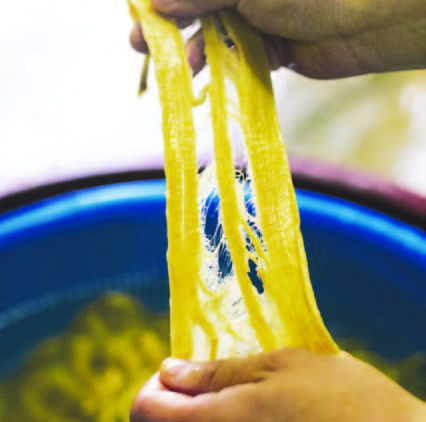 Fiber of white dak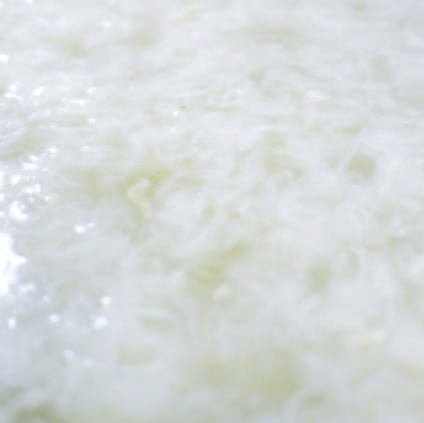 Dissolved dak fiber


Natural Adhesive: Hwangchokgyu, Solution of Hibiscus Roots
---
The hibiscus root is a malvaceous annual herbaceous, another key ingredient of
hanji
. The hibiscus root solution is known as
dakpul
, or dak glue. Using
dak
glue prevents the fibers from getting entangled by getting them distributed evenly.
Dak
glue's main substance, saccharide, makes the fibers stick together, thus producing sturdy
hanji
. Depending on the amount of
dak
glue added, the speed of water seeping through the sieve changes, creating paper of varying thicknesses. Less usage of dak glue would let water seep in faster in between the fibers, creating more delicate
hanji.
Adding more
dak
glue results in slower seeping of water, producing thinner and tougher
hanji.
The hibiscus root solution is made by crushing hibiscus roots in a barrel by stepping on it. Then, the liquid is filtered to eliminate impurities. Viscosity of fresh hibiscus roots is removed by putting the plants in water, while older roots have to be crushed to remove viscosity.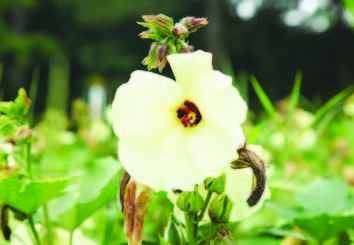 Hibiscus flower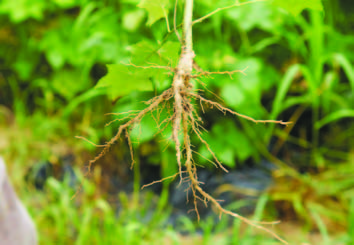 Hibiscus roots that make dak glue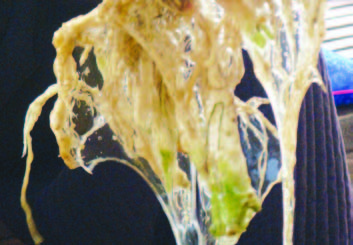 Slime of hibiscus roots


Lye
---
Lye is added to boiling dak solution in order to eliminate. Lye is a mixture of burnt rice, buckwheat, and bean stalks ashes and warm water (around 40 degrees Celsius). This mixture becomes an alkaline liquid (pH 6.0) that feels soapy. The mulberry fiber is boiled to gradually lower its pH until it is neutral, making it possible to produce quality hanji. Using lye to eliminate impurities preserves the fibers in hanji. While lye preserves the inherent shine of mulberry fibers, it also makes the waste water treatment more convenient.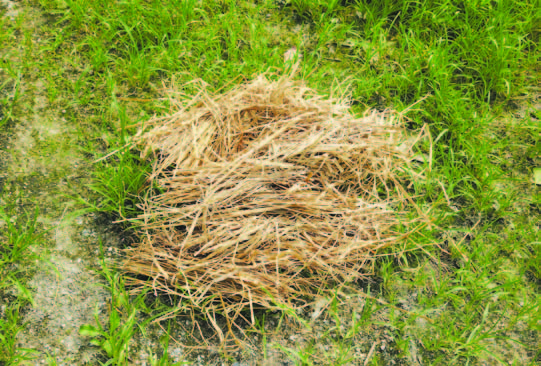 Bundle of rice straw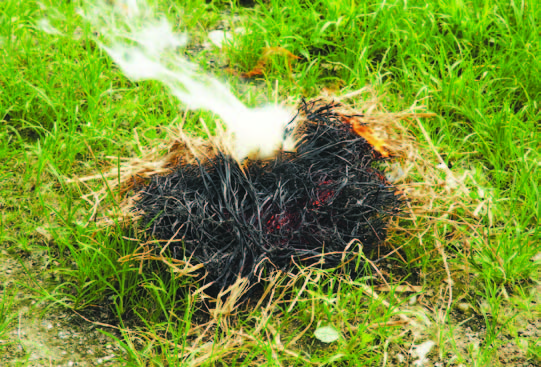 Burning rice straw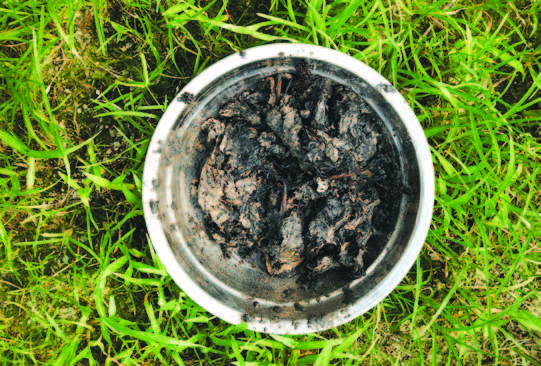 Ash of rice straw


Tools for Making Hanji
---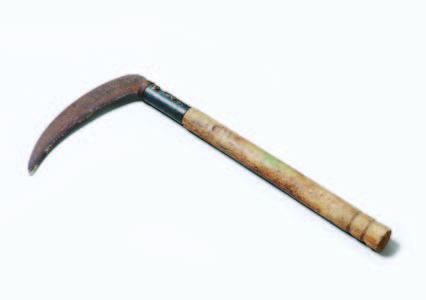 Dangnat (sickle) is used for cutting paper mulberry.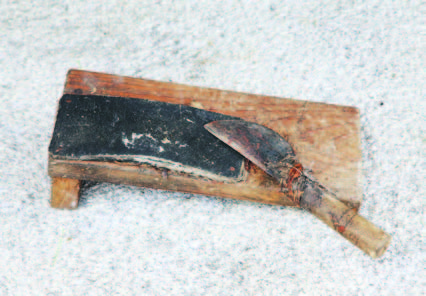 Dakkal (knife) and dakdoma (cutting board) are used to peel mulberry skin or black skin.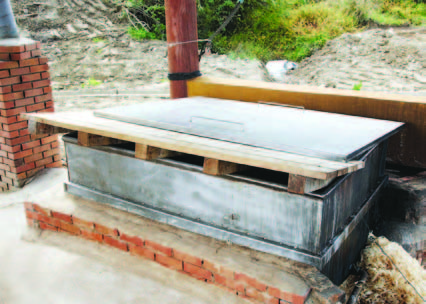 Daksot (caldron) is used to steam dak skin mixed with lye.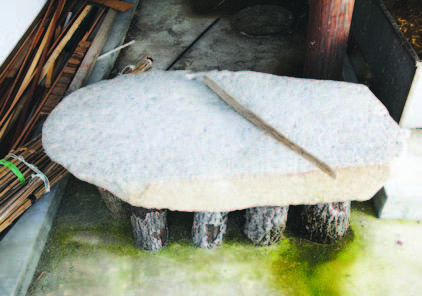 Dakdol (beating block) and dakbangmangi(dangme, beating rod) are used for beating steamed bark to make it fiber.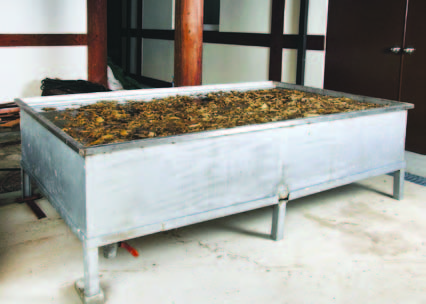 Sutong (tub) is used to wash the bark.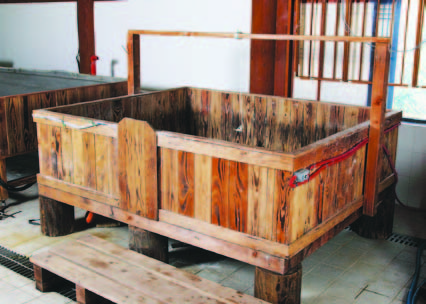 Jitong (paper tub) is used to mix water, dak fiber and dakpul, and to sieve out hanji.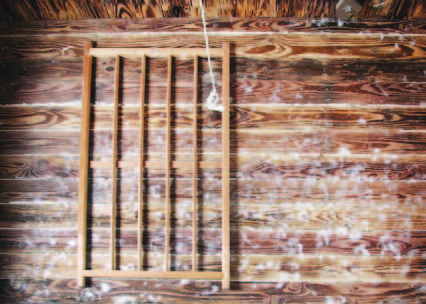 Balteul (sieve frame) is a tool for supporting the sieve while sieving, and for drawing water.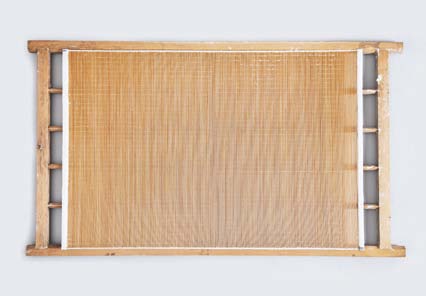 Bal (sieve) sieves fiber out, letting water stays in tub. It is usually made of bamboo. The finer the grid, softer the hanji becomes.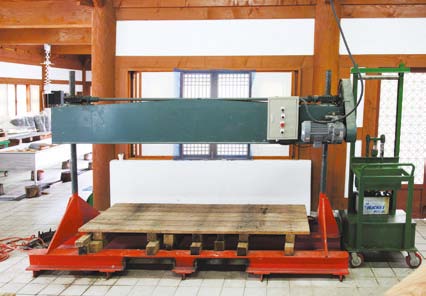 Squeezer removes water from paper sieved from the paper tub. Traditional squeezer dehydrates hanji by putting wood panels and stones on the pile of wet paper, which is now replaced by a mechanical squeezer.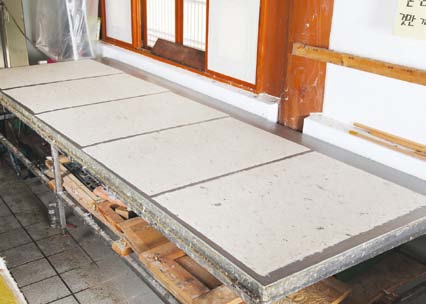 Dryer is used for drying wet hanji. In the past, wet paper was dried under the sun on wood panels or on ondol (heated floor). Now a thick iron panel is used.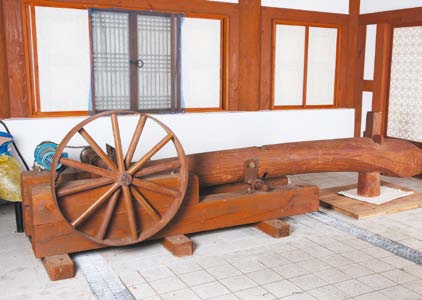 Dochimgi (搗砧機, beetling machine) makes the texture of hanji dense and the surface glazy so water or ink are not absorbed easily.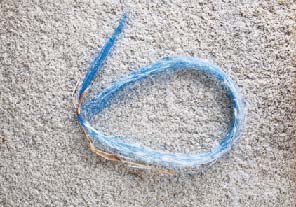 Begae (Begaetmeori) is a piece of thread or cord that is inserted between sheets before the squeezing process in order to separate the sheets easily.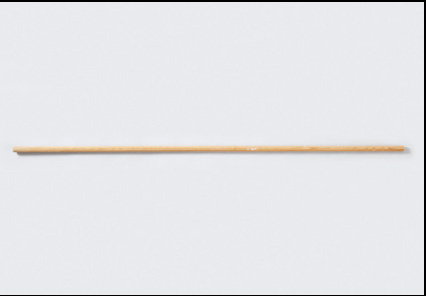 Iritdae is a rod for separating paper sheets for drying process.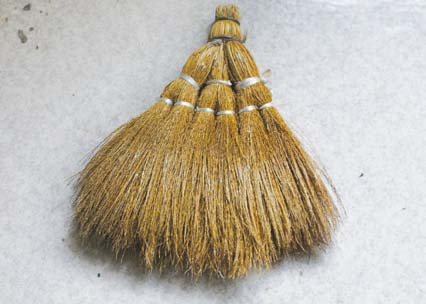 Mallisol (Bitjaru, broom) is used to stretch and attach paper sheets on the dryer panel. It used to be made of wood stalk, sorghum straw or horsehair, now a simple household broom is used.


Other Tools
---
Bogoriteul
is a frame on which the steamed dak in a hemp sack is placed and washed.
Jiham is a box that keeps soft beaten dak paste.

Dakpuljaru is a sack for the solution of hibiscus roots or elm juice,
Gomurae is a rod that is used to stir the dissolved dak fiber in water, preventing it from becoming lumpy, or to bring the material to a certain place.

Puljakdaegi, a glue rod, is used to stir dak glue in the paper tub.

Amban is a plate that is used to pile up the wet paper sheets.

Gunggeuldae(Dunggeuldae, Dunggeultong) is a round rod used to squeeze water from the sieved hanji sheets.


Techniques for Making Hanji
Masters Ryu Haengyeong and Jang Yonghun, the skill holders of the Important Intangible Cultural Property No. 117 Hanji Master (provided by the National Research Institute of Cultural Heritage and Jang Yonghun)

Ninety nine steps are taken, from cutting the paper mulberry to sieving hanji, and then the hundredth step makes hanji complete, giving it the nickname 'baekji,' paper of one hundred touches.

Harvest
---
A year old paper mulberry has to be harvested from November to February, when the plant contains adequate moisture and soft fiber. Then, the stalk is cut close to the ground.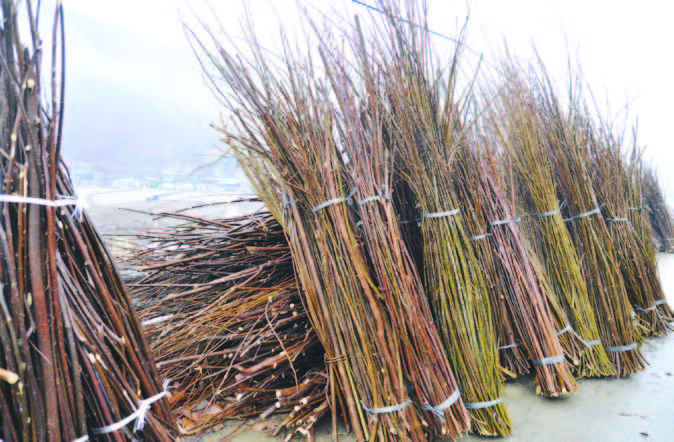 Steaming (Dangmuji)
---
The harvested paper mulberry is then steamed right after the harvest to make the skin peeling process easier. Paper mulberry is steamed in daksot for four hours and cooled for one hour. The caldron is covered with a straw mat to block the steam. When properly steamed, the outer skin rolls up by 1cm.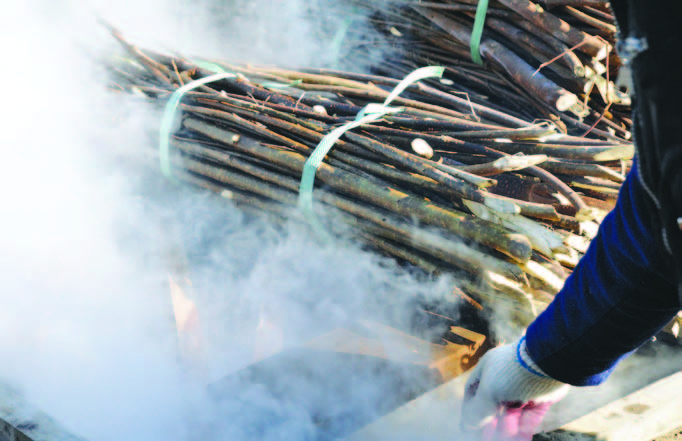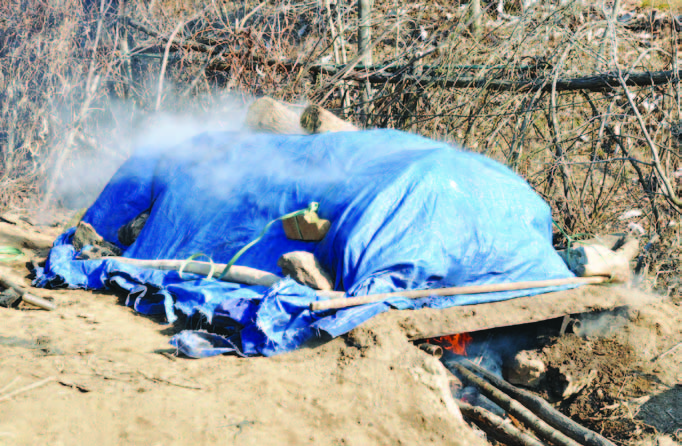 Peeling
---
The peel taken after the steaming process is called
heukpi
(black skin),
jopi
or
pidak
. The black skin is soaked in iron-free water for 10 hours. Then, its outer skin is peeled to obtain the inner part called
baekpi
(white skin). The fiber of this white skin is the principal material of
hanji
. Dried white skin lasts two or three years.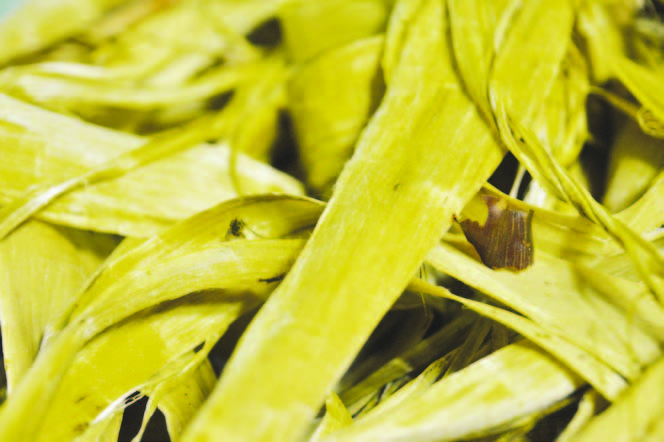 Boiling
---
The white skin is washed in running water free of iron, and left in water to get rid of impurities. The cleaned white skin is then placed in lye to be boiled for 4~5 hours, and afterwards left to settle for an hour. It is perfectly boiled if the fiber is separated easily when slightly jerked apart.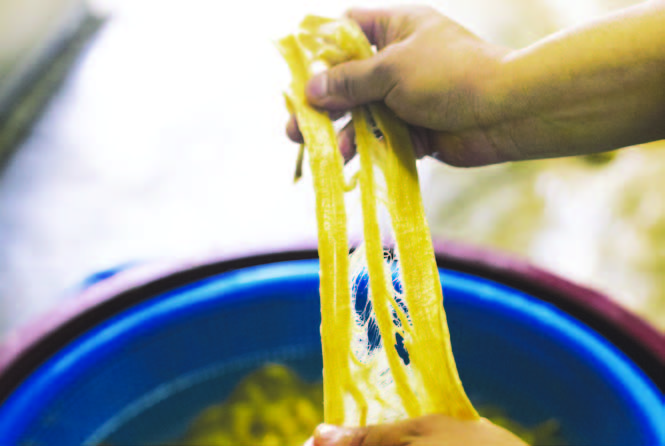 Washing and Drying (Cleaning and Bleaching)
---
Then the boiled dak fiber is cleaned in water. While being dried under the sun, the fiber has to be turned occasionally for it to be properly dried. After it dries, skin fragments and knots are removed. This washing and drying, called water bleaching, will take 3~7 days. During winter, it dries on snow in a process called snow bleaching.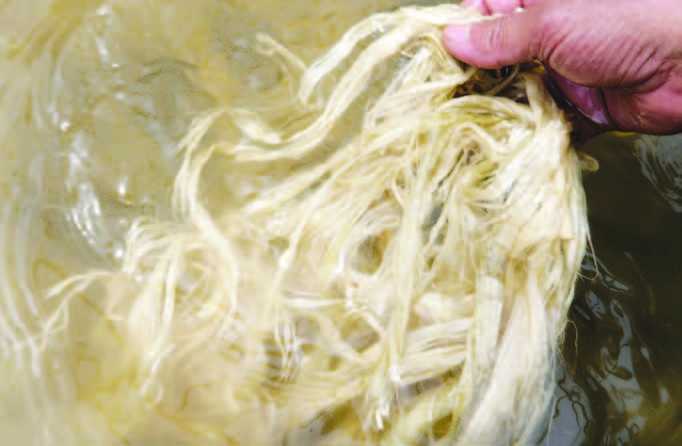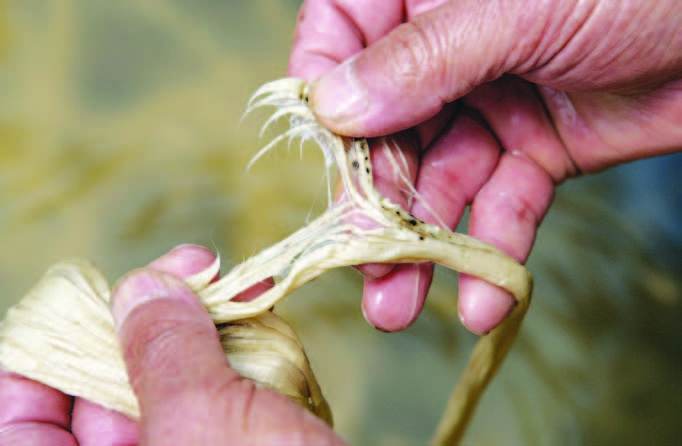 Beating
---
The white dak is crushed with a dak beater on a dak stone to a pulp. The process takes about an hour, until the pulp resolves immediately when put into water. Crushing the white dak through this method produces longer fiber; this process produces thinner and tougher paper, in comparison to the process of crushing the white dak with a machine (beater) that shreds the fiber.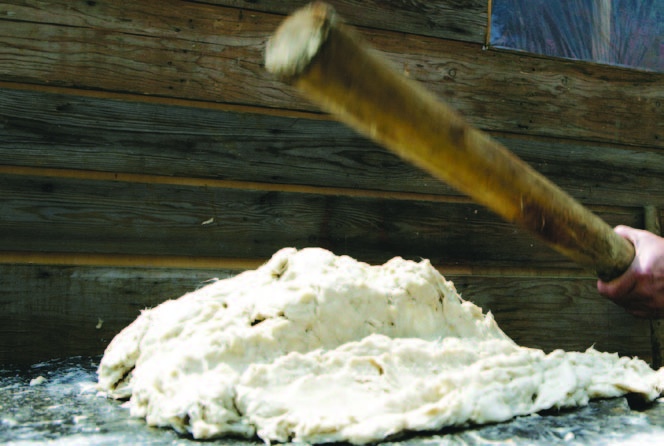 Dissolving Mulberry Fiber
---
The pulped mulberry fiber is dissolved in a barrel to be prepared for making of hanji. The fiber is completely dissolved using a rake shaped tool.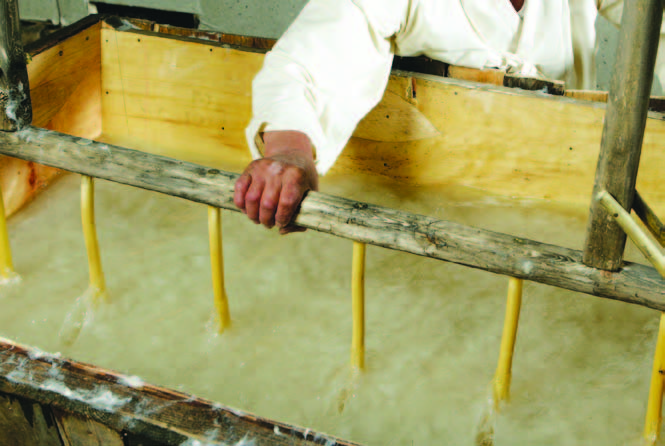 Sieving Paper
---
A sieve is used to sift through the mixture of mulberry fiber, dak glue and water. Adding water to the dak glue has to be done with caution as excessive water can lessen its adhesiveness. In the traditional
oebalddeugi
(heulimddeugi) process, the mixture is shaken thoroughly so that it entangles in to a hash sign shape.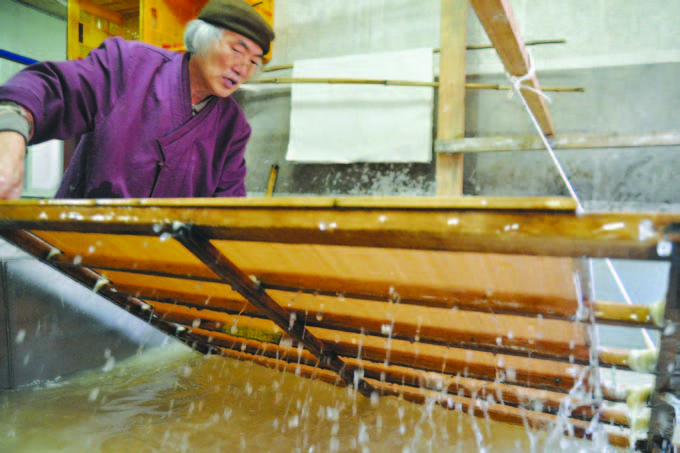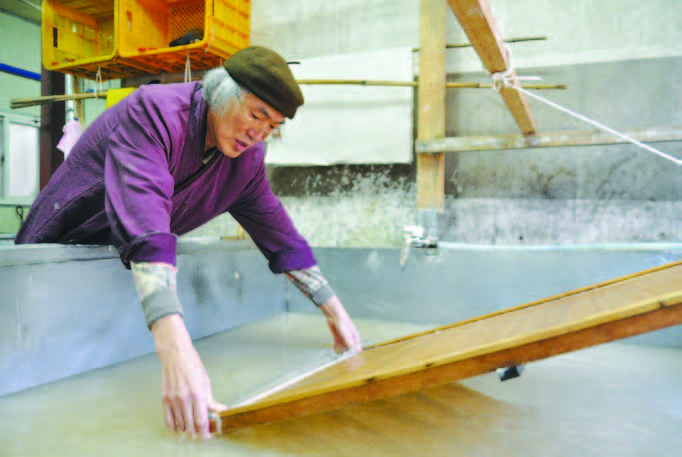 Draining (Press to Dewatering)
---
The flattened sheets of wet paper are piled over a screen on a bedrock. To ease the process of separating the paper sheets later, pillows are placed at the edge of each sheet. To dry the hanji sheets, either heavy stones are placed on the top plank of the pile to be drained overnight, or a machine press is used.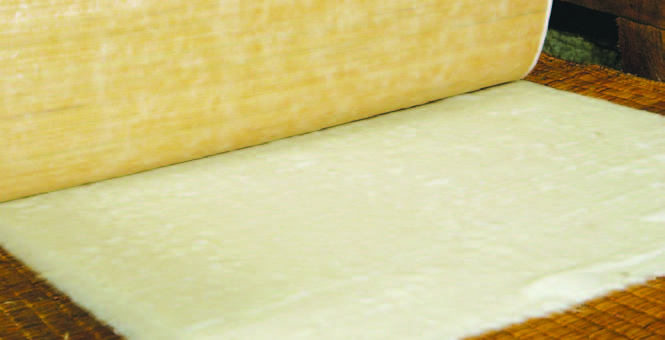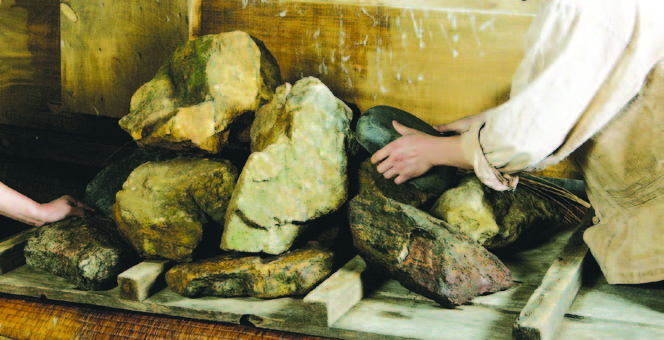 Drying (Dehydration)
---
The wet
hanji
sheets are separated from other sheets with an
iritdae
, a separating rod. The sheets are spread gently on a smooth wooden plank, then dried under the sun. This traditional method is called sun-drying method. Today, this method is commonly replaced by the usage of a hot plate dryer.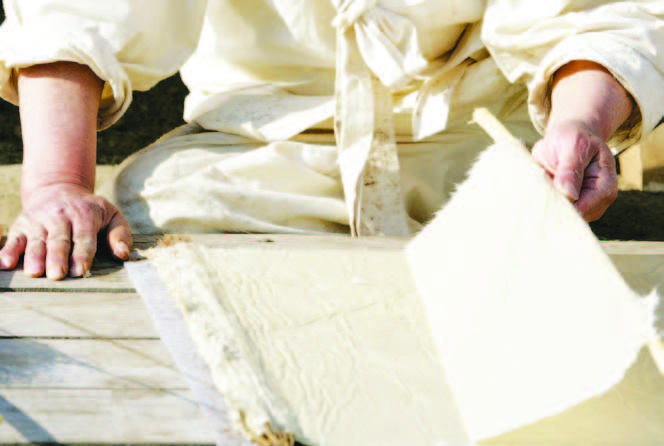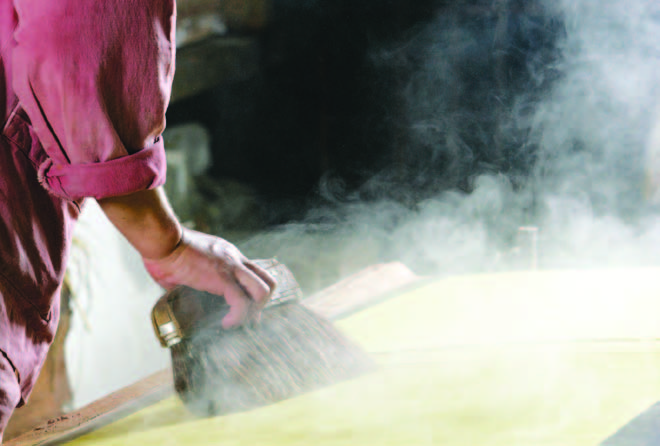 Ironing
---
Lastly, the paper is piled up after treated with a mild rice glue solution and beaten to be flattened. A treadmill or wooden rollers are used to make
hanji
more dense. This process also enhances the splashed ink effect by increasing its shiny quality. Ironing of
hanji
shares the same principle as tarching and beating cotton cloth and a blacksmith tempering iron.