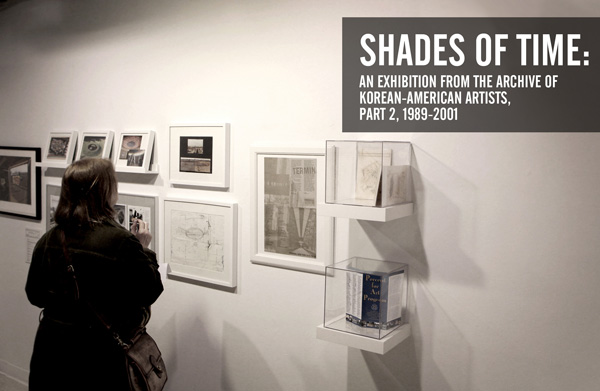 Organizers: Korean Cultural Service New York and the AHL Foundation
April 9 - May 23, 2014 at the Korean Cultural Service New York (460 Park Avenue 6th Floor, New York, NY 10022)
June 28 - July 20, 2014 at the Queens Museum of Art Partnership Gallery (Flushing Meadows Corona Park, Queens, NY11368)
This exhibition is the second part of the two-part project from "The Archive of Korean American Artists" of the AHL Foundation. After the successful first exhibition held in 2013 that presented archival materials of Korean artists active in the US from 1955 to 1989, this second exhibition showcases archival materials, documents, and early artworks by Korean artists from 1989 to 2001. While the first exhibition showcased 45 artists including Whanki Kim, Po Kim, Nam June Paik, and Ik-Joong Kang, this second exhibition features a younger generation of artists, many of whom are video, mixed media, computer graphics, and installation artists. Among more than 200 artists of this generation, 45 artists have been specially invited to exhibit their pivotal works stemming from the 1990s and 2000s; many of the works are reflective of the global events of the times such as the IMF bailout of Korea during the 1997 Asian financial crisis, the 1998 market crash by the dot-com bubble, the anxiety of the "Y2K" Millennium Bug in 2000, and the catastrophic tragedy of the 9/11 attacks.

This exhibition is held at the Gallery Korea of Korean Cultural Service New York in April and May, and a select number of the artworks will then be on display at the Queens Museum of Art Partnership Gallery in June and July.

Participating artists include: Byron Kim, Changha Hwang, Gahae Park, Hyong Nam Ahn, Jaye Moon, Jean Shin, Jena H. Kim, Jong Sook Kang, Jungjin Lee, Kyu Woo, Sei Ryun Chun, Seongmin Ahn, SoHyun Bae, Soonae Tark, Suhee Wooh, Sujin Lee, Sun You, Jungjin Lee, Sungwon Grace Cho, Sungmo Cho, Sungsook Hong Setton, Won Ju Seo, Y. David Chung, Young Min Moon, B. G. Muhn, Bong Jung Kim, Chan Hee Hong, Debbie Han, Do-ho Suh, Hijo Nam, Hyo Jeong Nam, Jin Soo Kim, Julie Hwang, Kimsooja, Kyung Youl Yoon, Nikki S. Lee, Ran Hwang, Soonnam Kim Singer, Suejin Jo, Sun K. Kwak, Sunhee Kim Jung, Wheiza Kim, Yong Soon Min, Youngsam Kim, Yooah Park, and Yuna Hong.

Comprised of approximately 70 works by 45 artists as well as documentary materials that span two generations of Korean-American artists, Shades of Time: An Exhibition from the Archive of Korean-American Artists, Part Two 1989-2001 is organized into the following thematic sections:

KOREANS AS WORLD CITIZENS
In the 1990s, artists of Korean heritage in the US were exposed to new trends of contemporary art and many aspired to become world-renowned artists following the footsteps of Nam June Paik, Byron Kim, and Ik-Joong Kang who had opened the way. As witnesses of the 1988 Seoul Olympic Games and the fall of the Berlin Wall in 1989, this new era of artists arriving in the US from Korea dreamt of a world without barriers, communicable through common artistic languages. This younger generation tested the boundaries with their innovative ideas and methods. On this new rising wave, Korea founded the Gwangju Biennale in 1995, now one of the world's most prestigious contemporary art festivals.

EXPANDING HORIZONS
Asian communities in the US including Korean immigrants were fraught with racial tensions with other ethnic groups. With massive waves of immigrants coming into the US in the 1980s, large Korean communities in Los Angeles and New York suffered from incidents such as the 1990 Red Apple Boycott in Brooklyn and the infamous 1992 Los Angeles Riots. In the midst of the gentrification of urban areas, artists pursued public art projects that would raise social awareness. For instance, Y. David Chung's multimedia installation titled Turtle Boat Head (1992), first displayed at the Whitney Museum of American Art, narrates the history of a Korean immigrant turned owner of an inner city convenience store interspersed with images of various moments of Korean history. An increasing number of artists experimented with mixed media installations as an outlet for their critical vision and voice.

TRADITION AND TRANSFORMATION
As cosmopolitan citizens, artists of Korean heritage felt an urge to redefine their identities within their new environment. With a fresh perspective of multiculturalism made popular in the 1990s, artists pursued a long quest to shape their unique cultural identities through their art. Some used traditional mediums while others embraced emerging technologies. For these world citizens, both Western modernism and Asian aesthetics served equally as a grounding foundation for their upbringing and artistic training.

DARING IMAGES
With an increasing number of exhibition venues, biennale exhibitions, and public art opportunities, artists experimented with various modes of expression including multimedia installations and video art. Many of these new media artworks embraced the Asian aesthetics of calligraphy, Buddhism, and the spontaneity of ink paintings, while other video artists were sending more socially engaged messages through their audiovisual works.

INTRINSIC VALUES
In the midst of multiculturalism and a flurry of new multimedia art, artists continuously refined their aesthetic queries on canvas. Year after year, they confronted their sense of disengagement and fluid identities using a formal vocabulary made unique by their individual needs.

THE ASIAN IDENTITY AND POLITICS
Postmodernism and multiculturalism not only destabilized the aesthetic standards of Western art in the 1990s, but also challenged the conventional identities of gender, nationality, and politics. Some artists chose to be directly involved with or inspired by collective movements such as the SEORO Cultural Network and the Godzilla Asian American Arts Network in the 1990s. An increasing number of artists inserted their questions of identity politics into their artistic products.

OBJECTS IN TRANSLATION
Though a majority of the artists started their careers in abstract oil paintings or traditional ink paintings, they were bold enough to venture out of their comfort zones and incorporate a variety of objects and techniques to supplement their artistic languages. While they used objects or images from contemporary popular culture, their artworks remained closely connected to their cultural background as immigrant artists in the US. Like a translated word from another language, the objects used in the artworks converted into new art forms with altered meanings.

The exhibition will also include documentary films of Korean-American artists during their exhibitions and performance events, and further offers a variety of exhibition catalogues and posters as a way to showcase their artistic accomplishments and collective movements.

Shades of Time: An Exhibition from the Archive of Korean American Artists, Part Two 1989-2001 is co-curated by Kyunghee Pyun, Assistant Professor in History of Art at the State University of New York, Fashion Institute of Technology, and Hee Sung Cho, curator of Gallery Korea at the Korean Cultural Service New York.

Shades of Time: An Exhibition from the Archive of Korean American Artists, Part Two 1989-2001 is supported in part by the Cultural Development Fund of Department of Cultural Affairs in New York City and the E. Rhodes and Leona B. Carpenter Foundation.

Korean Cultural Service New York is grateful for the Board of Directors at the AHL Foundation for its support: Sook Nyu Lee Kim, Eunyoung Kang, and those who wish to remain anonymous.


Exhibition Catalogue
The exhibition is accompanied by a fully illustrated, 108-page catalogue with essays by Kyunghee Pyun and Alexander Rich. The book is designed by Jieun Yim and published by the AHL Foundation.

Education and Public Programs
For complete information about the range of public programs presented in conjunction with Shades of Time, please visit www. koreanculture.org and www.ahlfoundation.org.


Korean Cultural Service New York

The Korean Cultural Service of New York is a non-profit government institution inaugurated in December of 1979 to establish and promote Korean culture and aesthetics in New York.

KCSNY provides diverse cultural and artistic activities including gallery exhibitions, performing arts concerts, film festivals, and educational programs.

Fine art exhibitions are organized by Gallery Korea and the KCSNY also engages in other arts events that introduce traditional Korean music, dance, cuisine, and fashion. By utilizing our resources, the ultimate goal of KCSNY is to reinforce positive Korea-US relations by promoting Korean culture through diverse mediums and to offer the creative public a place of encounter, experience, and knowledge.

AHL Foundation
AHL means Art, Humanity, and Love. The AHL Foundation is a non-profit organization formed in 2003 by Sook Nyu Lee Kim to support Korean artists living in the United States and to promote exposure of their work in today's highly competitive contemporary art world. In 2004, the AHL Foundation established an annual competition that is open to all artists of Korean ancestry living in the United States. AHL awards four monetary prizes each year and has been mounting annual exhibitions to display the winning works.