5th Korean Culture Summer Camp at Flushing Town Hall
Wednesday, August 27 to Friday, August 29, 2014 at 11AM to 3PM
Applications Deadline: July 31, 2014
Flushing Town Hall
Kkaebi Kkaebi Dokkaebi (깨비 깨비 도깨비): The magical wonderland of Korean goblins

Click here to download 2014 Culture Camp Registration Form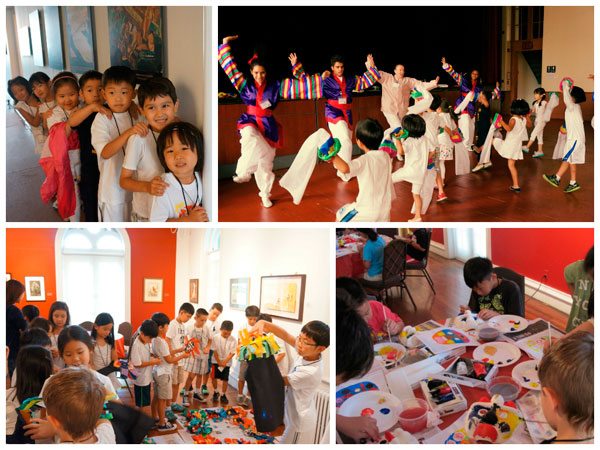 Korean dokkaebi sure are a bunch of mischievous monsters! These mythical creatures are not just your average scary goblins, but are sometimes frightening, sometimes spooky, but usually pretty silly! We invite children to join us this summer to explore a magical side of Korean traditional culture through folk songs, dance, traditional games, theater, and art. Come join us this summer to learn about the magic of Korean culture through arts and games!

For grades K-5 as of September 2014

Class I (Grades K-1)
Class II (Grades 2-3)
Class III (Grades 4-5)
Instructors:

Eunju Na (Program Director)
Karen Kriegel (Dance Drama)
Kyunghwa Lee (Music and Games)
Heekyoung Song (Art)

Registration Information:

Early Registration (June 1st to June 30) is $50 per student (includes all activity materials)
Regular Registration (July 1st to July 31) is $60 per student (includes all activity materials)

- To register, please mail the application form along with CASH or CHECK ONLY (please make your checks out to "Flushing Town Hall") and send them to:
ATTN: Mickey Hyun
Korean Cultural Service New York
460 Park Ave. 6th Floor
New York, NY 10022

- Cancellation Policy: Attendance cancellations received at least one week prior to the beginning of camp (by August 20th or earlier), will receive half of the paid registration fee. Cancellations received after the August 20th date will not be eligible for a refund.

* Applications will not be accepted after July 31st.
** Spaces will be filled first come, first served; if all classes are filled to capacity, registration may close before July 31st.