The 4th Korean Culture Day Camp: 탈놀이 - Shall we travel to Korea? (Closed)
Applications Deadline: Wednesday, July 31 (Closed)
Wednesday August 28 - Friday August 30, 11AM - 3PM
Korean Cultural Service NY at Historic Flushing Town Hall
*Applications will not be accepted after July 31st.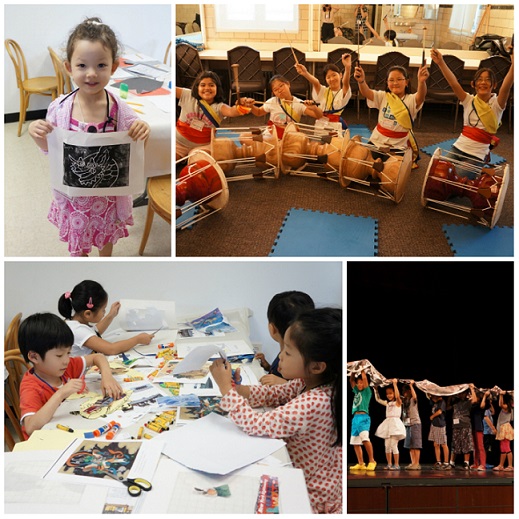 You probably know about Korea—of kimchi, Gangnam Style, and the films—but have you ever visited, or heard about its rich history? We invite children to explore a more traditional side of Korea through various fun and engaging activities: creative drama, art, and traditional music. While studying Korea, students will have the opportunity to make their own Korean masks, play a Korean mask-dance drama, and learn how to play a traditional instrument (either the Buk or the Janggu). Join us for this exciting, educational opportunity and let's explore Korea together!

For grades K- 5 as of September

Class I for Grades K-1 (12 people/class)
Class II for Grades 2-3 (14 people/class)
Class III for Grades 4-5 (14 people/class)
INSTRUCTORS
Eunju Na (Coordinator)
Korean Language Lecturer, New York University
Sung Min Lee (Creative Drama)
Karen Kriegel (Korean Mask Dance)
Heekyoung Song (Art)
NYURI, New York University Rhythmic Impulse (Music - Samulnori)

SCHEDULE
Class I
Class II
Class III
11:00 - 12:10
Creative Drama
Samulnori
Art
12:10 - 12:40
Lunch
12:40 - 13:40
Samulnori
Art
Creative Drama
13:50 - 14:50
Art
Creative Drama
Samulnori
14:50 - 15:00
Wrap Up
* Lunch will not be provided. Please bring your own!
* The program will be conducted in both English and the target language, Korean.
* Please note that we are unable to administer any medication to children.

REGISTRATION INFORMATION:

Fee: $40 per student (including all activity materials)
We will receive the payment on August 28th at Flushing Town Hall.
Cash or check only, no credit or debit cards accepted.
To register, e-mail your application at: edu@koreanculture.org or mail to:
ATTN: c/o Soo Jung Chung
Korean Cultural Service New York
460 Park Avenue, 6th Floor
New York, NY 10022
*Applications will not be accepted after July 31st.

The program is co-presented by Flushing Town Hall and the Korean Cultural Service of New York. For more information, call (212) 759-9550 x206 or e-mail edu@koreanculture.org