6th Korean Culture Summer Camp at Flushing Town Hall
August 26 – August 28, 2015
Flushing Town Hall
Hae-nim Dal-nim (해님 달님): The Sun Girl and the Moon Boy who lit the sky
August 26 – August 28, 2015 at 11AM to 3PM
Application Deadline: July 31, 2015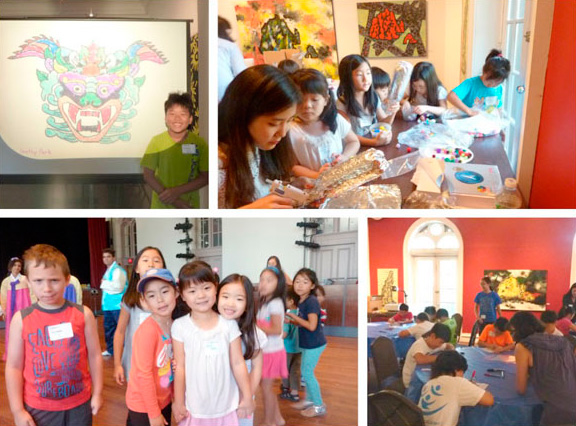 Korean Cultural Services New York and Flushing Town Hall proudly present a 3-day summer camp at the Flushing Town Hall for K-5th grade students with a focus on art and storytelling based on the traditional Korean folktale, Hae-nim Dal-nim (해님 달님): The Sun Girl and the Moon Boy who lit the sky.

"A long time ago in Korea, there was not enough light. It was before the sun and the moon had been created." So begins one of the most treasured creation folktales of Korea. "The Sun Girl and the Moon Boy" tells the story of a brother and sister who outsmart a hungry tiger. The camp will be led by a team of highly talented artist-instructors who will help children develop cultural awareness through fun, interactive cultural arts activities.

*The camp is led in English - no knowledge of Korean language is needed. Please pack a lunch, beverage, and snacks.

Grades K-5 as of September 2015:

Class I (Grades K-1)
Class II (Grades 2-3)
Class III (Grades 4-5)
Classes:

Craft Art
Painting Art
Language & Play
Registration Information:

Early Registration (May through June 30) is $70 per student (includes all activity materials)
Regular Registration (July 1 to July 31) is $80 per student (includes all activity materials)
To register, please mail the application form along with CASH or CHECK ONLY (please make your checks out to "Flushing Town Hall") and send them to:

ATTN: Min Moon
Korean Cultural Service New York
460 Park Ave. 6th Floor
New York, NY 10022
- Cancellation Policy: Attendance cancellations received at least one week prior to the beginning of camp (by August 19th or earlier), will receive half of the paid registration fee. Cancellations received after the August 19th date will not be eligible for a refund.

* Applications will not be accepted after July 31st.
** Spaces will be filled first come, first served; if all classes are filled to capacity, registration may close before July 31st.