2014 Donghwa East Meets West International Essay Competition
Registration Period: May 15 – July 25, 2014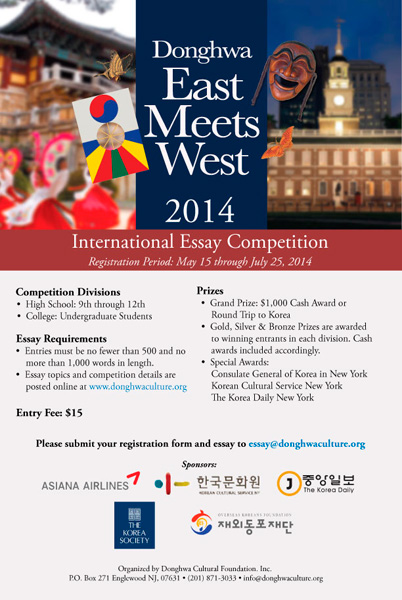 Click here to download 2014 Essay Competition Entry Form.pdf
Competition Divisions

High School Division: 9-12th grade
College Division: College Undergraduate

Eligibility
All high school and college undergraduate students are eligible.
Award recipients will be requested to submit proof of their school enrollment.
Entry Fee: $15
By Check: Make a check payable to "Donghwa Cultural Foundation"
We also welcome online payments to info@donghwaculture.org when paid via PayPal.
Essay Requirements
All entries must be original works written in English, typed, double-spaced, in 12-point Times New Roman or an equivalent font with a one-inch margin on all page sides.
Essays must be no fewer than 500 and no more than 1,000 words in length.
Include a cover page with your name and the essay topic(s) you choose. To ensure anonymity, please only write your name on the cover page.
Send the registration form and essay to essay@donghwaculture.org
Click here to download 2014 Essay Competition Entry Form.pdf

Registration Period : May 15th – July 25th, 2014

Prizes:

Grand Prize: $1,000 Cash Award or Round Trip to Korea
Gold, Silver, Bronze Prizes awarded to winning entrants in each division (High School, College). Cash prizes are included with each prize accordingly.
Special Awards: Consulate General of Korea in New York, Korean Cultural Service New York, The Korea Daily New York
* Contest winners agree to allow Donghwa Cultural Foundation to post their names on any of DCF's affiliated websites. The winning entries may be posted and published in their entirety on these websites and in the local media, with full credit given to the author.

Organizer: Donghwa Cultural Foundation, Inc.

Sponsors: Asiana Airlines, Korean Cultural Service NY, The Korean Daily, The Korea Society, Overseas Korean Foundation

Essay Questions
Answer at least one of the following questions in your essay. We strongly encourage you to share your personal experiences and insights in your writing. You may refer to any or all of these questions to help shape your essay.

Draw from your own experience learning from Eastern cultures and extrapolate on how such knowledge has effected your appreciation and perspective on these cultures, as well as what benefits you foresee this education will bring in your future.


The widespread use of smart phones and social networking has provided more opportunities for people around the world to connect and exchange values. How has the cultural exchange between East and West, in the context of globalization, been affected by this new development? How does this effect manifest in the mass media, music, and art? Explain what society can gain or lose from this increase in cultural exchange.


As our world continues to globalize, the number of people migrating to various countries around the world has increased. Though retaining some aspects of their own culture, many second-generation children from these immigrant families have grown to assimilate to their country of birth. Draw from your own experiences and examine the challenges that present themselves to a child raised with separately defined cultural and ethnic identities. To what extent has your ethnic culture influenced you? How do you think children of the next generations would define their cultural identity
Click here to download 2014 Essay Competition Entry Form.pdf