2013 Donghwa "East Meets West" International Essay Competition
Registration Period: June 3 – September 30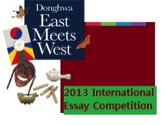 Since 2004, Donghwa Cultural Foundation has been promoting East Asian culture, philosophy, and arts through various forms of education programs. As our annual essay competition is an international event, Donghwa hopes to provide an intellectual and creative forum that empowers young voices and broadens the dialogue on cultural awareness and exchange. We would like to invite you to participate in this essay competition and help create a space for the cultural harmony we hope to spread.

Essay Questions

Answer at least one of the following questions in your essay. We strongly encourage you to share your personal experiences and insights in your writing. You may refer to any or all of these questions to help shape your essay.

Have you ever assimilated to a new world outside of your cultural "home"? What cultural traditions did you keep, and what traditions did you "give up" in order to adopt others? In building your own identity, do you think you possess full ownership of each culture you're related with? Describe your thoughts on cultural assimilation and diaspora, as well as how it affects one's identity.
Describe how art reflects its respective culture, and how modern technology transforms the process of cultural exchange. At the "intersection of cultures", what kind of artistic and cultural values does our digital age awaken and spread?

Observing both traditional and modern contexts, explain your view on the role of cross-cultural exchange in the development of modern society. How do examples of cultural exchange from history differ from contemporary examples?
Competition Divisions
High School Division: 9th-12th grade
College Division: College undergraduate students
Entry Fee
: $15
Send the registration form and essay to essay@donghwaculture.org
Registration Period
June 3rd – September 30th, 2013
Announcement of Winners
*
All participants will be notified of their results via e-mail by October 15th, 2013.
Award Reception
Location: Donghwa Cultural Foundation (reception date TBD)
Prizes
:
Grand Prize: $1,000
Gold, Silver, Bronze Prizes awarded to winning entrants in each division (High School, College). Cash prizes are included with each prize accordingly.
Special Sponsor Awards