Encounter 2013: A Dialogue with Authors Kim In-suk and Kang Yŏng-suk
Friday, November 15, 2013 at Noon
The Korea Society
Moderated by Bruce Fulton
The Korea Society
950 Third Avenue, 8th Floor
New York, NY, 10022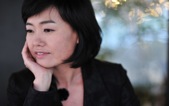 Kim In-suk
(김인숙) was born in 1963 in Seoul and studied journalism at Yonsei University. A published writer at the age of 19, she issued her first story collection,
Bloodline
, in 1983, and her first novel,
Flowers of Fire
, in 1985. She is the recipient of the 2003 Yi Sang Literature Prize for "Sea and Butterfly," and the 2005
Hanguk ilbo
Literature Prize for
The Long Road
, one of the very few Korean fictional works involving the Korean diasporic experience in Australia. Today, building on a three-decade career in letters, she is one of Korea's senior writers, but an author whose literary sensibility and wide-ranging world view continue to develop. Her most recent works are the story collection
So Long, Elena
, for which she received the 2009 Tongin Literature Prize; the historical novel
Sohyŏn
(2010); and the novel
Could You Lose Your Mind?
(2011), which conflates natural and human disaster. She is represented in English translation in the journals
Koreana
and
ASIA
; the novella
The Long Road
(2010), the anthology
Reading Korea:12 Contemporary Stories
(2008), and in an ASIA Bilingual Edition of her story "Stab."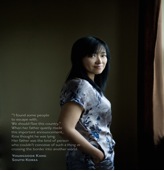 KangYŏng-suk
(강영숙)was born in 1966 in Ch'unch'ŏn, Kangwŏn Province, and studied creative writing at the Seoul Institute of the Arts. Since her debut in 1998she has issued half a dozen story collections and novels and garnered several literary awards, including the 2006
Hangukilbo
Literature Prize for her first novel,
Rina
, and the 2011 Kim Yu-jŏng Literature Prize. In 2009 she took part in the University of Iowa International Writing Program. Her 2011 story collection
The Night He Lifts Weights
, honored with a Book-of-the-Year award from the Korean Library Association, is strongly colored by urban noir, the stories set in locales within and without Korea. She is represented in English translation in
Azalea
4.
This program is free and open to the public.
Major funding provided by the International Communication Foundation, Seoul.
Co-sponsored by: The Korea Society The Center for Korean Research, Columbia University
Photo of Kim In-suk courtesy of Son Hong-ju
Photo of Kang Yŏng-suk courtesy of Tom Langdon