Meet the Authors: An Evening of Korean Literature
Thursday, Nov 14, 2013 at 19:00~20:30
403 Kent Hall, Columbia University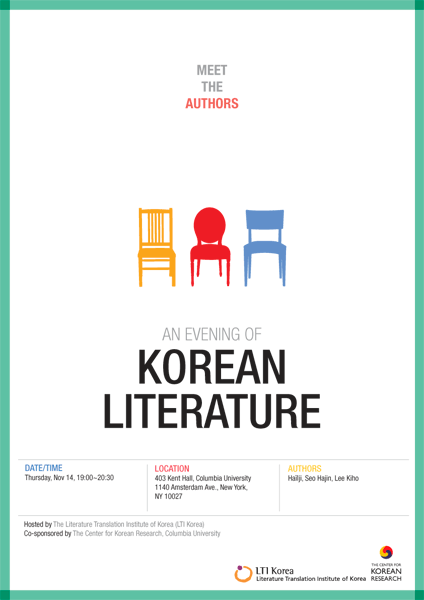 Title: Meet the Authors: An Evening of Korean Literature
Date/Time: Thursday, Nov 14, 19:00~20:30
Location: 403 Kent Hall, Columbia University (1140 Amsterdam Ave., New York, NY 10027)
Authors: Haïlji, Seo Hajin, Lee Kiho
Hosted by The Literature Translation Institute of Korea (LTI Korea) & Co-sponsored by The Center for Korean Research, Columbia University
On Thursday, November 14th, the Literature Translation Institute of Korea (LTI Korea) will hold a special literary event in New York. The event, titled "Meet the Authors: An Evening of Korean Literature", is scheduled to take place in Kent Hall, Columbia University with the co-operation of the Center for Korean Research, and will feature three of Korea's top authors: Haïlji, Seo Hajin, Lee Kiho.

The LTI Korea's forthcoming literary event in New York will mark the beginning of further globalization of Korean literature, especially following the publication of the first ten volumes of the Library of Korean Literature from Dalkey Archive Press this fall, which includes the English translation of At Least We Can Apologize by Lee Kiho. The Library published by Dalkey Archive Press in collaboration with the LTI Korea, presents modern classics of Korean literature in translation, featuring the best Korean authors from the late modern period through to the present day. The Library aims to introduce the intellectual and aesthetic diversity of contemporary Korean writing to English-language readers. The Library of Korean Literature is unprecedented in its scope, with Dalkey Archive Press publishing 25 Korean novels and short story collections over the course of two years. The U.S. publisher and LTI Korea agreed in 2011 to publish a series of English-language translations of Korean literary works in the U.S., the first time such a project is taking place outside of Korea.

The literary event on Thursday, November 14th will begin with welcome remarks from LTI Korea's President Kim Seong-Kon, followed by readings and a discussion of the authors' works and various issues in modern Korean literature. The main objective of the event is to introduce a wider audience to the diversity of Korean literature by presenting some of the brightest literary talent from Korea. The evening will conclude with a Q&A session that will allow U.S. readers and students of Korean literature to make most of the rare opportunity to interact with Korean authors. The event is free and open to the public, and anyone interested in Korean literature and culture is welcome to attend.

ABOUT THE AUTHORS

Haïlji was born in 1955 in Gyeongju, Korea. After graduating from Chung-Ang University with a degree in Creative Writing, he left for France in 1983 to further his education. Haïlji earned an MA in French literature from Université de Poitiers and a PhD from Université de Limoges in France.

In 1990 he made his literary debut with the publication of his novel To the Racetrack, a work that brought him both critical acclaim and notoriety for its controversial view of the Korean society. The novel features an intellectual who has just returned from France and portrays the gradual crumbling of his world – both internal and external – as he struggles with Korea's conservatism and social hypocrisy.

In the next three years, Haïlji published four novels – Racetracks at Crossroads (1991), For Racetracks (1991), An Alder Tree at the Racetracks (1992), What Happened at the Racetracks (1993) – all of which shocked the Korean literary world with their unique and innovative approach towards contradictions in life. Critical assessment of his works varies from one extreme to the other, and Haïlji became embroiled in a series of debates with conservative literary critics – now widely known as the "Racetrack Controversy". His subsequent works are characterized by their fantastic or dreamy atmosphere and have secured him a readership of avid admirers.

Haïlji is also active as a poet. A volume of his English poems, Blue Mediation of the Clocks, was published in the USA in 1994, and in 2003, his French poems were published in Paris under the title Les Hirondelles dans mon tiroir. Haïlji is currently Professor of Creative Writing at Dongduk Women's University in Seoul, Korea.





His other publications include He Asked Me If I Knew Jita (1994), Dangerous Alibi (1995), Arabian Night (1998), Bird (1999), Statement (2000), The Republic of Užupis (2009), and A Visitor (2012).

Seo Hajin was born in 1960 in Yeongcheon, Korea. She received her PhD in Korean Literature from Kyunghee University and made her literary debut in 1994 with her short story "A Shadow Outing". In 1995, she began to receive widespread attention with her story "Tidal Path," which has as its backdrop a mysterious island connected to land by a path that disappears and reappears with the changing of the tide. This story, which deals with the tragic outcome of an adulterous affair, was shortlisted for the prestigious Yi Sang Literary Award, and is still considered to be one of Seo's representative works.

As in the case of "Tidal Path," many of Seo's early works, such as "A Shadow Journey," and "A Shadow You," are linked to the "shadow" theme and deal with the subjects of marital conflict and extramarital affairs. Seo Hajin's first short story collection The Man Who Reads Us Books (1996) takes as its subject the disillusionment that couples experience in marriage and the infidelity that may ensue, thereby persistently questioning the true nature of love, as well as the institution of marriage. Although Seo may explore conventional subject matters, her subtle descriptions of psychology and spare literary style are thoroughly captivating to all readers alike.





Recently, Seo Hajin has gone beyond the subject of marital problems in order to tackle the meaning of family in modern society. In her short story collection A Good Family (2009), Seo explores the individual's role within the family, which seems to be the source of so much happiness, as well as pain. Seo has proven herself an apt writer in examining the conflicts and reconciliation within the family.





Seo Hajin won the 10th Han Moo-sook Literary Award in 2004 for her short story collection Secret (2004). In 2009 she won two major literary awards – the 16th Kim Jun Sung Literary Award for her short story "Who Are You?" and the 2nd Baek Shin-ae Literary Award for A Good Family (2009). Seo's other publications include the short story collections The Scent of Lavender (2000) and Yacht (2006), and the two full length novels Should I Tell You I Love You Again (2005) and Nana (2011). Seo currently teaches Korean Literature at Kyunghee University in Seoul, Korea.

Born in 1972 in Wonju, Korea, Lee Kiho is considered to be one of the most unique writers in Korea. One critic has even declared that the usual conventions of a story cannot be applied to his writing. Lee studied Creative Writing at Chugye University for the Arts and received his PhD from Myungji University. In 1999 Lee made his literary debut when his short story "Birney" won the New Writer's Award from Hyundae Munhak, the oldest monthly literary journal in Korea. "Birney" is praised for its unique style that seems to reflect the rhythms of rap as well as pansori, a traditional Korean ballad.


The stories written by Lee Kiho following his debut are just as diverse and experimental, for one story borrows the question and answer method of an interrogation, while another adopts the writing style and typeset of the Bible, and still another uses language that is suggestive of the kind used on a TV cooking show. Lee is inventive not only with form, but also with his characters, who are a humble and sordid lot: a small-time pimp who dropped out of high school after assaulting a teacher; a third-rate actor addicted to glue; a gang member who had grown up in an orphanage; and a character who ekes out a living by working at a local convenience store. Lee's stories not only feature these back alley types, but also those with abnormal traits, such as a youth who has eyes in the back of his head and a man who falls in love with a flagstaff from where the national flag hangs. These misfits, who seem to have jumped straight out of tabloids or entertainment programs, are distinctive and, at the same time, very real individuals who can be easily found on the fringes of society.


In 2010 Lee won the prestigious Lee Hyoseok Literary Award for his short story "It Gets Closer As I Push It Away". His publications include the short story collections, Choi Sunduk: Filled with Holy Spirit (2004), I Knew If I Stayed Around Long Enough, Something Like This Would Happen (2006) and the recently published Who is Dr. Kim? (2013), as well as his first full-length novel At Least We Can Apologize, originally published in 2008. Lee is currently Professor of Creative Writing at Gwangju University in Korea

ABOUT LTI KOREA
The Literature Translation Institute of Korea (LTI Korea), established in 2001 under the auspices of the Korean Ministry of Culture, Sports and Tourism, is Korea's first and foremost cultural institution for international literary activities. For the purpose of promoting Korean literature worldwide and expanding its global readership, we support translation and overseas publication of literary works written in Korean. We have so far funded over 900 translation projects in nearly 30 different languages, thereby increasing the number of Korean books available in foreign languages and improving the overall quality of literary translation. Each year we provide a new platform for cultural exchange by organizing a number of literary events such as readings, forums and writer-in-residence programs. We believe that creating educational opportunities for aspiring translators is essential in globalizing Korean literature. The LTI Translation Academy offers various courses in literary translation throughout the year. By raising the global awareness of Korean literature, LTI Korea aims to serve as a cultural bridge between Korea and the wider world. For more information, please visit http://www.klti.or.kr/eng.