Riverside Symphony featuring Ha Young Jung, Contrabass
Saturday, January 28, 2017 at 8PM
Alice Tully Hall, Lincoln Center (1941 Broadway, New York, NY 10023)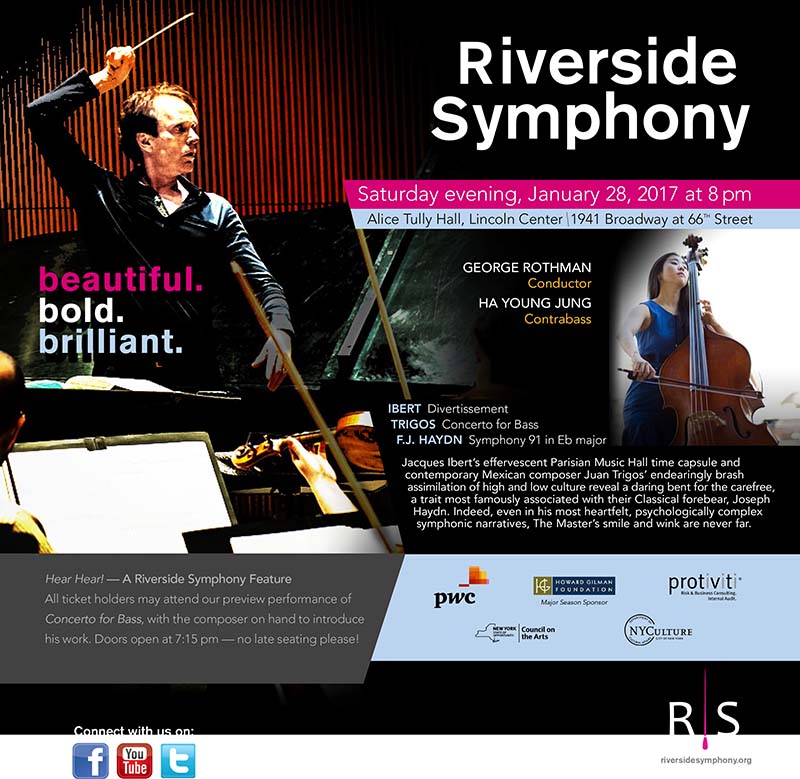 Tickets: $32.00–$64.00 (50% Discount Code: CONTRABASS)
"Ha Young is…among the very best I have ever seen."
–Timothy Cobb, Principal Bass New York Philharmonic

Programs
IBERT Divertissement (1929)
F. J. HAYDN Symphony No. 91 in Eb, Hob. I:91 (1788)
TRIGOS Concerto for Double Bass (2008), New York Premiere

The lighter side's enduring and irresistible appeal—to composers and audiences alike—imbues this unusual collection of works, dating from Haydn's time to the present.

Ha Young Jung
Double Bassist Ha Young Jung is a current doctoral candidate at Boston University. Jung studied at the Royal College of Music, The Juilliard School, Yale University and captivates audiences and music critics alike with her dynamic and engaging performances. As a soloist Jung has appeared with many prominent orchestras including Royal Philharmonic, Moscow Virtuosi Chamber Orchestra, Southbank Sinfonia, and Novosibirsk Symphony Orchestra.

Visit Ha Young Jung's website to learn more about Ha Young Jung: http://www.hayoungjung.com/

For more information and to purchase tickets, please visit the Riverside Symphony website http://www.riversidesymphony.org/2016-17-concert-2/.