Window on Korea Event with DULSORI
November 9, 2016 at 6:30PM
Queens Library Auditorium at Flushing (41-17 Main Street, Flushing, NY 11355)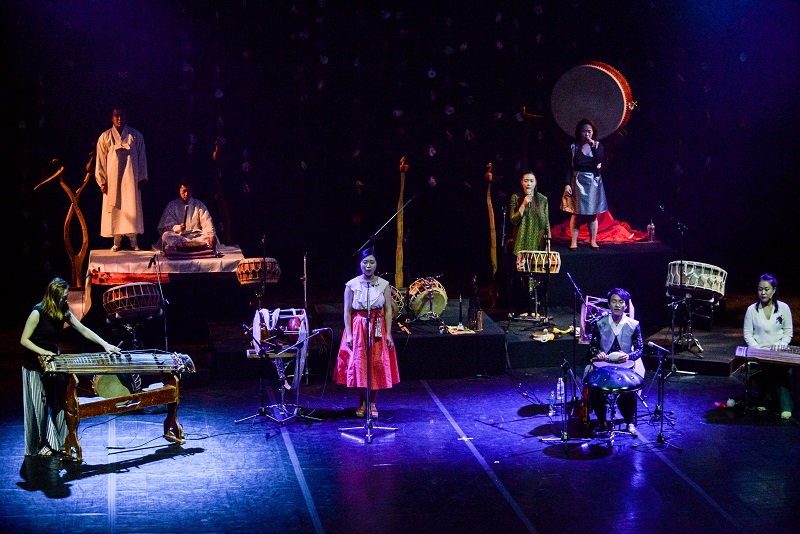 photo by DULSORI

Free Admission (w/online RSVP)
(Seats will be provided on a first come, first served basis)

The National Library of Korea and the Queens Library at Flushing have contracted an MOU for the installment of "Window on Korea", providing books, DVDs, CDs, and other reference materials to enhance the cultural experience for children and adults in the US. This year, to celebrate the addition of new materials, DULSORI, one of the most well-established and unique performing arts groups of Korea, will be showcasing the sounds that blend the traditional with the contemporary. This special ceremony will begin with a short introduction of the "Window on Korea" followed by a performance based on the traditional rhythms based on the ancient festivals of Korea.

DULSORI Biography

Formed in 1984, DULSORI has been creating unique performances based on traditional rhythms and the spirit of ancient festivals of Korea.

DULSORI's sounds are based on Korean traditional well-wishing music with aspects of minyo and binari, but also incorporates all diverse aspects of contemporary music.

Through mesmerizing rhythms with powerful vocals, enchanting melodies, and dynamic choreography, Dulsori's passionate and colorful performances have captured the hearts and imagination of audiences around the world. Their performances are known for their interactive components.
Globally Acknowledged World Music performance with a unique Korean touch, DULSORI was the very first to:

be invited at the Roskilde Festival (2010) , one of the five biggest annual music festivals in Europe
be selected as the official showcase at WOMEX (2009), the largest world music trade fair
be selected as the official showcase at New York globalFEST (2008)
perform at 7 successive events of WOMAD (since 2005), one of the biggest worldwide festival of music, arts and dance
Click below for the DULSORI's Performance
https://www.youtube.com/watch?v=0AL25UbJFqk https://www.youtube.com/watch?v=n5F8I5C2w8U

For inquiries, please contact Library Associate at khlee@koreanculture.org or call at 212.759.9550 x 202.