Korean Cultural Center New York announces Korean Movie Night New York: Premiere Showcase presenting the New York Premiere of THE AGE OF SHADOWS with director Kim Jee-woon and actress Han Ji-min in attendance
Korean Cultural Center New York announces
Korean Movie Night New York: Premiere Showcase presenting
the New York Premiere of THE AGE OF SHADOWS
with director Kim Jee-woon and actress Han Ji-min in attendance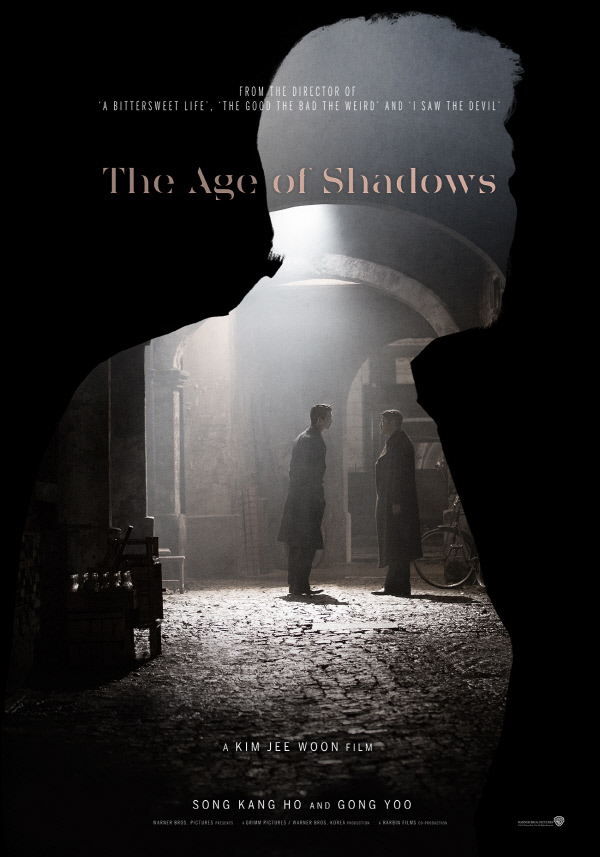 Tuesday, Sep 20, 2016, 7:00 PM
at the IFC Center (323 6th Avenue, New York, NY)

Q&A with Director Kim Jee-woon will follow the film screening

The Korean Cultural Center New York, a branch of the Ministry of Culture, Sports and Tourism (MCST) of the Republic of Korea, is proud to announce its Korean Movie Night: Premiere Showcase presentation with the New York premiere of Kim Jee-woon's period action thriller The Age of Shadows, following the film's North American bow at the Toronto International Film Festival.

After debuting in Hollywood with Arnold Schwarzengger's action vehicle The Last Stand, director Kim (I Saw the Devil, A Bittersweet Life) is back on home turf, with what has been one of the most anticipated Korean films of 2016.

Set in the 1920s Korea during the Japanese colonial rule, The Age of Shadows follows Korean independence movement activists in their attempts to smuggle explosives from Shanghai so they can destroy the Japanese forces' facilities in Seoul. Featuring the acting talents of Song Kang-ho (Snowpiercer), Han Ji-min (TV series Rooftop Prince), Gong Yoo (Train To Busan), and an extended cameo by Lee Byung-hun (Terminator Genisys, The Magnificent Seven), The Age of Shadows had its world premiere out of competition at this year's Venice Film Festival, and was recently announced as South Korea's candidate for the foreign-language Oscar.

Director Kim Jee-woon and actress Han Ji-min will attend the screening.
A Q&A with Director Kim Jee-woon will follow the film.

Screening Details

Tuesday, Sep 20th, 2016, 7:00 PM
at the IFC Center (323 Ave of the Americas, NYC)
http://www.ifccenter.com/
For information, call 212-924-7771
Free admission; seating will be first come, first served.

New York Premiere
THE AGE OF SHADOWS (밀정 mil-jeong)
(2016 | 140 min | DCP | English subtitles)
Directed by Kim Jee-woon
Starring: Song Kang-ho, Gong Yoo, Han Ji-min, Lee Byung-hun

"The irresistible pull of a spy thriller, the heightened stylishness of a 1920s setting, and terrific technical specs make 'The Age of Shadows' an unabashed delight" - The Variety

"Kim Jee-woon's 'The Age of Shadows' is a gripping thriller and a dazzling technical display that stands as the genre maestro's most confident work to date." - ScreenAnarchy

"The murky world of betrayal and counter-betrayal is reminiscent of Jean-Pierre Melville's magnum opus 'Army of Shadows,' but the masterful orchestration of tension also shows the influence of Brian De Palma's 'The Untouchables'" - CineVue

Trailer:


Make sure to visit our Facebook page for updates: Facebook.com/KoreanMovieNY.

THE AGE OF SHADOWS will be released theatrically in the U.S. and Canada on September 23rd by CJ Entertainment America.

For stills and interview requests, please contact Jean Jo (212) 759 9550 (ext. 207) or jjo@koreanculture.org

For screeners and film inquiries, please contact film curator Kyungmi Kim kyungmi007@gmail.com

For press and interview inquiries, please contact Mickey Hyun at mickeyhyun@koreanculture.org or pr@koreanculture.org 212-759-9550 (ext. 212)
About Korean Movie Night New York
Korean Movie Night New York (KMN) is Korean Cultural Center NY's year-round program of screenings and events that introduce New York audiences to the full spectrum of both contemporary and classic Korean cinema. Currently, KMN consist of Korean Movie Night New York: Premiere Showcase (special premiere screenings of the latest blockbusters) and Korean Movie Night New York: Master Series (thematic retrospective programs). KMN was launched in 2010 as a successor to Korean Cine Forum, an earlier film screening series that was organized by the Korean Cultural Service since 1996.
Keep up with the latest news at: www.Facebook.com/KoreanMovieNY.
Korean Cultural Center NY

Inaugurated in 1979, the Korean Cultural Center New York (previous the Korean Cultural Service New York/KCCNY) is a branch of the Ministry of Culture, Sports and Tourism (MCST) of the Republic of Korea. Under the authority of the Consulate General of the Republic of Korea in New York, KCCNY works to promote cultural arts exchange and stimulate interest in Korean culture through various opportunities. KCCNY provides diverse activities including exhibitions, concerts, film festivals, and educational programs. KCCNY is located at 460 Park Avenue (at 57th Street), New York City. www.koreanculture.org.