K-Food World Festival: New York Preliminaries
Application Deadline: Wednesday, July 17, 2013
Preliminary Competition Date: Sunday, July 21, 2013, 5PM
International Culinary Center of New York (462 Broadway New York, NY 10013)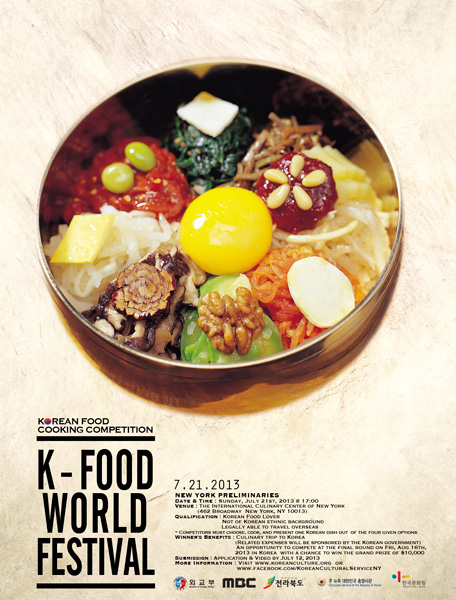 The Korean Cultural Service New York is pleased to announce the upcoming New York Preliminaries of the K-Food World Festival. There is no question that Korean food is the new rising star of the culinary scene and the world's biggest Korean food cooking competition is happening this summer in NYC! This competition is open for everyone who is a lover of Korean food with a dash of cooking creativity!

The selected winner of the New York competition will receive:

Roundtrip airfare to Korea
Korean food tasting trip for 6 days (accommodation included)
The winner of this New York competition will have a chance to compete in Korea for a chance to win a grand prize of US $10,000!
Date: July 21st 2013, Sunday
Time: 17:00
Venue: The International Culinary Center (founded as the French Culinary Institute)
462 Broadway, New York, NY 10013
The contest is sponsored by the Ministry of Foreign Affairs of Korea and Munhwa Broadcasting Corporation (MBC), one of the major television broadcasting companies in Korea. The exciting preliminary competition will be broadcasted between September 18th and 20th, 2013 on the MBC network station in Korea.

1. Eligibility for the preliminaries

A lover of Korean food!
NOT of an ethnic Korean background
Legally able to travel overseas between August 12th - 17th, 2013 for the final competition to be held in Korea

2. Winner's benefits

Korean food tasting trip lasting 5 nights and 6 days; related expenses will be sponsored by the Korean Government
A trophy and certificate
The winner of United States contest is will automatically be entered in the final contest in Korea, with the chance of winning a total of US $10,000 (for the grand final winner in Korea)

3. List of the four Korean foods that participants have a choice to make (for the preliminary round)

Bibimbab (Mixed rice): When we say mixed, we mean it! This dish probably is the most ingredient intensive dish we have. From egg to seaweed to kimchi, it can contain almost whatever you would like. It's also one of the healthiest of Korean foods, as it combines various kinds of fresh vegetables, rice, and gochujang (hot red pepper paste). We are excited to see the fun flavor combinations our participants will create!
Tteokbokki (Rice cake in spicy sauce): It's the hottest street food in Korea! It's spicy, delicious, and the signature street food delicacy. The cooking process looks relatively easy, but there's more than meets the eye— true skill is necessary in finding the perfect balance between sweet and spicy.
Bulgogi (Marinated barbequed beef): Bulgogi, often the first thing we think of when we say "Korean BBQ," could very well be the international favorite. Bulgogi is one of the most popular Korean dishes that is well-known in all areas of the world, and what the international audience love about this Korean BBQ dish is the perfect mixture of the sweet and savory flavors. The meat is marinated in a mixture of soy sauce, sugar, sesame oil, garlic, pepper and others for days to enhance its flavor. What we most love about Korean bulgogi is that everyone's version tastes different, and secret ingredients such as fruit and even soda can revamp its taste.
Kimchi (Freestyle): Kimchi, or Korean fermented cabbage, might sound alien, even unappetizing, but this side dish is a necessity at every Korean meal. Kimchi is also ranked as one of the healthiest dishes in the world! Kimchi is known for being especially great for digestion and healthy skin. The best part about kimchi is that it can be incorporated into thousands of recipes and is very complimentary with all Korean dishes.

Basic ingredients will be provided for the competition. You should indicate the menu of your choice on the application form; any ingredient that you wish to bring yourself to the preliminary competition is welcomed.

4. Important Dates

July 17th, 2013: Application submission deadline
July 18th, 2013: Shortlisted applicants will be notified by this date
July 21st, 2013: Korean Food Cooking Preliminaries in New York
The winner will be automatically eligible and will be entered to participate in the grand final competition of the K-Food World Festival on August 16th, 2013 in Korea.

a. Applications
Applicants are required to fill out the provided application form and must send a video introduction of themselves. The applications can be submitted to tourism@koreanculture.org or submitted in person to our office at 460 Park Avenue, 6th Floor, New York. NY 10022.

b. Shortlisted applicants
Shortlisted candidates will be confirmed and contacted by July 18th to participate in the contest. Candidates will be issued with comprehensive instructions detailing the contest activities including the complete list of provided ingredients.

c. Korean Food Cooking Competition in New York (July 21st, 2013)
We are pleased to welcome the final shortlisted candidates to the preliminary competition. It means you are a step closer to becoming the winner who will be representing the United States! Each contestant's signature dish will be evaluated by a panel of renowned judges. The winner of the contest will be announced on the same day. The winner will be automatically eligible and must enter the grand final in Korea in August 12th to 17th, 2013 along with each of the winners from the other participating countries.

*Detailed information, regarding the further stages will be announced accordingly