2014-2015 Open Stage <Leodo: Paradise Lost> by NorianMaro
Friday, January 16, 2015 at 8PM
Flushing Town Hall(137-35 Northern Blvd., Flushing, NY 11354)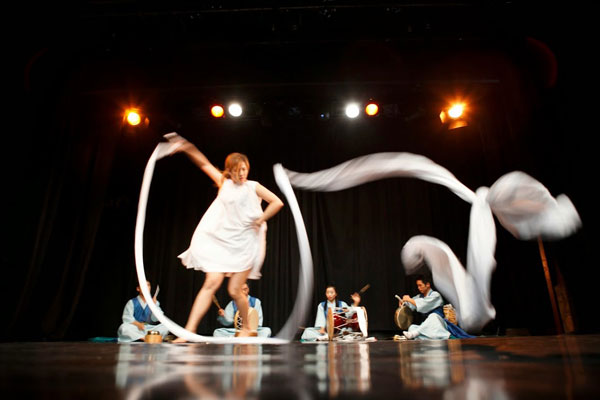 Free Admission (online RSVP required)
Online RSVP for Norian Maro (FRIDAY, 1/16/2015, 8PM @Flushing Town Hall) is closed.
We will have a stand-by line at the door of the Flushing Town Hall.
If any tickets not picked up by 7:40PM, we will hand them over to those in the stand-by line on a first-come, first-served basis.
"The talented seven-member ensemble never flags in energy, choreographic skill or audience engagement." – The Stage, UK

"Norian Maro has players sitting, standing, dancing, and even musically dueling with their janggu drums. Norian Maro's janggu players run, dance, and play in intricate patterns without missing a beat." – Jeju Weekly, Korea

"The skill was splendid and wonderful, and the expression was delicate" – Voice of Jeju, Korea

"You absolutely should go and see this show" – PostScript Journal, UK

"This is rich in culture and beautiful to watch" – British Theatre Guide, UK

A mesmerizing Korean performance features splendid costumes, heartfelt movements, dynamic drums and enchanting singing. NorianMaro, an energetic world music group from Korea, transfers audiences into Leodo, a fantasy island treasured by the people in Jeju, a beautiful province in Korea.

NorianMaro is an innovative traditional Korean performance group based in Jeju Island that is dedicated to fostering national artistic traditions and local folk culture through dance and movement, song and percussion, interwoven with elements of mythology. The significance of its name means 'a gathering of those enjoying the best of Korean traditional arts'. Originally founded in 2005, NorianMaro has since fused traditional and contemporary performance styles into their production earning them the reputation as one of Korea's premier traditional music and dance performers. Designated as Jeju's Specialized Performance Arts Groups in 2010 and Jeju Social Enterprise in 2011, NorianMaro performs at more than 800 shows annually, both domestic and abroad.

Composer: Ho Sung Yang, Haein Song
Director & Choreographer: Haein Song
Producer: Norian Mari Company
Cast: Ji An Choi, Jong Suk Ki, Yoo Jeong Oh, Jung Soo Kim, Jeonghyeon Yun, Haein Song, Ho Sung Yang

Synopsis
Leodo is a mythical island of nirvana in the folk tale of Jeju-do residents where lost souls at sea dwell in paradise. A young woman sets out to sea in search of her hopes and dreams but gets swept away by the waves. When the sea gods finds the woman washed up on shore, they summon the shamans to perform a rite of passage to eternal harmony. The NorianMaro troupe beautifully captures the ungraspable island through magnificent performance accompanied by rhythmic drumming, solemn singing, and mesmerizing dancing.

<Leodo: Paradise Lost> by NorianMaro is presented by Korean Cultural Service NY in partnership with Flushing Town Hall.

For more information, please contact: performingarts@koreanculture.org or (212) 759-9550 ext 210.