The 2nd "Quiz on Korea" Contest
Friday, May 31, 2013, 10:30 - 12:00 (Preliminary Round)
Korean Consulate General in New York (335 East 45th Street, New York, NY 10017)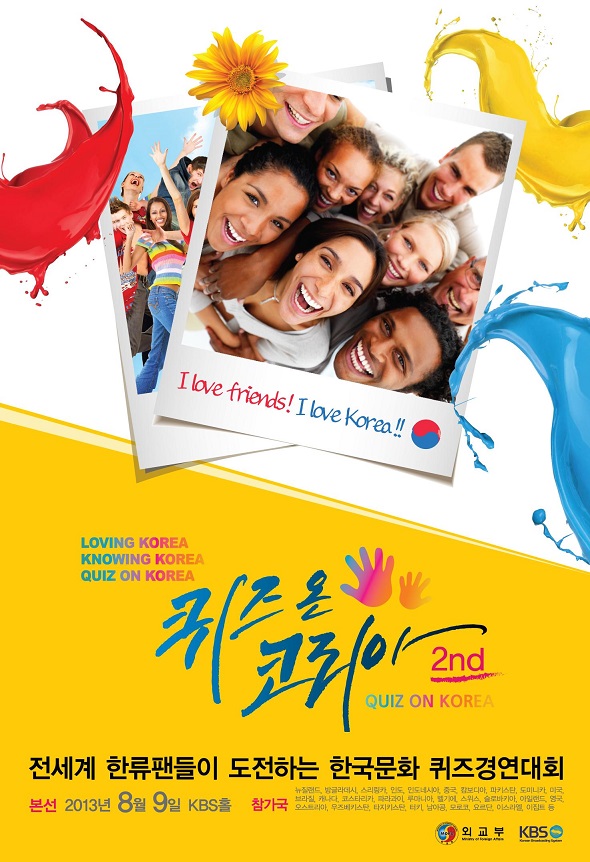 The Korean Consulate General in New York is pleased to announce the 2nd "Quiz on Korea" contest with the sponsorship from the Ministry of Foreign Affairs and Korea Broadcasting System (KBS).
Preliminary Round:
Date: Friday, May 31, 2013
Venue: The Korean Consulate General in New York
335 East 45th Street, New York, NY 10017
Time: 10:30am-12:00pm.
Question Type: The multiple choice questions including three (3) questions in Korean will be used in the first round.
l Questions will be mostly based on the information on "Fact about Korea", Participants can download the electronic version at www.korea.net.
Prizes for the winners: Samsung Galaxy tablet (1st place) and Gift Cards (2nd & 3rd place)
Semi-final Round: Will have to compete against a winner from San Francisco (Location: TBD)
Final Round: Seoul, Korea at KBS studio on Friday, August 9th, 2013
1. Requirements for applicants
(1) You and your direct family members should not hold or have held Korean nationality at any time.
(2) You must be available to participate in the preliminary round on May 31 and travel to Korea on Aug 2-10 for the final round. By applying to this contest, you acknowledge and consent to fully participate and filmed during your stay in Korea, regardless of any personal restrictions such as for dietary, weather, religious reasons.
(3) Submit complete application to the Consulate via email at kcgpress@gmail.com by May 24, 2013.
(4) Basic Korean language skill is not required but advantageous.
(5) There are no age restrictions.
2. Benefits awarded to finalists
(1) Round tickets to Korea for the contestant, stipend for while staying in Korea, prizes for the winners (Hyundai car for the last year's 1st place winner)
(2) Opportunities to travel to historical sites in Korea and experience traditional Korean cultural activities and food
(3) Appear on the final round at KBS (Korean Broadcasting System); will air on August 15
Please download the attached Application Form and submit to kcgpress@gmail.com by May 24, 2013.