Cooking Korea: The Taste of Korea in the Past, Present, and Future
Friday, November 9 – Sunday, November 11, 2012
Institute of Culinary Education
Space is limited, so please RSVP to rsvp@koreanculture.org.
Click here to download Application Form for RSVP.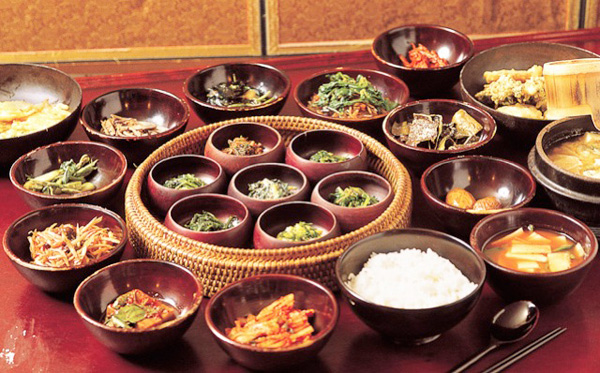 Korean cuisine, with its complex flavors stemming from the deep, rich culture of the country, has captivated the taste buds and the hearts of the world's top chefs. Whether it's keeping to the roots and maintaining the essence of traditional Korean food, or if it's incorporating the same tastes into new creative dishes, chefs have recognized the exciting potential for Korean flavors to be integrated into modern cooking.

The Korean Cultural Service NY is delighted to host our first Korean culinary class series, "Cooking Korea: The Taste of Korea in the Past, Present, and Future," offering chefs and culinary students an intimate experience with the world's top chefs as they speak about their interpretations of Korean food and demonstrate their own cooking techniques. We hope that over the course of the program, participants will be able to gain an understanding of how traditional flavors have been both preserved and transformed in modern day Korean cuisine.

Held at the Institute of Culinary Education, the entire program will run for three days: the first day consisting of an inaugural session with Professor John Nihoff, the Food and Beverages Director of the exclusive Everglades Club at Palm Beach and professor emeritus of the Culinary Institute of America, showcasing his traditional and modern takes on Korean cuisine; the second day will hold two demonstration sessions—one afternoon session with chef and food writer Yongja Kim on the authentic flavors and techniques of Korean cuisine, and an evening session on the future of "new" Korean cuisine with Chef Jeffrey Moon, executive chef of Maguro at Chatham Bars Inn and graduate of the French Culinary Institute. The final session on Sunday afternoon will be hosted by Chef Youngsun Lee, who instructs at the Institute of Culinary Education and is the previous chef/owner of Persimmon. His demonstration will show how Korean traditional flavors can be brought out using local ingredients.

The event is open to current culinary school students and graduates, or those currently affiliated with a restaurant. All sessions will run approximately 1 to 1.5 hours long.
Schedule
Friday, November 9


Session 1:
Introduction to Korean Cuisine with Professor John Nihoff
7:00pm


Saturday, November 10

Session 2:
Traditional Korean Cuisine with Chef Yongja Kim
12:00pm

Session 3:
The Future of Korean Cuisine with Chef Jeffrey Moon
7:00pm

Sunday, November 11

Session 4:
The Here and Now of Korean Cuisine with Chef Youngsun Lee
12:00pm
Chef Biographies

John Nihoff

Chef John Nihoff is currently the Food and Beverages Director at The Everglades Club in Palm Beach, Florida. Previously, he was a Professor of Gastronomy at the Culinary Institute of America for over 15 years. He has made many high profile TV appearances; he was a judge on Iron Chef America and has appeared in "Korean Food in America" by KBS. His awards include the Gold Star of recognition from The Chaîne des Rôtisseurs, and recognition from the Caterina de'Medici Society for his contributions to wine and culinary education.





Yongja Kim


Yongja Kim, is a gastronomy journalist and has been a cooking instructor since 1993. She is the author of the cookbook, "Food of the West" (1995) published in Korea, and her more recent English cookbook, "Korean Cuisine: Healthy Food, Full of Flavor" (2009). Her article in the Korea Times titled "The Undiscovered Flavor" was published in the book, "Korea: From Rags to Riches," by the Korea Institute of Public Administration. She is not only trained in Korean cuisine, but in French and Italian cuisine as well, having graduated from Ritz-Escoffier Cooking School in Paris, and the Giuliano Bugialli Cooking School in Florence. Currently, she is promoting Korean food and culture in the US and Europe.





Jeffrey Moon


Chef Jeffrey Moon is the executive chef of Maguro, an exclusive sushi restaurant at Chatham Bars Inn in Cape Cod. Chef Moon was previously was the executive chef at Todai Japanese Seafood Restaurant in New York and Mizumi Seafood Restaurant. He was also the sous chef of Ruby Foo's and the head sushi chef at Blue Water Grill in New York. He has been trained at French Culinary Institute in New York and has had previous roles in numerous New York restaurants including City Hall Restaurant, TAO, Jean Luc, Madame Tong's, and Eleven Madison Park.





Youngsun Lee


Chef Youngsun Lee specializes in "neo-Korean" cooking, using traditional techniques while incorporating local ingredients. He has received his degree in culinary arts in 2005 from the Institute of Culinary Education in New York, and has since worked at Annisa under Anita Lo, at EN Japanese Brasserie, followed by Craftbar and Momofuku Noodle Bar. In 2008, he opened Persimmon, a new-Korean restaurant that since closed, and is currently teaching classes in Korean cuisine at the ICE and is the owner/chef of the Kimchi Taco Truck.
Space is limited, so please RSVP to rsvp@koreanculture.org.
Click here to download Application Form for RSVP.