Friday, October 28, 7 PM
Gallery Korea of Korean Cultural Service NY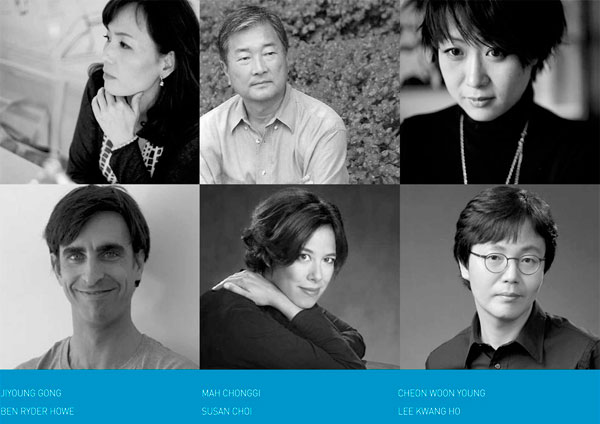 Free admission; RSVP required to literature@koreanculture.org
Please join us for a literary event at Gallery Korea, The Korean Cultural Service NY, on Friday, October 28 to meet three Korean writers and two American writers, who all somehow incorporate Korea and its culture into their respective works. With participating authors
Mah Chonggi
(poet),
Jiyoung Gong
(novelist),
Cheon Woon Young
(novelist),
Susan Choi
(novelist), and
Ben Ryder Howe
(author), the meeting aims to stimulate creative collaborations between writers and readers both from Korea and America. Each author will give a relaxed reading and presentation of their work, followed by a Q&A session with the audience. This meeting will give you the opportunity learn about the literary culture of Korea and its authors, and to share ideas on literature, language, and culture in our two countries.
About the authors:
Chonggi Mah
left Korea in 1966 to work as a doctor in the United States and has continued to compose poetry in Korean, publishing eleven volumes, which have earned him all the main literary awards in Korea. A volume of English translations of his work, Eyes of Dew, was published in 2006 by White Pine Press (Rochester).
Jiyoung Gong
is one of Korea's most beloved and critically acclaimed novelists. She has written extensively about the harsh reality that women face in Korea and has received numerous prestigious literary awards in Korea. Her My Sister Bongsoon (Open House) sold over 1.5 million copies and was also made into a box office hit.
Woon Young Cheon
is considered a pioneer in portraying a new trend of womanhood in Korean literature through visceral and visually shocking images. In Cheon's works, women are defined not by their reaction to the traditional views of women but by their hedonistic tendencies and the feral, primeval instincts they possess. Winner of Shin Dong-yeop Creative Work Award and 2004 This Year's Art Award.
Susan Choi
is the author of three novels: The Foreign Student (1998), which won the Asian-American Literary Award for fiction, American Woman (2003), a finalist for the 2004 Pulitzer Prize, and A Person of Interest (2008), a finalist for the 2009 PEN/Faulkner Award. In 2010 she was named the inaugural recipient of the PEN/W.G. Sebald Award.
Ben Ryder Howe
is a former senior editor at the Paris Review and the author of My Korean Deli: Risking it All for a Convenience Store, a memoir on how he and his wife (who is Korean American) purchase a deli in Brooklyn for his in-laws. His debut novel has received warm reviews for his humorous depictions of the trials and errors he, his wife, and his in-laws often faced when operating the small-business enterprise.