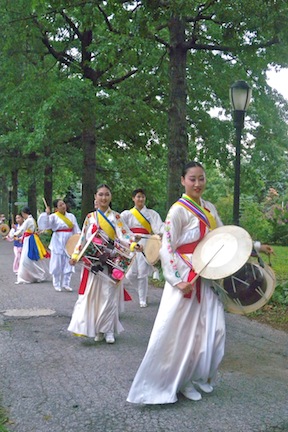 Dancers of the Korean Traditional Music and Dance Institute begin the procession with Pungmulnori, a traditional folk dance
by Elizabeth Shim
Queens County. It's the most diverse borough in New York and the United States, if not the world. A colorful carnival of cultures lives contiguously in neighborhoods that have become synonymous with great world cuisine and ethnic festivals. From Jackson Heights to Flushing Heights, over 138 different languages are spoken in various immigrant communities. These energetic, talented immigrants are also known for retaining the cultural authenticity of their domain, and the vital Korean community is no exception.
On Saturday August 13, the Queens-based Korean Traditional Music and Dance Institute (KTMDI) presented a rich tapestry of traditional performances that blossomed with rhythmic passion and energy against the fitting backdrop of the Queens Botanical Garden in Flushing. Here, in a 39-acre sanctuary just steps away from Main Street's now predominantly Chinese commercial hub, professional dancers and performers representative of the Queens Korean and Korean American community introduced a diverse audience to iconic Korean dance routines. The evening's dances ranged the entire spectrum, from the Pungmulnori, a traditional farmer's dance to the Jindo Arirang, a much-loved, popular minyo, or folk song.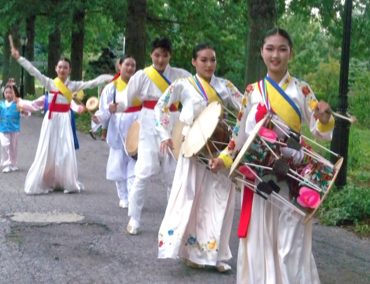 The dance repertoire was a delightful initiation into Korean song and dance for many members of the audience, as the scent of summer flowers mingled with the equally colorful hanbok of both the male and female dancers. The dance and musical fervor on-stage was also a warmly familiar spectacle for many of the older members of Queen's Korean community. Quite a few gladly clapped their hands and sang along to the lyrics that likely evoked memories of the Korea they left behind, yet carried in their hearts.

The Heungchum, or Dance of Joy, is performed with fluttering fans in each hand
During a brief intermission, the appreciative viewers turned their applause to Ms. Yoon Sook Park, who founded the Korean Traditional Music and Dance Institute three decades ago, with the support of the Korean Cultural Service, as well as the Korean-American Association of Greater New York. Ms. Park was a part of the largest influx of Korean immigrants in American history, which peaked in the 1980s, and transformed the Main Street of Flushing into a then-vibrant, Korean immigrant neighborhood. Like a true musician, she has not missed a beat in enriching Greater New York with what she poetically referred to as "culture that's invisible to the eye." Ms. Park has worked assiduously for three decades to ensure Korean traditions in Queens stay full of vim and vigor across future generations, and her work has continued to this day.

The evening concluded with a performance of drumming
The KTMDI has previously performed at Jacob's Pillow Dance Festival, a critically acclaimed event of international choreography. For more information, please visit their website at
http://www.ktmdi.org